12
Jun
(Beyond Pesticides, June 12, 2015) Without input from or notification to the public, Cornell University  has released genetically engineered (GE) diamondback moths at its  agricultural experiment station in Geneva, New York. The university is testing a new way to  control agricultural  pests, much to the dismay of environmentalists. The moths, which are engineered to be autocidal (self-killing), pose a possible threat to the certification of organic farmers and create environmental risks. Environmental groups such as Food and Water Watch, Center for Food Safety, and Friends of the Earth, among others, sent a letter expressing concern over the U.S. Department of Agriculture (USDA)'s assessment process, which neglected to address  the possibility of moth movement past the trial area, and the impacts that diamondback moth declines will have on their natural predators and the larger ecosystem. These groups are recommending that  all outdoor trials be stopped until more information is available.
Cornell has partnered with Oxitec, a self-described  pioneer in using advanced genetics to control target  insects. They plan on controlling the population growth of these GE moths through their genetic design that kills the moth  in the larval stage on plants. Normally,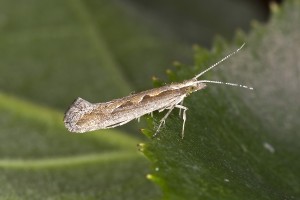 these larvae feed on crops such as broccoli and cabbage during development, but through this trial, Cornell hopes to quell this problem.  While this may be touted as a sufficient population control measure, there are many confounding variables and unintended consequences that can occur with the release of a new species into the environment. Furthermore, there are safer alternatives to using potentially dangerous GE organisms, such as organic agricultural practices.  Organic farmers have found that natural enemies, such as certain types of wasps, ground beetles, and spiders, are often effective controls for diamondback moths. According to the University of California Agriculture and Natural Resources IPM page, the ichneumonid wasp,  Diadegma insularis, has been identified as the most common parasite for diamondback moths, and Trichogramma  pretiosum  may also attack diamondback eggs. Sprays of Bacillus thuringiensis and the Entrust formulation of spinosad are organically acceptable management tools.
Oxitec says that it  engineers its insects, including the diamondback moths and mosquitoes, by using  the antibiotic tetracycline to act as a chemical switch, allowing the GE larvae to develop and survive in the lab, rather than die immediately as planned in the wild. Larvae are then supposed to die in the wild due to an absence of tetracycline. Unfortunately, tetracycline is used in a variety of different settings, from agriculture to the control of human diseases, and ultimately makes its way into the environment. Studies show that most wastewater treatment plants are unable to effectively remove tetracycline antibiotics, and the compound is frequently detected in surface water, ground water, drinking water, wastewater, soils and sediment. Thus, low levels of tetracycline in the environment may result in only a temporary reduction in the numbers of pests. There are also further questions regarding the impacts of how tetracycline-exposed survivor GE insects may impact human health or wildlife. Oxitec has previously received pushback on its  genetically modified organisms. In February 2015, Florida Keys Mosquito Control District (FKMCD) officials sought approval to release a wave of mosquitoes that had been genetically engineered to produce offspring whose larvae are unable to survive, similarly to the autocidal diamondback moths.
Another unintended consequence of these GE moths is their possible impact on organic farmers. The moths were released into open field trials instead of a physically enclosed space, making it difficult to secure the whereabouts of each one that was released. Because of this, there is a possibility that the GE moths will travel and produce offspring on neighboring farms, which may result in the loss of certification for organic farmers if these GE larvae are found on their crops.
Beyond Pesticides seeks to educate on the public health and environmental consequences of GE technology, and generate support for sound ecological-based management systems. In February 2015, a 13-page statement was released by scientists to address the fact that the science on GE foods is underdeveloped and shaky, at best. The biotechnology industry behind GE foods have for years touted that their technology is safe, dismissing any attempts to challenge their science or regulate their material. However, 300 scientists, physicians and scholars assert there is no scientific consensus on the safety of GE foods and find that claims of safety are an "artificial construct that has been falsely perpetuated" through various forums and media. While this report focused on GE foods rather than GE organisms, it still speaks to the fact that there is a lack of knowledge regarding the effects that genetic engineering may have on the environment, wildlife and humans.
The consequences of using GE material are not well understood, therefore Beyond Pesticides promotes the importance of eating organically and supporting organic agriculture. Not only does organic prohibit  GE material from production, but organic agricultural also promotes the use of biological controls. As mentioned before, organic farmers have found safer alternatives to using GE organisms to prevent and mitigate damage from pests. For more information on the hazards associated with GE technology, visit our  Genetic Engineering webpage; for more on the benefits of organic agriculture, see our  Organic Food program page.
Source: Food and Water Watch
All unattributed positions and opinions in this piece are those of Beyond Pesticides.