20
Dec
(Beyond Pesticides, December 20, 2016) A long-awaited and contentious scientific meeting convened by the U.S. Environmental Protection Agency (EPA) on the carcinogenic properties of glyphosate wrapped up its review last week, with the 15-member scientific advisory panel split on their determination,  and some considering a "suggestive evidence" classification. The panel's charge was to evaluate EPA's recent proposal that the widely used herbicide should be considered "not likely to be carcinogenic to humans," despite a 2015 determination from the International Agency for Research on Cancer than glyphosate is "probably carcinogenic" with "sufficient evidence of carcinogenicity" based on laboratory studies.  The panel now has roughly three months to provide a final recommendation to the agency, which is likely to influence EPA's final classification of the herbicide.
The meeting was split into four days, with one and a half days committed to the panel receiving public comment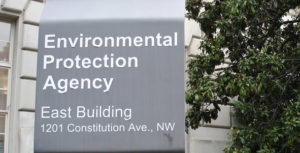 s. As veteran reporter Cary Gillam notes in The Huffington Post, representatives from Monsanto were allotted over three hours to provide evidence against a cancer determination, while public health advocates including Beyond Pesticides and allies were only allotted between 5-15 minutes to make their case. [Read Beyond Pesticides' comments to the Glyphosate Review Panel here.] Monsanto, for its part, spent much of its allotted time trying to discredit Kenneth Portier, PhD, who they did not want on the panel, and accused of having a conflict of interest partly because his brother is, according to industry trade group Croplife America, "a noted and vehement anti-glyphosate activist."  Prior to the meeting, Croplife worked behind the scenes to remove another panel member, Peter Infante, Dr.PH, for what it claimed was his bias against the chemical industry, and the likelihood he would give more weight to independent, rather than industry-funded science. Despite his removal and industry allegations, Dr. Infante gave a public comment to the panel, providing substantial evidence on glyphosate's carcinogenic properties, and suggestions on ensuring more robust epidemiological data.
The panel leveled a number of criticisms for how EPA conducted its cancer review. Some recommended that the agency consider other forms of glyphosate beyond the pure acid isopropylamine salt form. According to Bloomberg BNA, Eric Johnson, PhD, asked the agency for data comparing cancer rates between farmers who spray glyphosate and factory workers who produce it. This comparison would help the panel determine whether it was pure glyphosate that was cancer-causing or the mixture of glyphosate with other inert ingredients. However, EPA indicated that it did not have jurisdiction to gather that data, and alarmingly, industry representatives also refused to supply it. "We're asking EPA to be transparent, but we're not seeing that from industry," Dr. Johnson said to Bloomberg BNA. "These are the types of things that make people suspicious of industry."
The scientific panel also critiqued EPA's search criteria for sourcing studies to be included in the review. There were disagreements with EPA's decision to discount certain studies based on "low quality/value/study power" rankings by the agency, as well as the exclusion of certain terms, for example the term water was excluded when searching for studies because the agency didn't want ecological aquatic data, but this in turn meant that any potential drinking water studies were also excluded. As a result, EPA's weight of evidence approach was skewed towards industry data.
While the panel's review will make a significant impact on EPA's classification for glyphosate, even if the chemical were determined to be likely carcinogenic by the agency, it is unlikely that it would precipitate its cancellation. That is because, more often than not, when a pesticide shows adverse effects EPA will simply require label changes or limited restrictions that change, but does not eliminate the risk associated with a chemical. Health Canada's recent reevaluation and proposal for glyphosate provides an analogous regulatory example.
To hasten glyphosate's elimination from our environment, there are a range of actions that concerned people can take today. Start by buying organic, as this will support an agricultural system that is not reliant on, and in fact never permits the use of glyphosate or any other toxic synthetic pesticides. You can also urge your local grocery store and garden center to stop selling glyphosate, or any product that has ever been sprayed with the chemical. Possibly the most effective move you can make is to get active in your local community. Beyond Pesticides has resources, including a newly released Map of U.S. Pesticide Reform, to help folks concerned about glyphosate take action to reduce and eliminate its use.
For more information about glyphosate, its cancer determination, and what you can do see Beyond Pesticides' fact sheet on glyphosate, comments to EPA review panel, and the Pesticides and You article, Glyphosate Causes Cancer: Is Monsanto Ready for the Consumer Response?
Source: Huffington Post, Bloomberg BNA, Agri-Pulse
All unattributed positions and opinions in this piece are those of Beyond Pesticides.