05
Dec
(Beyond Pesticides, December 5, 2016) People across the country can support farmworker children and rural communities by speaking up in support of better protection of California school children from pesticide exposure by December 9, 2016. Send a  short email to the California Department of Pesticide Regulation (DPR) (dpr16004@cdpr.ca.gov) to tell the Department it  must expand proposed buffers around schools to one-mile to protect school children during and after school hours, and expand the rule to cover all schools and daycare centers. Given that, according to the California Department of Food and Agriculture's latest statistics, "Over a third of the country's vegetables and two-thirds of the country's fruits and nuts [and a large share of dairy and livestock] are grown in California," everyone who eats food in the U.S. has a stake in protecting children who live in the communities where the food is grown. Food purchasing decisions have a direct impact on the people who work on farms, their children, and the communities where they live.
Support the more than 75 parents, teachers and advocates for social and environmental justice who marched in Tulare County to DPR's draft rules for pesticides use near schools last week. Led by members of the Tulare County Coalition Advocating for Pesticide Safety (TCCAPS), the protesters say that the regulations fall short in protecting school children and staff from pesticides that drift from nearby agricultural spraying. DPR's public hearing on its draft regulation followed shortly after the march. About 60 people voiced their concerns at the meeting that lasted  three-and-a-half hours.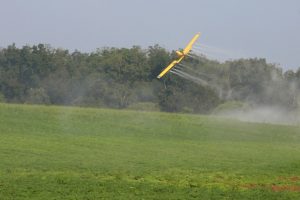 DPR's proposed  rules will establish the first ever statewide buffer zone around public schools and daycare centers in California, prohibiting pesticide applications within a ¼ mile of schools and childcare centers.   Those that protested the new regulation say that it doesn't go far enough to protect public health.   The regulation would only apply between the hours of 6am-6pm Monday through Friday. Parents and teachers want to extend the buffer zone to one  mile. It has been studied that pesticide drift can travel even greater than a mile away from its original application site. In fact, pesticide particles can attach themselves to air masses and be deposited across the globe.  Agricultural pesticide exposure is linked to serious childhood health concerns, including asthma, autism, cancer and developmental and neurological damages.
According to a study conducted by state and federal health departments, a one-mile buffer would prevent 85% of acute exposure illnesses.  The study cites that 24% of non-work drift illnesses occurred at distances of ¼ mile or less. A University of California, Davis MIND Institute study documents significantly increased rates of autism in children of mothers who live up to one mile from pesticide-treated fields.  The UC Berkeley CHAMACOS study of farmworker families in Salinas, CA finds contamination from the neurotoxic insecticide chlorpyrifos in homes even beyond a mile from treated fields. In addition, the California Childhood Leukemia Study reports elevated concentrations of several pesticides in the dust of homes up to ¾ mile from treated fields.
"These regulations are long overdue but they don't go far enough," said Fidelia Morales, a TCCAPS member and caretaker for five school-aged children. "It's DPR's responsibility to protect all Californians regardless of race or place, and it's disappointing that they have proposed rules that don't protect the community and our schools. As always, it's low-income people of color who are vulnerable."
In 2014, the California Department of Health released a report,  Agricultural Pesticide Use Near Public Schools,  that for the first time documented the use of the most hazardous agricultural pesticides near public schools in 15 of California's agricultural counties. The report shed light on the use of more than a half a million pounds of 144 different chemicals that could be a cause for health concerns used within a quarter mile of public schools.  Tulare County had the highest percentage of schools with pesticides of public health concern applied within ¼ mile —63%, or 123 of Tulare County's 194 public schools. Racial disparities were also identified. According to the report, " In the 15 counties assessed, Hispanic children were 46% more likely than White children to attend schools with any use of pesticides within ¼ mile, compared to children attending schools with no pesticide use within ¼ mile." Even more striking, the report finds that, "This difference was more pronounced with increased pesticide use, as Hispanic children were 91% more likely than White children to attend a school in the top quartile of pesticide usage, when compared to children attending schools with no pesticide use nearby."
Under the proposed rules, pesticide applications could be applied in the early hours of the morning, an already common practice. Opponents of DPR's new rules argue that stronger restrictions, without loopholes and allowances that allow toxic pesticide use to continue, are necessary to protect children and staff that use school grounds after hours or on weekends.
"Pesticides hang around long after they are applied and the damage from this can be long-term, as well," said Caty Wagner, a TC CAPS member and founder of Sequoia Mavericks. "Brain-harming organophosphates are applied in enormous quantities near Tulare County schools""amounts linked to IQ loss in children for prenatal exposure," Ms. Wagner added, referring to a recent UC Berkeley CHAMACOS study in the Salinas Valley.
"Part-time, quarter mile buffer zones are not nearly enough," said Margaret Reeves, PhD, senior scientist with Pesticide Action Network North America. "Policymakers need to provide support and training for farmers to transition to safer farming methods that don't harm kids. We urge state officials, particularly DPR, the Department of Food and Agriculture and the Governor to make the necessary investments in the future of California agriculture."
Beyond Pesticides does not believe that the quarter-mile buffer zone is rigorous enough to protect public health from pesticide drift. Other deficiencies  in the proposed  regulation include  the rule's limited scope in only addressing  public schools, leaving out private K-12 schools and private day care facilities. You can submit a comment at dpr16004@cdpr.ca.gov  by December 9, 2016. You can see  more background from DPF  for the proposed regulations. The comment period has been extended to December 9, 2016 from its original November date.
For an in-depth look at  the dangers of pesticide drift, see  fact sheet on pesticide drift. Also, as a food consumer, the best way to protect farmworkers, their children, and rural communities from pesticide use and exposure is to buy  organic food in the grocery store. Beyond Pesticides' Eating with a Conscience  identifies the range of pesticides used in chemical-intensive food production that is eliminated from use in organic production. To learn more about the campaign for social justice food labeling and the Agricultural Justice Project (AJP), see Social Justice Food Labeling: From food to table. For more information, see Beyond Pesticides' Agricultural Justice webpage.
farmSource: Civil Eats & Valley Voice