05
Aug
(Beyond Pesticides, August 5, 2015) The United Kingdom (UK) is poised to harvest higher than expected yields of winter oilseed rape (canola) in its first neonicotinoid-free growing season since the European moratorium on neonicotinoids went into place in 2013. This bumper harvest comes amid the recent approval of an emergency exemption for neonicotinoid use on the crop in certain areas of the UK, and disproves the industry argument that the crop would falter without the use of neonicotinoids. Activists argue that these findings show there is 'no emergency' for neonicotinoid use and that the current moratorium should remain in effect.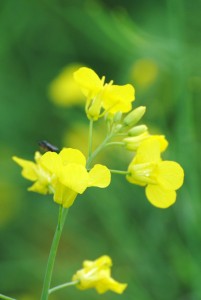 The first harvest results of winter oilseed rape (canola) planted without neonicotinoid seed treatments have come in – and farmers are experiencing a better than usual crop. Figures for the first oilseed rape harvest since the European-wide ban on neonicotinoid pesticides was introduced show that the yield so far is higher than the average for the previous decade, when the chemicals were used on the majority of oilseed rape grown in the UK. Farmers Weekly, a leading multimedia information service for farmers and agricultural businesses, has reported that yields are up by as much as eight percent.
The European Union introduced a two-year ban on neonicotinoids at the end of 2013 to allow more research into their effects after scientists found evidence that they present a danger to bees and other pollinators. The ban came several months after the European Food Safety Authority (EFSA) released a report identifying "high acute risk" to honey bees from uses of certain neonicotinoid chemicals. While this action was initially opposed by many UK officials, the government must comply with the ban under European Union (EU) rules.
According to the UK's Agriculture and Horticulture Development Board (AHDB) Harvest Report, with 15% of the oilseed rape harvested, yields are between 3.5 and 3.7 tons per hectare, higher than the normal farm average of 3.4. "An estimated 15% of winter oilseed rape was also harvested with yields typically above the 5-year average, although it must be noted that yield information is based on a small area harvested to date. Limited quality data is available, although early quality indicators are good." Others are speculating that the total volume of oilseed rape harvested this year is likely to be at least as high as it was before the ban, even with a reduction in acres planted.
Just last month, an emergency application was approved by the UK's Department for Environment, Food, and Rural Affairs (DEFRA) allowing farmers to use neonicotinoid seed treatment on 5 percent of oilseed rape crop to control a flea beetle infestation. The National Farmers Union (NFU), which requested the emergency exemption, challenged the European neonicotinoid ban, arguing that the pesticides are essential to prevent crops from being destroyed by cabbage stem flea beetles. According to the Independent, the NFU said in May: "Farmers across the country are continuing to suffer heavy losses through oilseed rape crop damage following restrictions to the availability of neonicotinoid." To make things worse, reports have circulated that the UK government gagged its own pesticide advisors after they refused to support the initial application by NFU to lift a ban on neonicotinoids. But these new figures suggest the NFU's claims of damage were greatly exaggerated, and that achieving a successful harvest without the use of neonicotinoids is very possible. Many now believe the approval of the emergency exemption was especially ill-advised given the latest yield data. Ironically, most of the harvest data comes from eastern England where 40% of the crop has already been brought in, and where the exemption to permit neonicotinoid use was approved.
Neonicotinoids have been found by a growing body of scientific literature to be linked to honey bee and pollinator decline. Pesticides, like the neonicotinoids, have been identified as a major culprit in bee decline. These pesticides are associated with decreased learning, foraging and navigational ability, as well as increased vulnerability to pathogens and parasites as a result of suppressed bee immune systems. Used widely in agriculture as seed treatment for various crops, foraging bees, in the absence of their native habitat, are exposed to fields of poison where even pollen and nectar are contaminated. In addition to toxicity to bees, pesticides like the neonicotinoids have been shown to also adversely affect birds, aquatic organisms and contaminate soil and waterways, and overall biodiversity. For more information read our piece, Birds, Bees and Beneficials.
In the U.S., in light of the shortcomings of federal action to protect these beneficial creatures, it is left up to us to ensure that we provide safe havens for pollinators by creating pesticide-free habitat and educating others to do the same. Take action by calling on EPA to suspend neonics now. You can also declare your garden, yard, park or other space as pesticide-free and pollinator friendly. It does not matter how large or small your pledge is, as long as you contribute to the creation of safe pollinator habitat. Sign the pledge today! Need ideas on creating the perfect pollinator habitat? The Bee Protective Habitat Guide can tell you which native plants are right for your region. For more information on what you can do, visit our BEE Protective page.
All unattributed positions and opinions in this piece are those of Beyond Pesticides.
Source: The Independent