BEE Protective
Protecting Honey Bees and Wild Pollinators From Pesticides
Beyond Pesticides advocates for widespread adoption of organic management practices as key to protect pollinators and the environment, and has long sought a broad-scale marketplace transition to organic practices that disallows the use of toxic synthetic pesticides by law and encourages a systems-based approach that is protective of health and the environment. Read below for information on the role that pesticides play in pollinator decline, and actions you can take to BEE Protective. For information on growing plants to protect pollinators, see our Pollinator-Friendly Seeds and Nursery Directory. Use the Bee Protective Habitat Guide to plant a pollinator garden suited for your region, and consider seeding white clover into your lawn.
Background
Since 2006, honey bees and other pollinators in the U.S. and throughout the world have experienced ongoing and rapid population declines. The continuation of this crisis threatens the stability of ecosystems, the economy, and our food supply, as one in three bites of food are dependent on pollinator services. In 2013, Beyond Pesticides joined with beekeepers and environmental allies in a lawsuit challenging EPA's approval of two neonicotinoid pesticides. These highly toxic, persistent and systemic chemicals have been widely implicated as leading factors in pollinator declines. For a primer on the pollinator crisis, see the lawsuit's Press Release. Also, read the 2013 Lawsuit, Appendix A: Clothianidin, and Appendix B: Thiamethoxam.
Click the links below for more in-depth information on this important issue, and view Beyond Pesticides' latest pollinator-related Daily News Blog articles to the right.
Bee Protective
In order to move action forward on the pollinator crisis, Beyond Pesticides and The Center for Food Safety launched the BEE Protective campaign, a national public education effort supporting local action aimed at protecting honey bees and other pollinators from pesticides and contaminated landscapes.

BEE Protective includes a variety of educational materials to help encourage municipalities, campuses, and individual homeowners to adopt policies and practices that protect bees and other pollinators from harmful pesticide applications and create pesticide-free refuges for these beneficial organisms. In addition to scientific and regulatory information, BEE Protective also includes a model community pollinator resolution and a pollinator protection pledge. Pollinators are a vital part of our environment and a barometer for healthy ecosystems. Let's all do our part to BEE Protective of these critical species.
Resources and Educational Materials -Make use of the resources below as you advocate to BEE Protective! Feel free to make copies and hand them out in your community!
No Longer a BIG Mystery *New! - Beyond Pesticides new report summarizing the science behind bee declines. The document provides scientific evidence demonstrating that pesticides, especially the neonicotinoid class of insecticides have sublethal and chronic impacts on bee behavior, immune systems, and colony longevity.
BEE Protective Habitat Guide - A comprehensive guide to the pollinator-friendly flowers you can plant in your region. Bring it to your workplace, school, or use it to create a pollinator garden on your own backyard! If you'd like a print edition, copies are available from Beyond Pesticides upon request. Send an email to

[email protected]

or call 202-543-5450
Economic Value of Beekeeping - The dramatic decline of honey bees also has a significant impact the United States' agricultural economy. Learn about how the honey bee crisis could affect your food budget.
Protecting Honeybees and Wild Pollinators - Widening the scope from honey bees, this two page pamphlet delves into the effects pesticides have the numerous other pollinators that provide critical ecosystem services.
Bees, Birds and Beneficials- An expanded look at the range of harmful impacts threatening pollinators and wildlife. Delve into the issue of systemics and genetic engineering-induced habitat loss. Read about the organic path forward that is needed to protect the natural world.
---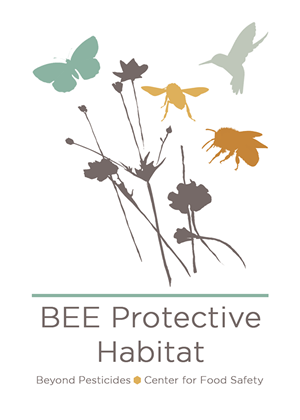 BEE Protective in Your Community
Now that you know the details, make your town or college campus pollinator friendly by working to curtail or eliminate the sale and/or use of bee-harming neonicotinoid pesticides.
---
Help Beyond Pesticides grow the pressure on all fronts by asking retailers, administrators, and elected officials to take action by eliminating or curtailing the sale and use of neonicotinoid pesticides.