The Beyond Pesticides 2016 Pesticide-Free Zone Sign Calendar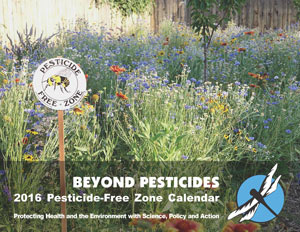 The 2016 Calendar features stunning winning photographs from Beyond Pesticides' Pesticide-Free Zone Sign Photo Contest. These signs, whether one of ours, homemade, or created by a community, are an important way to effect change through local action by inspiring individuals to stimulate discussion on the health and environmental hazards of toxic pesticides. Neighbor-to-neighbor education is a highly effective way of improving community awareness and initiating changes in policies and practices. Additionally, photographs in the calendar capture a wide variety of places that can be managed without pesticides - from individual yards to city parks, and public buildings, we are celebrating pesticide-free spaces everywhere!

With your gift of $150 or more, receive Beyond Pesticides' 2016 Calendar, featuring beautiful photos from our Pesticide-Free Zone Sign photo contest. 
---
Or, purchase the calendar to give as a gift for your friends and family! Calendars are $15 each, which includes shipping and handling.