Sign me up!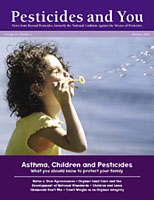 Membership to Beyond Pesticides includes a subscription to our quarterly magazine, Pesticides and You. You may also sign up to receive email action alerts for important updates on pesticide regulations, legislation, local news and scientific studies.
Membership: $15 low-income, $25 Individual; $30 all-volunteer org., $50 public interest org., $100 business.
Or to help us work to eliminate toxic pesticides in our homes, schools, workplaces and food supply, make a tax-deductible, online donation.
Merchandise and publications, including current and back issues of our quarterly journal,  Pesticides and You, are also available.