Update: Victory! EPA Withdraws Cause Marketing Pesticide Label Proposal
(Beyond Pesticides, October 3, 2008) Activists and individuals concerned about misleading claims on pesticide labeling scored a victory on Wednesday when the Environmental Protection Agency (EPA) withdrew its draft notice on label statements regarding cause marketing and third-party endorsements. After a two-year process of EPA proposals and public comment periods, the agency has determined that such label statements do nothing to promote "consumer understanding" of the risks and applications of pesticide products, and will not be encouraging further submissions. Read more.
---
Tell EPA to Reject Cause Marketing on Toxic Pesticide Products
Will this be the pesticide label of the near future? It will be unless we act to stop cause marketing on toxic pesticides!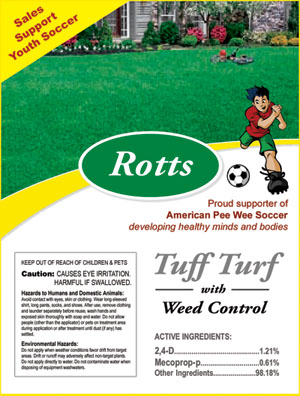 Thank you to everyone that submitted comments to EPA. Read the American Association of Pediatrics comments.
On October 31, 2007, the Environmental Protection Agency (EPA) opened a comment period on their Draft Guidance for Pesticide Registrants on Label Statements Regarding Third-Party Endorsements and Cause Marketing Claims. After being urged by Beyond Pesticides and other concerned groups, EPA extended the closing date from December 28, 2007 to March 27, 2008. Your opportunity to provide EPA with critical feedback on its proposal to allow third-party endorsements on pesticide labels ends in less than a week!
Cause marketing on pesticide labels would allow manufacturers to place the symbols of well-known organizations on their products, such as in the deal Clorox made with the American Red Cross last year. Attaching an image (like the Red Cross symbol) to a label can imply false safety of a product, which is a direct violation of EPA's own labeling law. EPA's proposed law would allow any company to make similar partnerships, putting consumers at risk of misinterpreting the toxic nature of the product.
Over the last year, states have vocally rejected the idea of cause marketing on labels. The Minnesota Department of Agriculture determined that "the inclusion of such a symbol and organization name on a pesticide label would constitute misbranding." Seven state attorneys general and the American Association of Pest Control Officials (AAPCO) contested EPA's approval of the Clorox/Red Cross label, again noting that it violated EPA's own standard. Dozens of public health and environmental groups have petitioned EPA to reverse its decision on Clorox's labeling, and have already commented on this notice. For more background on the proposed rule, see Daily News of December 21, 2007 and January 10, 2008.
TAKE ACTION: Your input is critical in helping EPA to disallow cause marketing and third-party labeling on pesticide labels. Please send your comments to EPA no later than March 27, 2008 in order to be considered. See sample letter.You can submit them online at http://www.regulations.gov by entering Docket # EPA-HQ-OPP-2007-1008. If submitting by mail, send to Office of Pesticide Programs (OPP) Regulatory Docket (7502P), Environmental Protection Agency, 1200 Pennsylvania Ave., NW., Washington, DC 20460-0001.