20
Feb
(Beyond Pesticides, February 20, 2013) A new report by the United Nations Environment Programme (UNEP) and the World Health Organization (WHO) has identified endocrine disrupting chemicals as having significant health implications for the global population. According to the report, these chemicals have the capacity to interfere with tissue and organ development and function, and therefore they may alter susceptibility to different types of diseases throughout life, and represents a global threat that needs to be resolved. The report cites insufficient reporting and information on chemicals in products, materials and goods and calls for more research and collaboration.
The State of the Science of Endocrine Disrupting Chemicals, Â  a joint study by UNEP and WHO, finds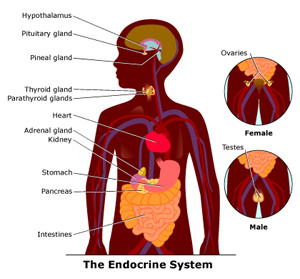 that endocrine disrupting chemicals (EDCs) are important environmental risk factors for endocrine diseases. Exposures during critical phases of development play an important role in the onset of many diseases, affecting future generations. Trends indicate an increasing burden of certain endocrine diseases across the globe, and it is clear from human studies that populations are exposed to perhaps hundreds of environmental chemicals at any one time. This UN study, which is the most comprehensive report on EDCs to date, highlights some association between exposure to EDCs and health problems, including the potential for such chemicals to contribute to the development of non-descended testes  in young males, breast cancer in women, prostate cancer in men, developmental effects on the nervous system in children, attention deficit /hyperactivity in children   and thyroid cancer. The report notes that with more comprehensive assessments and better testing methods, potential disease risks could be reduced, with substantial savings to public health.
"We urgently need more research to obtain a fuller picture of the health and environment impacts of endocrine disruptors," said Maria Neira, M.D., WHO's Director for Public Health and Environment. "The latest science shows that communities across the globe are being exposed to EDCs, and their associated risks. WHO will work with partners to establish research priorities to investigate links to EDCs and human health impacts in order to mitigate the risks. We all have a responsibility to protect future generations."
A healthy endocrine system is essential for healthy reproduction and development in human and wildlife. However, endocrine disruptors can change the function(s) of the body's hormonal system, increasing the risk of adverse health effects. Chemicals with endocrine disrupting properties linked to disease outcomes in laboratory studies have been identified. According to the Endocrine Disruption Exchange (TEDX), founded by Theo Colborn, PhD, endocrine effects include direct effects on traditional endocrine glands, their hormones and receptors   (such as estrogens, anti-androgens, and thyroid hormones), as well as signaling cascades that affect many of the body's systems, including reproductive function     and fetal development , the nervous system and behavior, the immune and metabolic systems, the liver, bones and many other organs , glands and tissues. TEDX has identified approximately 870 endocrine disruptors, including chemicals like PCBs, Bisphenol A, pesticides like atrazine, triclosan, DDT and many others.
The report also raises similar concerns on the impact of EDCs on wildlife. In Alaska, exposure to such chemicals may contribute to reproductive defects, infertility and antler malformation in some deer populations. Population declines in species of otters and sea lions may also be partially due to their exposure to diverse mixtures of PCBs, the insecticide DDT, other persistent organic pollutants, and metals such as mercury. Meanwhile, bans and restrictions on the use of EDCs have been associated with the recovery of wildlife populations and a reduction in health problems.
The report identifies current needs to take advantage of existing knowledge to improve human and wildlife health by prevention of environmentally induced diseases:
– Â  Testing: known EDCs are only the 'tip of the iceberg' and more comprehensive testing methods are required to identify other possible endocrine disruptors, their sources, and routes of exposure.
– Â Research: more scientific evidence is needed to identify the effects of mixtures of EDCs on humans and wildlife (mainly from industrial by-products) to which humans and wildlife are increasingly exposed.
– Â  Reporting: many sources of EDCs are not known because of insufficient reporting and information on chemicals in products, materials and goods.
– Â  Collaboration: more data sharing between scientists and between countries can fill gaps in data, primarily in developing countries and emerging economies.
The State of the Science of Endocrine Disrupting Chemicals""2012 report begins by explaining what endocrine disruption is all about and then reviews our current knowledge of endocrine disrupting effects in humans and in wildlife. The document ends with a review of sources of and exposures to EDCs. The Summary for Decision-Makers is also available.
A 2012 study from a group of renowned endocrinologists finds that even low doses of EDCs can influence certain human disorders, highlighting various epidemiological studies that show that environmental exposures to EDCs are associated with human diseases and disabilities. The authors conclude that the effects of low doses cannot be predicted by the effects observed at high doses, and therefore recommend fundamental changes in chemical testing and safety determination to protect human health. The U.S. Environmental Protection Agency (EPA) is mandated to screen chemicals for potential endocrine disrupting effects. However, the agency has yet to finalize its screening and testing procedures since tasked to do so in 1996. The tests to be used by EPA were first recommended in 1998, but since then the science has made progress and become more sophisticated, while EPA's toxicological testing protocol has not been updated, according to some critics.
Some EDCs occur naturally, while synthetic varieties can be found in electronics, personal care products and cosmetics. They can also be found as additives or contaminants in food. A well-functioning endocrine system regulates the release of certain hormones that are essential for functions such as metabolism, growth and development, sleep and mood. Human exposure can occur via the ingestion of food, dust and water, inhalation of gases and particles in the air, and skin contact.
Beyond Pesticides' Pesticide-Induced Disease Database  features a wealth of studies that have linked pesticide exposures to adverse impacts on the endocrine system. These studies explore outcomes and mechanisms for several health effect endpoints including cancer, developmental and learning disorders, Parkinson's disease, reproductive health.
Join us at Beyond Pesticides' 31st annual National Pesticide Forum, "Sustainable Families,
Farms and Food," with top national scientists, local and national activists, and concerned citizens as we share information on the issues local communities face, craft solutions and catalyze networks to manifest positive health and environmental policy and change. Discussions on the impact that pesticides and other EDCs have on human and environmental health would be led by renowned scientists and medical professionals like Tyrone Haynes, PhD, Lynn Carroll, PhD, Joel Forman, M.D., Issac Pessah, PhD, and others. For more information on the forum, visit https://www.beyondpesticides.org/forum/.

For more on EDCs, download Beyond Pesticides' Endocrine Disruption brochure (bi-fold), or read Beyond Pesticides article, "Pesticides That Disrupt Endocrine System Still Unregulated by EPA."
Source: UNEP News Centre