04
Nov
(Beyond Pesticides, November 4, 2016) After withdrawing in January its registration approval for the toxic herbicide mixture Enlist Duo, for use in genetically engineered (GE) crops, the Environmental Protection Agency (EPA)  announced  this week that it is not only reapproving  the chemical combination, but it is proposing to expand the number of crops and states in which it can be used. The expanded registration will allow the use of Enlist Duo on GE cotton and extend use to GE corn, soybean, and cotton from 15 states to 34 states. This follows an EPA review triggered by manufacturer claims that Enlist Duo ingredients have synergistic effects, which EPA had not evaluated. According to EPA, its latest review of the data found no synergistic effects.
Ironically, this EPA-proposed expansion of pesticide use in GE crops across the U.S. comes on the heels of a front page Sunday New York Times exposé  that concludes "genetically engineered crops fail to increase yields and reduce pesticide use," despite continuing claims to the contrary.
Developed by Dow AgroSciences (Dow), Enlist Duo is an herbicide that incorporates a mix of glyphosate and a new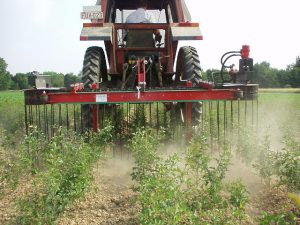 formulation of 2,4-D, intended for use on GE Enlist-Duo-tolerant corn and soybean crops. The herbicide has been marketed as a "solution" for the control of glyphosate-resistant weeds brought on by the widespread use of the chemical on glyphosate-tolerant (Roundup Ready) crops over the last decade. These super weeds now infest tens of millions of acres of U.S. farmland. Enlist Duo was officially registered in October 2014, just another demonstration of the failings of the U.S. pesticide and agricultural regulatory system to put people and the environment before economic incentives and industry bottom lines.
Shortly after it was registered, a lawsuit was filed by Beyond Pesticides and other environmental groups, challenging the approval under the Federal Insecticide, Fungicide, and Rodenticide Act. The groups argued that in its approval of Enlist Duo EPA disregarded negative impacts on sensitive species, including nearly two hundred species protected under the Endangered Species Act, from the increased use of the toxic cocktail on crops genetically engineered to withstand its application. In addition to environmental damage, these chemicals have been linked to a myriad of human health problems. 2,4-D has been linked to soft tissue sarcoma, non-Hodgkin's lymphoma (NHL), neurotoxicity, kidney/liver damage, and harm to the reproductive system. Additionally, glyphosate has been classified as a human carcinogen  based on laboratory studies by the World Health Organization (WHO) in March 2015.
In November 2015, EPA revoked the registration of Dow's Enlist Duo based on new information on the toxic effects associated with the synergistic interactions of the chemical cocktail, including  2,4-D, glyphosate, and other undisclosed ingredients, to plants outside the treated area. In January 2016, the 9th U.S. Circuit Court of Appeals rejected the revocation  in a three-sentence order that gave no reasoning. EPA was facing pressure from environmental groups and Dow's legal team, and environmentalists believed the agency would have to choose whether it would cancel the pesticides, acknowledging the imminent hazard and removing it from the market immediately, or undergo a lengthy cancellation process.
Instead, EPA has now reapproved Enlist Duo, reporting that it revoked the registration due to claims of product ingredient synergy by the herbicide's registrant, Dow. EPA then requested and received additional synergy data from Dow, and have stated that after review of the additional data, it has  found a lack of synergistic effects, despite Dow's claims. According to EPA, "These data demonstrate that the combination of 2,4-D choline and glyphosate in Enlist Duo does not show any increased toxicity to plants and is therefore not of concern." EPA seeks to amend the registration and add an additional 19 states where Enlist Duo can be used. While EPA has stated that there is no reason to be concerned, research points to the fact that synergy between chemicals can be a real and serious problem.
A 2002  study by Warren Porter, PhD., professor of zoology and environmental toxicology at the University of Wisconsin, Madison, examined the effect of fetal exposures to a mixture of 2,4-D, mecoprop, and dicamba exposure ""frequently used together in lawn products like Weed B Gone Max and Trillion"" on the mother's ability to successfully bring young to birth and weaning. Researchers looked at pesticide concentrations diluted to levels that are considered "safe" by EPA and found that it is capable of inducing abortions and resorptions of fetuses at very low parts per billion. The greatest effect was at the lowest dose. Beyond Pesticides has long been critical of EPA's risk assessment process, which only evaluates the toxicity of an active pesticide ingredient alone, and does not consider the hazards of pesticide mixtures (or inert ingredients) in common pesticide products. For more information on pesticide synergy, see our 2004 article, Synergy: The Big Unknowns of Pesticide Exposure.
How to Make a Difference, NOW
EPA is seeking public comments on the proposed amendment to the registration to include GE cotton and to extend the use for GE corn, soybean and cotton to an additional 19 states. Public comments must be submitted by December 1, 2016 to EPA docket # EPA"'HQ"'OPP"'2016"'0594 at www.regulations.gov. Write a comment to EPA telling them that you do not support the expansion of Enlist Duo registration to include GE cotton, nor do you support the use of Enlist Duo in 19 new states.
As the crisis in weed resistance escalates, threatening crop productivity and profitability, advocates point to organic agriculture as a solution that protects public health, the environment, and farmers' livelihood.  The New York Times highlights this need to move towards organic, finding that the shift to GE crops in the United States and Canada over the past two decades has increased the use of pesticides in North America, and failed to produce any significant yield increases.
By strengthening on-farm resources, such as soil fertility, pasture and biodiversity, organic farmers can minimize and even avoid the production challenges that most genetically engineered organisms have been falsely-marketed as solving. To learn more about organic agriculture, see  Beyond Pesticides Organic Program Page.
Source: EPA, Center for Biological Diversity
All unattributed positions and opinions in this piece are those of Beyond Pesticides.