21
Jul
(Beyond Pesticides, July 21, 2017) A March 2017 review of studies on the agricultural use of glyphosate (the active ingredient in "Roundup" and other formulated herbicides) points to widespread persistence in soils subject to long-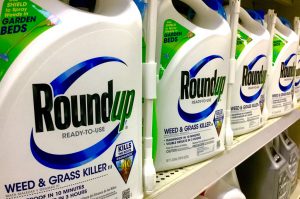 term, intensive glyphosate use, and myriad resulting concerns about impacts on soil and environmental health. The review, by Robert J. Kremer, PhD, of the University of Missouri School of Natural Resources, cites concerns that include: reduction of nutrient availability for plants and organisms; disruption to organism diversity, especially in the areas around plant roots; reductions of beneficial soil bacteria; increases in plant root pathogens; disturbed earthworm activity; reduced nitrogen fixing at plant roots; and compromised growth and reproduction in some soil and aquatic organisms.
Globally, glyphosate is the most widely used herbicide compound: in 2017, worldwide use is estimated to be approximately 1.35 million metric tons. Use in the U.S. has risen dramatically — from 2.72–3.62 million kg in 1987 to approximately 108 million kg in 2014, and 15-fold since 1996, when genetically engineered (GE) glyphosate-tolerant crops were introduced. Use has grown for a number of reasons, including more-intensive use as resistance to the herbicide grows.
Researchers have found that, after years of consistent application to agricultural crops, the chemical accumulates and persists in area soil, particularly at the root zone and in the top few millimeters. In part, the accumulation is due to the fact that only 5% of any applied dose tends to reach the weed it is intended to kill, while the rest lands on the soil. In addition, the chemical is likely released in soil from the roots of plants that have absorbed the compound, as well as from decomposing plants that have been exposed to it. This finding of persistence belies the common assumption that the chemical rapidly degrades in soil.
A 2016 study examined whether soils exposed to frequent and high doses of glyphosate might yield negative effects on non-GE crops grown in the same soils. The study reaches the conclusion that, although the probability of plant injury was not high, increased monitoring should be deployed in areas where glyphosate use is intensive. Dr. Kremer concurs, suggesting that possible effects this compound may have not only on soil and water, but on any future crops — particularly, non-GE plants — planted in the same soil should be the subject of further research.
Glyphosate and/or its primary metabolite now commonly show up in groundwater and surface water testing, as well as in some marine environments. Yet monitoring for glyphosate in soils is practiced neither consistently nor with sufficient attention to exacerbating factors. (Research over the past decade has shown that soil characteristics and crop management protocols influence the behaviors of glyphosate.)
Dr. Kremer speculates that strategies such as use of crop rotation (to non-GE crops), shifts to non-glyphosate herbicides, and use of cover crops might ameliorate long-term negative impacts of glyphosate residues. He suggests that such protocols could restore microbe diversity in soil, which can boost degradation of the compound, and which is important to nutrient cycling, plant growth, pathogen suppression, and improved soil and environmental health.
Such tactics could help mitigate accumulation of glyphosate in soils and marine environments, but would not sufficiently address the mounting, and legion, concerns about this compound's use in agriculture and its resultant impacts on public health. The World Health Organization's International Agency for Research on Cancer concluded in 2015 that glyphosate is "probably carcinogenic to humans." California recently listed it as a human carcinogen. It has been implicated in endocrine disruption. Animal studies demonstrate neurotoxic, endocrine, reproductive, tumorigenic, growth-disrupting, and other impacts. Because glyphosate is patented for its antibiotic properties, its use results in bacterial resistance to antibiotics commonly used to fight human pathogens. It also exhibits antimicrobial effects that could impact the human gut biome — the community of biota that mediates much of human health, including immune function. Imbalances in composition and/or function of these gut biome organisms have been associated with neurologic, respiratory, gastrointestinal, metabolic, cardiovascular, and hepatic diseases. Further, glyphosate poses risks to pregnant women, including shorter gestation and lowered neonatal birth weight.
In addition, adjuvants and other components of glyphosate herbicide formulations may amplify toxicological impacts or be even more toxic than the active ingredient (glyphosate) alone, suggesting that other ingredients work synergistically with glyphosate, and pointing to a problem with current chemical regulatory frameworks. Beyond Pesticides urges municipalities to ban or restrict the use of this chemical to protect public health, and encourages people to avoid it in food by purchasing and eating as organically as possible.
In the context of glyphosate's growing pervasiveness, studies have looked at its presence in the post-harvest food supply. The Canadian Food Inspection Agency (CFIA) published results of glyphosate testing that found traces of the chemical in approximately one-third of food products, and residue levels above the acceptable limits in nearly 4% of grain products; bean, pea, and lentil products were particularly likely to show residue. Yet in March of 2017, the USDA canceled scheduled plans to test for glyphosate in the U.S. food supply.
Unsurprisingly, the best ways to avoid glyphosate and other harmful pesticides are (1) to support organic practices for lawns and landscapes, (2) purchase and eat organic food, which is not permitted to be treated with glyphosate compounds, and (3) support organic agriculture through your food dollars, contributions to nonprofits working in the sector, and/or your advocacy.
Source: MedCrave: Advances in Plants & Agriculture Research
All unattributed positions and opinions in this piece are those of Beyond Pesticides.