19
May
(Beyond Pesticides, May 19, 2016) Using fear without facts, Congress is yet again attempting to gut Clean Water Act (CWA) provisions that protect waterways and communities from excessive pesticide pollution. In a move that was blasted by House Democrats this week, HR 897  (which was introduced as the Reducing Regulatory Burdens Act of 2015) was renamed the  Zika Vector Control Act, despite the fact that the bill does not actually do anything to address the threat of Zika. The legislation was defeated Tuesday on a suspension vote, 262-159, however the bill will be going to the Rules Committee on Monday, with anticipated House floor activity on Tuesday, May 24. (Take action: urge your representative to oppose HR 897.)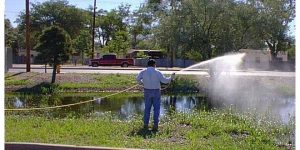 "In a brazenly political act, the Republican leadership is trying to mask gutting the Clean Water Act as having something to do with fighting Zika," Drew Hammill, spokesman for House Minority Leader Nancy Pelosi (D-CA), said in a statement to The Hill. "This bill has nothing to do with Zika and everything to do with Republicans' relentless special interest attacks on the Clean Water Act," he said. "It will do nothing to stem the growing threat of the Zika virus."
The bill reverses a 2009 federal court decision in National Cotton Council v. EPA that directed EPA to require permits from applicators who spray over "navigable waters," as outlined in the CWA. It also follows years of failed attempts to repeal the Pesticide General Permit and allow pesticides to be discharged into bodies of water without federal oversight, as the Federal Insecticide, Fungicide, and Rodenticide Act (FIFRA) does not require tracking of such applications.
Under this legislation, pesticide applicators will  be able to discharge pesticides into waterways with no EPA oversight under the standards of the CWA and the permitting process, which takes into account local conditions that are not addressed under FIFRA. Furthermore, permits do not prevent applicators from using pesticides, especially for public health emergencies. The permits do require basic protections for water quality and aquatic wildlife. Applicators must simply record their pesticide applications and monitor application sites for any adverse incidents, which must be reported.
The reality is that including a CWA permitting process encourages pesticide users to seek alternative approaches to pest management if their current methods are going to contaminate nearby sources of water. Such a provision is not duplicative or burdensome, but simply an example of good governance.
"In past Congresses, my colleagues on the other side of the aisle have used the public health emergency de jour as rationale to pass and enact this legislation into law. At one time, West Nile Virus, the next western wildland fire suppression, and last Congress it was the drought," said U.S. Representative Donna Edwards (D-MD) in a statement. "Now, in nothing less than a purely political move, Republicans are considering this bill on suspension, but under the guise of combatting the spread of Zika."
Meaningful Action to Curb Zika
The Zika Vector Control Act does not include any language that would actually help stem mosquito populations. The only thing that has changed since it was known as the Reducing Regulatory Burdens Act is the title. Proponents of the legislation are essentially arguing that successful control of the Zika virus is contingent upon on a community's ability to spray pesticides without having to apply for a permit if there is concern for contaminating nearby water. However, the efficacy of adulticidal pesticide applications (aerial or ground spraying) has been called into question over the years. This is usually the least efficient mosquito control technique, as it only targets adult mosquitoes that are present at the time of application. Further, the drifting spray impacts other non-target organisms like pollinators, birds, fish and amphibians.
Most experts agree that whether it's Zika, Chikengunya or West Nile Virus, combating mosquito-borne infections should include good surveillance and scientific understanding for controlling mosquito populations. An efficient mosquito management strategy emphasizes public awareness, prevention, and monitoring methods. However, if these methods are not used properly, in time, or are ineffective, communities must determine if they should risk exposing vulnerable populations to potentially harmful diseases caused by mosquitoes or to chronic or deadly illnesses caused by pesticides. Commonly used mosquito pesticides like permethrin, resmethrin, naled and malation are all associated with some measure of human and ecological health risks, especially among people with compromised immune systems, chemically sensitized people, pregnant women, and children with respiratory problems, such as asthma.
Beyond Pesticides' ideal  mosquito management strategy  comes from an integrated approach that emphasizes education, aggressive removal of standing water (which are breeding areas), larval control, monitoring, and surveillance for both mosquito-borne illness and pesticide-related illness. Control of disease-carrying mosquitoes can be successful when emphasis is placed on public education and preventive strategies.
Individuals can take action by eliminating standing water, introducing mosquito-eating fish, encouraging predators, such as bats, birds, dragonflies and frogs, and using least-toxic larvacides like  bacillus thuringiensis israelensis  (Bti). Community based programs should encourage residents to employ these effective techniques, focus on eliminating breeding sites on public lands, and promote monitoring and action levels in order to determine what, where, and when control measures might be needed. Through education of proper cultural controls, and least-toxic and cost effective biological alternatives, the use of hazardous  control methods, such as toxic pesticides, can be eliminated.
Take Action:
Send a letter to your U.S. Representative urging opposition to  HR 897 and support of the Clean Water Act. Tell your Rep.  not to give in to fear: the Zika Vector Control Act, despite the misleading name, will not protect against Zika virus, but instead will allow for would eliminate safeguards that protect our waterways and communities from excessive pesticide pollution.
Learn More About Mosquito Management: Arm yourself with knowledge about safe and effective management programs by checking out Beyond Pesticides' Mosquito Management program page, which lists resources that can help you and your community safely manage mosquitoes, including least-toxic mosquito repellents, bed nets, and proper clothing that can be used to keep mosquitoes safely at bay.
Source: The Hill
All unattributed positions and opinions in this piece are those of Beyond Pesticides.