11
Jul
(Beyond Pesticides, July 11, 2016) The Centers for Disease Control and Prevention (CDC) and the U.S. Environmental Protection Agency (EPA) announced last Wednesday, July 6 that Zika is spreading rapidly in Puerto Rico, and recommends aerial spraying of the toxic pesticide Naled for mosquito control, much to the dismay of many area farmers, activists and concerned citizens who feel that the decision was made without consultation or information provided to the local population. Aerial spraying of pesticides have long been used for mosquito control, but many experts believe that these methods fail to sufficiently manage mosquito populations, increase pesticide resistance, and kill other species that would have acted as a natural predator to mosquitoes. Many experts  agree that combating mosquito-borne diseases should include good surveillance and scientific understanding for controlling mosquito populations, including a focus on  eliminating or managing  breeding areas,  utilizing  biological controls, exclusion from indoor environments with screening, and repellents.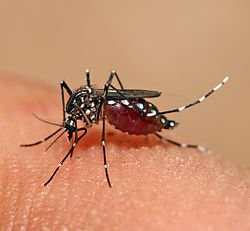 An efficient mosquito management strategy emphasizes public awareness, prevention, and monitoring methods. However, if these methods are not used properly or in time, communities must determine if they should risk exposing vulnerable populations to potentially harmful diseases caused by mosquitoes or to chronic or deadly illnesses caused by pesticides.
Note that mosquito-borne transmission of Zika virus has not been reported in the U.S., but has been found in U.S. "territories" – Puerto Rico, the U.S. Virgin Islands, and American Samoa, and other countries. The virus has been found in travelers to the U.S. from countries where infected mosquitoes have been reported.
The power struggle stems from the recent approval by the U.S. Congress and the signature of President Obama of the Puerto Rico Oversight, Management and Economic Stability Act (or PROMESA, meaning promise in Spanish), which has stripped the island of much of its autonomy. According to Workers World, Puerto Rican experts have proposed other, more appropriate ways to counter Zika, but the government has not listened to them, and several environmental, health, agriculture, social justice, and other organizations have banded together to create the United Front Against Aerial Fumigation in opposition to the spraying. There have also been numerous protests.
Puerto Rico's Popular Democratic Party (PDP) President and gubernatorial candidate David Bernier has also been outspoken against the plan to aerially spray. According to Carribean Business, Mr. Bernier said that he was concerned about "the manner in which reports were made known to the public, mainly through unofficial channels and without any formal announcement on the matter, which prompted additional speculation and confusion." He also cited concerns about the potential hazards it would have on the people's health, the ecosystem, and specifically the many bodies of water.
According to EPA, Naled can cause cholinesterase inhibition in humans, meaning that it can overstimulate the nervous system causing nausea, dizziness, confusion, and at very high exposures (e.g., accidents or major spills), respiratory paralysis and death. Residents can be exposed as by-standers from wide-area mosquito control applications, such as what they are recommending. In the decision statement to consider Naled, CDC points to studies from earlier this year demonstrating that mosquitoes in Puerto Rico are resistant to all aerial formulations of pyrethroid insecticides. Naled and many other commonly used mosquito pesticides, such as  permethrin, resmethrin, and malation, are all associated with some measure of human and ecological health risks, especially among people with compromised immune systems, chemically sensitized people, pregnant women, and children with respiratory problems, such as asthma.
Furthermore, the efficacy of aerial and ground spraying of pesticides is questionable. Large-scale mosquito control applications are made with ultra-low volume (ULV) sprays that dispense very fine droplets of the pesticide product into the air. Only those mosquitoes that come in contact with the fine particles are killed. The sprayed pesticides do not affect mosquito larvae left behind, which spawn new adult mosquitoes, ensuring the need for subsequent spraying.
Beyond Pesticides' Public Health Mosquito Management Strategy (see also  mosquito management strategy  summary) is  an integrated approach that emphasizes education, aggressive removal of standing water (which are breeding areas), larval control, monitoring, and surveillance for both mosquito-borne illness and pesticide-related illness. Control of disease-carrying mosquitoes can be successful when emphasis is placed on public education and preventive strategies.
Individuals can take action by eliminating standing water, introducing mosquito-eating fish, encouraging predators, such as bats, birds, dragonflies and frogs, and using least-toxic larvacides like  bacillus thuringiensis israelensis  (Bti). Community based programs should encourage residents to employ these effective techniques, focus on eliminating breeding sites on public lands, and promote monitoring and action levels in order to determine what, where, and when control measures might be needed. Through education of proper cultural controls, and least-toxic and cost effective biological alternatives, the use of hazardous  control methods, such as toxic pesticides, can be eliminated.
Beyond Pesticides' Mosquito Management program page has a list of resources that can help you and your community safely manage mosquitoes, including least-toxic mosquito repellents, bed nets, and proper clothing that can be used to keep mosquitoes safely at bay.
Sources: Carribean Business, Workers World, and CDC Statement.
All unattributed positions and opinions in this piece are those of Beyond Pesticides.