08
Jul
(Beyond Pesticides, July 8, 2016) Researchers at the University of Montana (UM) recently released a study that found a lack of government data and accountability on  the use of herbicides on public lands to kill invasive and non-native plants. The report raises serious questions about the widespread management practice, which the researchers say may be causing more harm than good.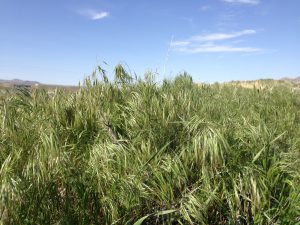 UM researchers, Cara Nelson, Ph.D. and Viktoria Wagner, Ph.D., along with two researchers from Canada, looked at government agencies and agricultural statistics companies in the U.S., Canada, and Mexico to find their data. The study found that the government agencies in Canada and Mexico kept no archived database of herbicide usage for invasive plant management. In the U.S., five out of seven agencies that were contacted by the researchers tracked herbicide usage, and only four of those agencies shared their data. These agencies include the Bureau of Indian Affairs, Bureau of Land Management, Fish and Wildlife Service, and National Park Service. The U.S. Forest Service, which oversees 193 million acres in the U.S., declined to share its data on herbicide use. The report found that even the agencies that did share their data did not consistently archive information on the effectiveness of the herbicide usage, the costs associated with usage, or make the information publicly available.
"We were surprised that we could not obtain a full accounting of herbicide usage for natural areas management in the U.S. and that no data were available for Canada," Dr. Nelson said to the Missoulian. Dr. Nelson, who is a botanist and an associate professor in UM's Department of Ecosystems and Conservation Science, stated to the Missoulian that herbicide use for managing invasive species can "¦"also have substantial downsides, including the potential to further degrade ecosystems by reducing germination and establishment of native plants and facilitating secondary invasion by weeds," she explained. "Although herbicides may kill target weeds, if native plants don't establish after spraying, there is a high probability that undesirable plants will colonize and these so-called "˜secondary invaders' can have even more detrimental impacts than the plant that was the initial target for control. A common secondary invader in the west is cheatgrass (Bromus tectorum), which is one of the invaders that has the most severe effects on wildlife habitat and ecosystem function."
The researchers found that in 2010, 1.2 million acres of U.S. federal and tribal wildlands were sprayed with 200 tons of herbicide. The most commonly used active ingredient was glyphosate, which is a nonselective herbicide that can also kill native grasses and herbs. The researchers point out that more oversight is needed to ensure taxpayer dollars are being used wisely and effectively. They concluded that it is essential to ensure ecological restoration practices have the intended effect, which would mean implementing a better system to monitor treatment outcomes.
The use of herbicides has been linked to shape changes in frogs and harm to non-target species, indicating that the risks are not worth the benefits. As with all pest problems, least-toxic alternatives provide a solution that addresses natural systems, and is more cost effective in the long term. A 2014 study shows that goats can adequately fill this need. Goats act as broad-spectrum weed killers; they will eat everything. In fact, goats are often more efficient at eradicating weeds, and are more environmentally sustainable than using harmful pesticides and chemicals. Once goats graze a weed, it cannot go to seed because it has no flower and cannot photosynthesize to take in sunlight and build a root system because it has no leaves. Grasses are a last choice for goats, which means desirable grass species are left behind with natural fertilizer to repopulate the land. Goats are notorious for eating poisonous plants, such as poison ivy and poison oak, and can handle them without getting sick.
Just recently, New York City's Prospect Park decided to bring in a herd of goats to fight back against opportunistic species that are encroaching in an area of the park after damage caused by Hurricane Sandy. Rather than spray toxic weed killers like 2,4-D, triclopyr, or glyphosate, the Prospect Park Alliance used the grant money it obtained from the National Park Service to bring in these 4-legged weed warriors as a safe and environmentally friendly way to restore storm-damaged areas. Prospect Park joins the long and growing list of places that have opted for goat-powered weed control over the use of toxic pesticides. The list ranges from  Washington, DC's Congressional Cemetery, to Google's Corporate Campus, Chicago O'Hare International Airport, and cities from Durango, CO, to Carrboro, NC, and Cheyenne, WY. In California, they have been used to prevent wildfires during the drought.
Beyond Pesticides has long been an advocate for the use of goats and grazing animals as a least-toxic, biological solution for weed management. To learn more, read "Successfully Controlling Noxious Weeds with Goats: The natural choice that manages weeds and builds soil health." Watch Beyond Pesticides' Board Member Lani Malmberg, a professional goat herder and owner of Ewe4ic Ecological Services, speak at the 33rd National Pesticide Conference along with other experts on the Organic Land Management and Cutting Edge Alternatives panel. For more information on natural, non-chemical land management strategies see Beyond Pesticides' Lawns and Landscapes and Invasive Weed Management pages.
Source: Journal of Applied Ecology, Missoulian
All unattributed positions and opinions in this piece are those of Beyond Pesticides.