09
Jan
(Beyond Pesticides, January 9, 2017) After the U.S. Environmental Protection Agency (EPA) released its recent human health risk assessment for the organophosphate insecticide (OP) tetrachlorvinphos (TCVP) on December 21, 2016, the agency announced it was allowing the continued use of the neurotoxic chemical to which children are widely exposed through pets' flea collars and other flea treatments. According to EPA, " TCVP is used as a direct animal treatment to livestock (i.e., cattle, horses, poultry and swine) and their premises, in kennels, outdoors as a perimeter treatment, and as a flea treatment [including flea collars] on cats and dogs."
In its announcement on January 4, 2017, EPA states, "We advise consumers to take certain precautions when handling TCVP products in residential areas. These precautions are listed on TCVP product labels, including: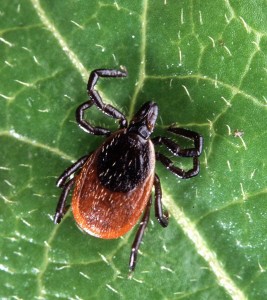 not allowing children to play with TCVP pet collar products,
keeping TCVP spray and powder products out of reach of children, and
washing hands thoroughly with soap and water after handling."
Advocates have raised concerns related to similar decisions on flea collars in the past in which EPA has issued warnings to mitigate risks, despite its inability to ensure children's safety. Children typically come into close contact with pets and their flea collars that cannot be controlled by the type of warning EPA is issuing. Additionally, there is ongoing concern that low level volatility in the home from treated pets in close proximity to family members represents an unacceptable hazard to a neurotoxic pesticide.
TCVP, like other organophosphates, works by inhibiting the enzyme acetylcholinterase. The inhibition leads to the accumulation of acetylcholine and ultimately toxicity to the central and peripheral nervous system. Organophosphates are nerve poisons that cause numbness, tremors, nausea, incoordination, blurred vision, difficulty breathing or respiratory depression, and slow heartbeat. TCVP, while most commonly found in fleas and tick control collars for pets, is used orally and dermally on livestock for flea and tick control. It is formulated in a variety of ways, including dusts, powders, and liquid sprays. Aside from coming into contact with a pet wearing a flea or tick collar, people can be exposed to TCVP via food and water and, as a result of this livestock use, EPA has determined that there is dietary exposure to people. There are also numerous occupational risks of exposure, affecting applicators, veterinarians, pet groomers, and livestock caretakers.
In its review, EPA acknowledges that it does not have all the all the data it needs to assess the affect of exposure to the pesticide on children and therefore has applied an additional 10x margin of safety factor. Advocates have disputed the decision to allow children's exposure when the data on TCVP's effects is not complete. EPA said, "For TCVP, as for other OPs, the FQPA safety factor (SF) of 10X has been retained for infants, children, youths, and women of childbearing age for all exposure scenarios due to uncertainty in the human dose-response relationship for neurodevelopmental effects."This approach to regulating pesticides rejects the precautionary principle, which eliminates use until complete data is available.
The agency review respondt to a 2009 petition filed by Natural Resource Defense Council.  The assessment was finalized by the Health Effects Division (HED) of the EPA as requested by the Office of Pesticide Programs Pesticides Re-evaluation Division. TCVP is a common active ingredient in tick and flea control pet collars, and is part of a class of insecticides called organophosphates, which attack the nervous system.
The previous human health risk assessment was completed in December 2015. The finalized risk assessment reflects a few updates since the 2015 risk assessment. According to EPA, the finalized risk assessment identified risks to people that exceed EPA's level of concern. These groups include adults and children in residential settings who are exposed to dusts/powder products and pet collars, and workers applying TCVP. One of the more important points of the risk assessment included a reduction of the oral toxicological point of departure (POD) from 8.0 mg/kg/day to 2.8 mg/kg/day. More simply put, researchers identified that, in experiments with rats, observed negative effects from exposure to TCVP occurred at lower doses than previously recorded.
In 2015, the California Environmental Protection Agency's Office of Environmental Health Hazard Assessment (OEHHA) announced that it intended to list TCVP and two other organophosphate insecticides as cancer-causing chemicals under California's  Safe Drinking Water and Toxic Enforcement Act of 1986 (Proposition 65). If a chemical is listed under Proposition 65, businesses that use this chemical are required by law to inform consumers about potential exposure.
Children face unique hazards from pesticide exposure. They take in more pesticides relative to their body weight than adults in the food they eat and air they breathe. Their developing organ systems often make them more sensitive to toxic exposure.  The probability of an effect such as cancer, which requires a period of time to develop after exposure, is enhanced if exposure occurs early in life.
The National Academy of Sciences reports that children are more susceptible to chemicals than adults and estimates that 50% of lifetime pesticide exposure occurs during the first five years of life.  The World Health Organization (WHO) cites that over 30% of the global burden of disease in children can be attributed to environmental factors, including pesticides.
While it is important to keep pets and home free of fleas and ticks, Beyond Pesticides recommends talking to your veterinarian about treatment options and asking questions about poisoning incidents associated with any product she or he recommends. Aside from pesticides, pet owners should vacuum daily during flea season with a strong vacuum cleaner, changing the bag often; groom pets with a flea comb daily, using soapy water to dunk and clean the comb between strokes; bathe pets frequently with soap and water; and, restrict pets to a single bed and wash bedding frequently to kill larvae. If you choose to use a flea and tick product on your pet, have it applied by your veterinarian and monitor pets for any signs of an adverse reaction after application. For more information on protecting your pet, read Beyond Pesticides factsheet, Pesticides and Pets: What you should know to keep your pets safe.Also see Beyond Pesticides' factsheets, Least-Toxic Control of Fleas and Least-Toxic Control of Ticks.
Source: Final Occupational and Residential Exposure Assessment for Registration Review
All unattributed positions and opinions in this piece are those of Beyond Pesticides.