09
Mar
(Beyond Pesticides, March 9, 2011) A recent study reports that the underlying cause of a fatal outbreak of P. aeruginosa in a hospital came from the contamination of triclosan soap dispensers, which acted as a continuous source of the bacterium. The contaminated triclosan soap infected the hands of health care workers and then patients, since triclosan is shown to have no effect on P. aeruginosa -a bacterium frequently associated with hospital-acquired infections. Authors of the study recommend alcohol-based sanitizers where appropriate, instead of triclosan soaps.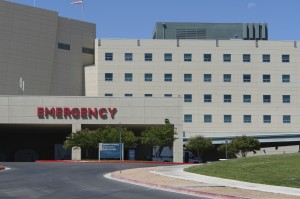 The study, "Molecular Epidemiology of a Pseudomonas aeruginosa Hospital Outbreak Driven by a contaminated Disinfectant-Soap Dispenser," published online in PLoS One, investigates a fatal epidemic of P. aeruginosa that occurred in a hematology unit in Italy. The researchers found that patients became indirectly infected (e.g., during central venous catheter handling through contaminated items) and the triclosan soap dispenser acted as a common continuous source of P. aeruginosa infection. Since P. aeruginosa is intrinsically not susceptible to triclosan, the use of triclosan-based disinfectant formulations should be avoided in those health care settings hosting patients at high risk of P. aeruginosa infection, the authors conclude. Immunocompromised patients, especially chemotherapy patients, are especially at risk.
Soap dispensers in the nurses' station and outpatient and inpatient areas were found to be contaminated. In the hospital studied. One soap dispenser was "heavily contaminated" with P. aeruginosa. Nurses washing their hands with the contaminated soap facilitated the spreading of the bacteria. P. aeruginosa that is known to be capable of causing high morbidity and mortality among immunocompromised patients and is frequently associated with hospital acquired infections. How the soap dispenser became contaminated is uncertain, but the researchers hypothesize that contamination may have occurred while the dispersers were being refilled. This was compounded by the suboptimal bactericidal activity of triclosan against P. aeruginosa.
Triclosan's efficacy has been called into question numerous times, even though triclosan is marketed as a germ-killing substance. A systematic review of research assessing the risks and potential benefits associated with the use of soaps containing triclosan finds that data do not show the effectiveness of triclosan for reducing infectious disease symptoms or bacterial counts on the hands when used at the concentrations commonly found in antibacterial products. There is also evidence that the widespread use of antibacterial compounds, such as triclosan and triclosan-containing products, promote the emergence of bacterial resistant to antibiotic medications and antibacterial cleansers. The American Medical Association has stated, "No data exist to support their efficacy when used in such products or any need for them"¦it may be prudent to avoid the use of antimicrobial agents in consumer products."
The scientific literature has extensively linked the uses of triclosan to many health and environmental hazards. Triclosan is an endocrine disruptor and has been shown to affect male and female reproductive hormones and possibly fetal development. It is also shown to alter thyroid function, and other studies have found that due to its extensive use in consumer goods, triclosan and its metabolites contaminate waterways and are present in fish, umbilical cord blood and human milk. The Centers for Disease Control and Prevention (CDC) also found that triclosan is present in the urine of 75% of the U.S. population, with concentrations that have increased by 42% since 2004.
This chemical is currently under scrutiny at the FDA and is the focus of petitions submitted to both FDA and EPA calling for its ban after numerous developments on the antibacterial pesticide triclosan in consumer products over the last year. Recently, EPA published for public comment the petition to ban triclosan submitted by Beyond Pesticides, in partnership with Food and Water Watch and 80 other groups. The petition cites the mounting scientific evidence detailing triclosan's threat to human health and the environment. The public has until April 8th, 2011 to tell EPA to ban this dangerous chemical.
TAKE ACTION!
Support Beyond Pesticides' petition to ban triclosan:
Ӣ Click here to send an email directly to EPA Administrator Lisa Jackson. The link (sponsored by Organic Consumers Association) sends an automated message to Lisa Jackson, or;
Ӣ Submit your own comments to the docket directly by clicking here. Fill in the form to submit your comments to the Federal Register (this method offers different levels of privacy). For a more impactful statement, use your own language.
Want to do more? We are looking for individuals to complete this short, multiple choice survey. Please share the survey (http://triclosan.questionpro.com) with your family and friends, as well as any relevant blogs or email lists. It is important to educate the public and see an accurate picture of consumer knowledge and preference.
You can also join the ban triclosan campaign and sign the pledge to stop using triclosan today. Avoid products containing triclosan, and encourage your local schools, government agencies, and local businesses to use their buying power to go triclosan-free. Urge your municipality, institution or company to adopt the model resolution which commits to not procuring or using products containing triclosan.