16
Jul
(Beyond Pesticides, July 16, 2009) The U.S. Environmental Protection Agency (EPA) has issued a Final Work Plan (FWP) for the registration review of imidacloprid. A neonicotinoid insecticide, imidacloprid is highly toxic to honeybees on an acute exposure basis, and has been implicated in the recent Colony Collapse Disorder (CCD) that has occurred throughout the U.S. Over 12,000 comments were received by the agency since December 2008, urging the agency to suspend the use of this controversial chemical.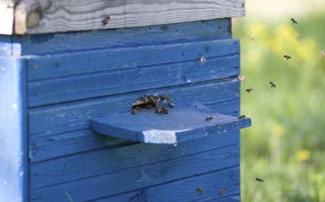 Imidacloprid was first registered in the U.S. in 1994 as an insecticide to control a range of pests on crops, structures, indoor and outdoor residential areas, as well as pet products. While the use of imidacloprid has been gaining in popularity, its health and environmental effects have not been adequately studied. EPA, with its registration review program, pursuant to the Federal Insecticide, Fungicide and Rodenticide Act (FIFRA) section 3(g), must review each registered pesticide every 15 years to determine whether it continues to meet the FIFRA standard for registration. The public docket for imidacloprid was opened in December 2008 and has since received over 12,000 comments, including those submitted by Beyond Pesticides, NRDC, the National Honey Bee Advisory Board (NHBAB) and Sierra Club, among others. These comments provided the agency scientific studies detailing the toxicity of imidacloprid to honeybees. Commenters also stated that in regard to imidacloprid, there are too many data gaps, its review process needs to be accelerated, and that cancellation or suspension of all neonicotinic pesticides is warranted given the potential economic harm to the commercial honey bee industry.
However, in a letter to Sierra Club dated October 10, 2008, in response to its request for suspension of the use of nicotinyl insecticides, including imidacloprid, the agency said, "In order to suspend the registration of a pesticide under FIFRA, EPA must find that an "˜imminent hazard' exists. The federal courts have ruled that to make this finding, EPA must conclude, among other things, that there is a substantial likelihood that imminent, serious harm will be experienced from use of the pesticide. While the information before EPA, including the information you have provided to us, clearly indicates that further study regarding the possible connection between these pesticides and serious harm to bees is warranted, your request for suspension does not demonstrate a causal link sufficient to justify the suspension of these pesticides under the FIFRA standard."
It is likely that EPA would continue to ignore the precautionary principle and the emerging science that demonstrates that imidacloprid and other chemicals in its class are immediate threats to pollinators. Several countries in the European Union (EU) have already taken action and suspended the use of imidacloprid including Italy, Germany, Slovenia and France.
Imidacloprid has been linked to sublethal effects in honeybees, which include disruptions in mobility, navigation, and feeding behavior. Lethal and sublethal exposures to imidacloprid have been shown to decrease foraging activity, along with olfactory learning performance and decrease hive activity. Bees are exposed when they pollinate flowering crops treated with imidacloprid, or pesticide drift (via wind) from surrounding areas. The rapid disappearance of the honeybees, also dubbed "Colony Collapse Disorder" or CCD, has been observed in the U.S. since 2006. Research is ongoing as to the cause of the phenomenon, but pesticides, especially imidacloprid, have been implicated. CCD can be especially devastating since honeybees are essential pollinators of crops that constitute over one third of the U.S. food supply or $15 billion worth of food. For more information on pollinators and CCD, read our factsheet: "Pollinators and Pesticides: Escalating crisis demands action"
Imidacloprid is also associated with human impacts including fatigue, twitching, salivation, convulsions, and muscle weakness, including the muscles necessary for breathing. Reproductive and mutagenic effects have also been noted, as well as elevated blood cholesterol levels and stress to the liver in dogs. Imidacloprid also persistently contaminates groundwater and soil.
EPA's FWP for imidacloprid outlines that the agency is requiring field-based data on imidacloprid to better understand its potential impact on pollinators. It also states that EPA will be working with federal and state officials, as well as the international community and other stakeholders, to develop data and help understand the potential impact of the neonicotinoid insecticides on pollinators. To view EPA's final work plan for imidacloprid, visit their page.
Take Action: Tell EPA that imidacloprid poses unreasonable threats to honey bees and other beneficial insects, and contaminates water supplies and soil. You can submit your comments to the docket at www.regulation.gov using docket number EPA-HQ-OPP-2008-0844.
Source: EPA Pesticide Program Updates