11
Dec
(Beyond Pesticides, December 11, 2009) The United Nations climate talks in Copenhagen are neglecting the pending food crisis, and organic methods that can both curb climate change and boost food production, Jacques Diouf, director-general of the United Nation's Food and Agriculture Organization (FAO), told Reuters news service. FAO believes that certain farming practices, including organic agriculture, can help sequester carbon and heal degraded lands, thereby boosting food yields.
"We would like to see greater conscience of the importance (of agriculture)," Jacques Diouf, director-general of the Food and Agriculture Organization (FAO), told Reuters in an interview this week at the Copenhagen climate talks. "Historically the discussion centered on the industrial aspects of climate change, be it in terms of factories, transport, but less on the primary sector of agriculture."
FAO believes carbon sequestration, lower-input of fossil fuel dependant resources, and use of renewable energy all present opportunities for organic agriculture to lead the way in reducing energy consumption and mitigating the negative effects of climate change. Organic agriculture incorporates management practices that can help farmers adapt to climate change through strengthening agro-ecosystems, diversifying crop and livestock production, and building farmers' knowledge base to best prevent and confront changes in climate.
FAO promotes organic agriculture as an alternative approach that maximizes the performance of renewable resources and optimizes nutrient and energy flows in agroecosystems. Life cycle assessments show that emissions in conventional production systems are always higher than those of organic systems, based on production area. Soil emissions of nitrous oxides and methane from arable or pasture use of dried peat lands can be avoided with organic management practices.
The agency points to many field trials worldwide that show that organic fertilization compared to mineral fertilization is increasing soil organic carbon and thus sequestering large amounts of CO2 from the atmosphere to the soil. Lower greenhouse gas emissions for crop production and enhanced carbon sequestration, coupled with additional benefits of biodiversity and other environmental services, makes organic agriculture a farming method with many advantages and considerable potential for mitigating and adopting to climate change, says FAO.
Beyond Pesticides believes conventional agricultural practices have contributed to climate change through heavy use of fossil fuels–both directly on the farm and in the manufacturing of pesticides and fertilizers–and through degradation of the soil, which releases carbon. The herbicide use that conventional no-till depends on, is no exception. The adoption of organic methods, particularly organic no-till, is an opportunity for farming both to mitigate agriculture's contributions to climate change and cope with the effects climate change has had and will have on agriculture.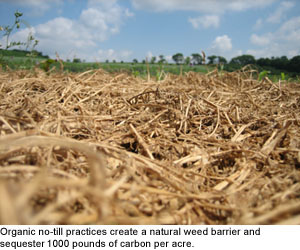 Research from the Rodale Institute's Farming Systems Trial (FST) has documented that organic, regenerative agriculture actually has the potential to lessen the impacts of climate change. This occurs through the drastic reduction in fossil fuel usage to produce the crops (approximately 75% less than conventional agriculture) and the significant increase in carbon sequestration in the soil (approximately 1000 lbs. of carbon per acre). The organic no-till methods they have developed produce comparable yields to conventional systems on average, and higher yields in drought years because of the greater water holding capacity of the organic soils.
The U.N. Climate Change Conference is taking place in Copenhagen, Denmark, December 7-18, 2009. The conference includes the 15th Conference of the Parties (COP 15) to the U.N. Framework Convention on Climate Change and the 5th Meeting of the Parties (COP/MOP 5) to the Kyoto Protocol.
Read more about how organic agriculture combats climate change on Beyond Pesticides' Environmental Benefits of Organic Agriculture webpage. For a more thorough discussion of the experiments at Rodale, please read Dr. Paul Hepperly's article, "The Organic Farming Response to Climate Change" in Pesticides and You.