31
Mar
(Beyond Pesticides, March 31, 2010) Last week the U.S. Environmental Protection Agency (EPA) announced that it was taking action aimed at improving residential safety and reducing risks associated with bug bombs, or total release foggers (TRFs). The agency is calling for significant changes to product labeling to address the most common causes of exposure incidents associated with TRFs. However, product labels do not adequately protect the public from toxic pesticide ingredients and calls to ban foggers and promote safer alternatives, action that has been urged for years both within and outside the agency, continue to go unheeded.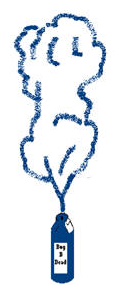 Prompted by concerns raised by a 2009 petition from the New York City Department of Health to reclassify TRFs as restricted use pesticides, EPA sent a letter of notification to manufacturers on March 23, 2010 stating that the agency is now requiring a number of labeling changes by September 30, 2011. In spite of New York's recommendation, the agency concluded that reclassification is inappropriate and would unnecessarily remove these inexpensive pest control tools from the residential market. Since, according to the agency's analysis, the largest proportion of incidents is attributable to failure to follow label instructions, the changes are targeted at minimizing those incidents. Future bug bomb labels should be written in plain language with clear headings. To further enhance "clarity and risk understanding," the new labels will also incorporate pictograms, which can be more effective than text in communicating certain information, including explosion hazards and the amount of time that a residence must be vacated after releasing the fogger. The changes also aim to strengthen instructions to vacate upon use and air out upon return by requiring greater label prominence. EPA has long known that consumers do not typically read product labels fully, so that details such as "turn off ignition sources" (e.g. motors on refrigerators and other appliances, pilot lights) do not result in users disconnecting (i.e. pulling the pull) these sources of explosions.
One new provision is that door hang-tags must be provided to inform others to stay out of treated areas. Other label amendments include the following language:
-do not use multiple canisters in a room
-do not use in small confined areas
-turn off ignition sources
-remove or cover exposed food
-air out the room before entering
In addition to these new labeling amendments EPA states that it is continuing to work with registrants on developing non-labeling improvements, including transitioning to smaller foggers, time-delayed release and nonflammable propellants. While EPA says that this action to amend labels is consistent with recommendations from Washington state and a 2008 Center for Disease Control report entitled "Illnesses and Injuries Related to Total Release Foggers," the agency ignores the most important recommendation made by these two reports – promote safer alternatives to bug bombs and aerosol insecticides, and integrated pest management (IPM) strategies which can, according to the CDC report, "reduce indoor insect populations and minimize the need for insecticides."
Bug bombs have seriously injured people by exploding, and releasing toxic fumes that poison residents, which in some cases have lead to death. Last year a 10-month old baby died in Williamston, SC after his mother used several bug bombs inside their home. Last summer, an apartment building in Manhattan was evacuated after a bug bomb caused an explosion. Ten people were treated at the scene, including six who were taken to the hospital. A bug bomb also exploded in an apartment in Washington D.C., blowing out doors and windows. Beyond Pesticides submitted a letter to the Washington, D.C. Department of the Environment urging the suspension of bug bombs after an explosion on July first. As Jay Feldman, executive director of Beyond Pesticides states in the letter, "Aside from fire and explosive dangers, most foggers contain synthetic pyrethroids, such as permethrin, which are linked to cancer, endocrine disruption, respiratory problems, reproductive effects, neurotoxicity and other health and environmental issues. With a high incidence of illness, explosions and even death from the use of these products, their use must be suspended now and ultimately eliminated or highly restricted."
In 2009, the New York State Department of Environmental Conservation moved to classify foggers as a restricted-use product in New York State, meaning that only licensed pesticide applicators, rather than the general public, will be able to obtain them. The department also said it will explore the need to further limit fogger use and encourage the adoption of better pest management strategies.
The 2008 CDC study, which pulled data from eight states, identified a total of 466 cases of acute, pesticide-related illness or injury associated with exposure to foggers between 2001 and 2006. Bug bombs can kill people and present a serious public health hazard, regardless of warnings on the product label, and can be replaced by safe alternative products and practices. Beyond Pesticides believes that every death and injury caused by bug bombs must be attributed to the failure of EPA's regulatory system to take an unnecessary and ineffective product off the market. Most pest problems can be solved without toxic pesticides, through sanitation, proper storage of food and trash, exclusion (sealing entryways), traps and non-volatile baits. For detailed information on preventing and specific pests, see Beyond Pesticides' Alternatives Factsheets.
Source: EPA News Release
Picture: Washington State Department of Health