21
Apr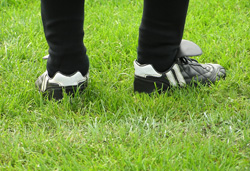 Update: UPDATE (May 6, 2010): Assemblymember Steven Englebright (D-Setauket) today announced passage of the Child Safe Playing Fields Act (A 7937-C) that would prohibit the use of toxic pesticides on school and daycare center playgrounds, turf, athletic and playing fields and called upon the Governor to sign the bill as quickly as possible. The state Senate passed its version in April. Mr. Englebright said, "For nine years we have been working to eliminate the unnecessary use of these dangerous poisons in outdoor settings to protect our children from exposure to carcinogens, neurotoxins and other dangerous chemicals! The bill's passage represents a triumph of children's health interests over the corporate interests that continue to promote unnecessary pesticide use." He continued, "This is a historic moment — the passage of the bill by the Assembly and the Senate will provide long-awaited protections for our children in settings where they spend up to half of their young lives. The Governor can now make this happen with a stroke of his pen." Beyond Pesticides encourages residents of New York to contact Governor Paterson to let him know your position on the Child Safe Playing Fields Act (A.7937).
(Beyond Pesticides, April 21, 2010) New York lawmakers debated legislation yesterday that would help protect school children by banning the use of pesticides on school playing fields and playgrounds; it passed in the Senate late last night and still needs to be passed by the Assembly and then signed by the Governor. Because of an expected backlash by the chemical industry, Beyond Pesticides encourages residents of New York to contact their elected officials to let them know their position on the Child Safe Playing Fields Act, (S.4983/A.7937). In New York and across the country, schools routinely apply pesticides and "weed and feed" products (pesticides mixed with chemical fertilizers), which are linked to cancer, endocrine disruption, learning disabilities, asthma and more, even though organic turf management is proven effective and economical.
While the legislation has passed the state Assembly in last year, the bill has previously died in the Senate. To help push it through both chambers this year, the bill's sponsors, Assemblyman Steve Englebright (D-Setauket) and Senator Brian Foley (D-Blue Point), have narrowed its scope. While previous versions have always been limited to outdoor use, this year's language is limited to school playing fields and playgrounds, and excludes other school grounds. It also allows for emergency use to control stinging insects and venomous spiders. Containerized, non-volatile bait stations are also permitted for insect and rodent control.
Bill Cooke of the New York-based Citizens Campaign for the Environment, told Albany's Post Standard newspaper that 28 of the 32 Democratic senators have committed to voting in favor of the Child Safe Playing Fields Act. Mr. Cooke said most Republican senators are opposed. The bill needs 32 votes to pass. Sens. Darrel Aubertine (D-Cape Vincent) and David Valesky (D-Oneida) told the newspaper they were undecided.
The bill is supported by the state Association for Superintendents of School Buildings and Grounds, but the state School Boards Association opposes the legislation. Typically this type of legislation is resisted because of the belief that it will cost more than chemical lawn care. However, a new report, prepared by Grassroots Environmental Education and organic horticulturalist Chip Osborne of Osborne Organics for members of the New York State legislature, concludes that organic approaches can save money. The report compares the relative costs of maintaining a typical high school football field using a chemical-intensive program and a natural (organic) program over a five-year period and finds that the annual cost of maintaining an organic field can be as much as 25% lower than the cost of chemical-based programs.
Of 30 commonly used lawn pesticides, 19 are linked with cancer or carcinogencity, 13 are linked with birth defects, 21 with reproductive effects, 26 with liver or kidney damage, 15 with neurotoxicity, and 11 with disruption of the endocrine (hormonal) system. Of those same 30 lawn pesticides, 17 are detected in groundwater, 23 have the ability to leach into drinking water sources, 24 are toxic to fish and other aquatic organisms vital to our ecosystem, 11 are toxic to bees, and 16 are toxic to birds
Take Action:
Everyone – Federal legislation, the School Environment Protection Act of 2009 (SEPA), has been introduced by Rep. Rush Holt and would protect school children from pesticides used both indoors and on all school grounds nationwide. The legislation also bans the use of synthetic fertilizers. To learn more about this legislation and help its passage, see Beyond Pesticides' SEPA webpage.
New Yorkers – Email your New York State Senator, Assembly member, and Governor Paterson. Tell them about the Child Safe Playing Fields Act (A.7937/ S.4983) and voice your position. You can find your Assembly members here and your state Senators here. Contact Governor Patterson here.