07
Jul
(Beyond Pesticides, July 7, 2010) Long-term exposure to nitrates, a common agricultural water contaminant, through food and water may increase an older woman's risk of thyroid disease, a recent study in Iowa finds. Public water supplies contaminated with nitrates increased the risk of thyroid cancer in the women. Eating nitrates from certain vegetables was also linked to increases in thyroid cancer and hypothyroidism, one type of thyroid disease.
Nitrate is a common contaminant of drinking water, particularly in agricultural areas where nitrogen fertilizers are used. High rates of fertilizer application may also increase the natural nitrate levels found in certain vegetables, such as lettuce and root crops. In the body, nitrate competes with uptake of iodide by the thyroid, thus potentially affecting thyroid function. This is the first study to show a link between nitrates and thyroid cancer in people, although nitrates have been shown to cause thyroid tumors in animal studies.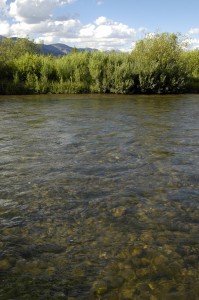 Researchers at the National Institute of Health, in a study entitled, "Nitrate intake and the risk of thyroid cancer and thyroid disease," investigated the association of nitrate intake from public water supplies and diet with the risk of thyroid cancer and self-reported hypothyroidism and hyperthyroidism in a cohort of 21,977 older women in Iowa who were enrolled in 1986 and who had used the same water supply for >10 years. The results show a nearly three-fold increase in thyroid cancer risk for women with more than five year's use of a public water supply that had nitrate levels of 5 milligrams per liter (mg/L) or above. The maximum contaminant level of nitrate in drinking water is currently set at 10 mg/L in the United States. Increasing intake of dietary nitrate is associated with an increased risk of thyroid and with the prevalence of hypothyroidism, but not hyperthyroidism. Higher dietary nitrate levels are found in women who live in a larger town, are more educated, exercise more and eat more calories and Vitamin C. In conjunction with prior studies, the researchers suggest that nitrate inhibits the thyroid gland's ability to use iodide. Iodine is a necessary mineral for proper thyroid hormone and gland function.
Synthetic fertilizer is a main source of nitrate in water and food. The foods that often have the highest concentrations of nitrate, such as spinach, kale, and beets, are known for their nutritional benefits, often due to the high application of nitrogen-based synthetic fertilizers. Agricultural and residential runoff from fields, lawns and home gardens that use synthetic fertilizers lead to large concentrations of nitrogen, in the form of nitrate, in the nation's surface waters.
Thyroid cancer is estimated to be the seventh leading site of new cancers in U.S. women, according to the American Cancer Society. The incidence is about three times higher in women than in men, similar to the pattern worldwide.
Organic agriculture relies on natural sources of fertilizer such as manure, instead of potentially dangerous chemical sources. When used as a fertilizer, manure is turned from a hazardous waste product into a resource. Beyond Pesticides supports organic agriculture as effecting good land stewardship and a reduction in hazardous chemical exposures for workers on the farm. The pesticide reform movement, citing pesticide problems associated with chemical agriculture, from groundwater contamination and runoff to drift, views organic as the solution to a serious public health and environmental threat. See more at our Organic Agriculture Home page.
Source: Environmental Health News