04
Aug
(Beyond Pesticides, August 4, 2010) Several coastal towns in Maine, concerned about water contamination and the potential for the effects on aquatic life, have adopted restrictions on lawn chemicals. Pesticide opponents praise towns for cutting back on pesticide use but say that a ban on private use would make a bigger difference.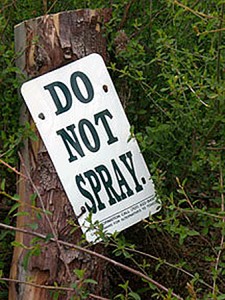 Ogunquit is among the growing number of Maine towns that are restricting the use of lawn chemicals from municipal property because of environmental and public health concerns. About two dozen other communities have adopted some form of pesticide limits, including Brunswick, Castine and Harpswell. There are common traits among the towns that are limiting pesticides. They tend to have affluent residents that do more lawn care applications employing lawn care companies. Mike Horn, chair of Ogunquit's Conservation Commission, helped to guide the pesticide restriction to passage at last year's town meeting. Mr. Horn is worried about lawn chemicals such as phoshorous and nitrogen running downhill during rain. "What is going to happen if this level of pesticides just continues to rise and people's lawns are just running, you're just putting a big nail in Mother's nature's foot," said Mr. Horn. He added that by protecting the environment, the town is also protecting its economy.
"If the pollution gets so bad then we close the beach up, there goes our revenue, there goes our reputation, everything we built, and consequently, there goes our source of revenue, there goes everything," said Mr. Horn. "We don't have any commercial diversity here outside of tourism –that's not a great thing to say but that's where we're at, right?"
However, while some local communities have made the step to restrict pesticides, many Maine property owners appear comfortable using lawn care chemicals. Maine residents spread more than 6.2 million pounds of pesticides and fertilizers in 2007, the most recent year of data from the board of pesticide control. That is up from 800,000 pounds in 1995.
Paul Tukey, founder of safelawns.org, has been spreading the message to various towns around Maine, by showing his documentary film "A Chemical Reaction," which chronicles Canadian's fight with the pesticide industry. City councilor Rosemarie DeAngelis, after viewing the film, said she was interested in a citywide ban on pesticides, but recognizing the challenges of that, she wanted to reduce the use of pesticides on city property. Ms. DeAngelis also said she would like to start a grassroots campaign to get residents to voluntarily stop using pesticides on their lawns.
The adoption of pesticide-free and pesticide reduction policies have been gaining momentum across the country. Other examples include: New York State Parks; Chicago City Parks; 29 communities and townships in New Jersey; at least 17 cities in the Northwest covering more than 50 parks; and, numerous communities throughout Massachusetts, Maine and Connecticut. This is just the tip of the iceberg, as new policies and programs are continually being implemented by local and state government entities as well as schools and homeowner associations.
Eliminating toxic pesticides is important in lawn and landscape management, considering that of the 30 most commonly used lawn pesticides: 14 are probable or possible carcinogens, 13 are linked with birth defects, 21 with reproductive effects, 15 with neurotoxicity, 26 with liver or kidney damage, and 27 are sensitizers and/or irritants. The most popular and widely used lawn chemical 2,4-D, which kills broad leaf weeds like dandelions, is an endocrine disruptor with predicted human health risks ranging from changes in estrogen and testosterone levels, thyroid problems, prostate cancer and reproductive abnormalities. 2,4-D has also been linked to non-Hodgkin's lymphoma. Other lawn chemicals like glyphosate (RoundUp) have also been linked to serious adverse chronic effects in humans. Imidacloprid, another pesticide growing in popularity, has been implicated in bee toxicity and the recent Colony Collapse Disorder (CCD) phenomena.
TAKE ACTION: Community activism is the best way to get your town to adopt such a policy. For assistance in proposing a policy to your city council (or its equivalent), contact Beyond Pesticides at [email protected] or 202-543-5450. For more information on being a part of the growing organic lawn care movement, see Beyond Pesticides Lawns and Landscapes program page. Let your neighbors know your lawn and garden are organic by displaying a Pesticide Free Zone sign.