29
Sep
(Beyond Pesticides, September 29, 2010) A class action complaint claims Dial Corp. defrauds consumers about its Dial Complete soap by falsely claiming that it 'kills 99.99% of germs,' when in fact the product provides no benefit over washing with regular soap and water. The suit states that Dial Corp.'s claims are deceptive and misleading, designed solely to cause consumers to buy the product. Dial Complete contains triclosan, a registered pesticide, which is linked to numerous adverse effects including hormone disruption and water contamination. The suit wants Dial Corp. enjoined from continuing its deceptive advertising, disgorgement and damages for consumer fraud and deceptive business practices.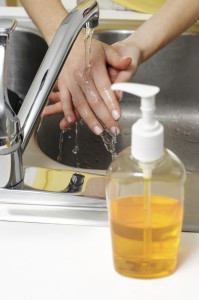 The plaintiff, David Walls, in his suit states there are no reliable studies that show Dial Complete lives up to these claims. His complaint states: "Through its extensive and comprehensive nationwide marketing campaign, defendant claims that Dial Complete 'kills 99.99% of germs', is the '#1 Doctor Recommended' brand of antibacterial liquid hand wash and 'kills more germs than any other liquid hand soap', when in actuality, it does not, a fact which Dial knew and purposely misrepresented and failed to disclose to consumers. To this day, Dial has taken no meaningful steps to clear up consumer misconceptions regarding its product." Citing a series of false and misleading information via television commercials, advertisements, and the packaging of the product, all of which is intended to mislead unsuspecting consumers about the efficacy of the product, Dial Corp conveyed and continues to convey, according to the suit, deceptive claims about Dial Complete. As a result, the suit claims consumers have paid more for Dial Complete than they otherwise would have.
Triclosan, an antibacterial pesticide found in hundreds of consumer products, from clothing and toys to hand soap and toothpaste, has not been proven to be any more effective at killing germs than regular soap and water. A systematic review of research assessing the risks and potential benefits associated with the use of soaps containing triclosan found that data do not support the effectiveness of triclosan for reducing infectious disease symptoms or bacterial counts on the hands when used at the concentrations commonly found in consumer antibacterial hand soaps. In fact, the American Medical Association (AMA) Council on Scientific Affairs reported in 2000 that, "There is little evidence to support the use of antimicrobials in consumer products such as topical hand lotions and soaps."
As a result of growing concern over the health and environmental effects of the widespread use of triclosan, Beyond Pesticides in partnership with Food and Water Watch and 78 other groups, submitted petitions to both the FDA and EPA requiring that they ban all non-medically prescribed triclosan uses on the basis that those uses violate several federal statutes.
In a recent letter to Rep. Markey (D-Mass), regarding the status of triclosan's regulation and efficacy, the Food and Drug Administration (FDA) stated it is "not aware of any evidence that antibacterial washes were superior to plain soap and water for reducing transmission of or preventing infection for consumers." The agency went on to further state that "existing data raise valid concerns about the [health] effects of repetitive daily human exposure to these antiseptic ingredients." FDA announced that it plans to review data concerning triclosan. [Triclosan is jointly regulated by FDA and the U.S. Environmental Protection Agency (EPA)]
The class action complaint was filed September 23, 2010 in the U.S. District Court of Southern Illinois on behalf of Mr. Walls and other similarly situated consumers in the State of Illinois pursuant to the Illinois Consumer Fraud and Deceptive Practices Act ("Consumer Fraud Act"), 815 ILCS 505/1 et.seq., to halt the dissemination of this false and misleading advertising, correct the false and misleading perception has been created in the minds of consumers, and to obtain redress for those who have purchased the Dial Complete.
Triclosan is one of the most detected chemicals in U.S. waterways; about 96 percent of triclosan from consumer products is disposed of in residential drains. This leads to large loads of the chemical in water entering wastewater treatment plants, which are incompletely removed during the wastewater treatment process. When treated wastewater is released to the environment, sunlight converts some of the triclosan (and related compounds) into various forms of dioxins. Triclosan is an endocrine disruptor and has been shown to affect male and female reproductive hormones and is also shown to alter thyroid function. Due to its extensive use in consumer goods, triclosan and its metabolites are present in, fish, umbilical cord blood and human milk. A recent study shows that triclosan from sewage sludge can be taken up by soybean plants and translocated into the beans themselves, then consumed by people and animals. The Centers for Disease Control in an updated National Report on Human Exposure to Environmental Chemicals notes that triclosan levels in people increased by over 41% between just the years 2004 and 2006.
TAKE ACTION: Join the ban triclosan campaign and sign the pledge to stop using triclosan today. Avoid products containing triclosan, and encourage your local schools, government agencies, and local businesses to use their buying power to go triclosan-free. Urge your municipality, institution or company to adopt the model resolution which commits to not procuring or using products containing triclosan. For more information about triclosan and the campaign, visit our Triclosan program page.

Source: Court House News Service