23
Sep
(Beyond Pesticides, September 23, 2010) A study by U.S. Department of Agriculture (USDA) scientists and cooperators provides new details about how fertilizing soils with biosolids also introduces triclosan, an antibacterial agent in soaps and other cleaning supplies, into the environment. Results show that triclosan in biosolids is only slowly degraded and persists at low levels in the environment for long periods of time. Biosolids are illegal for use in organic agriculture.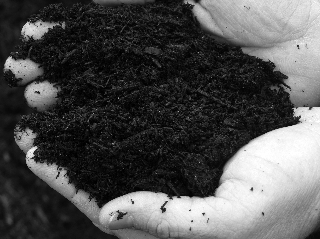 For this study, entitled "Fate of triclosan in agricultural soils after biosolid applications" and published in Chemosphere, Agricultural Research Service (ARS), chemist Clifford Rice, of the ARS Environmental Management and Byproduct Utilization Laboratory in Beltsville, Md., and his partners determined that triclosan levels in Class B biosolids from a Mid-Atlantic wastewater treatment plant averaged around 15.5 milligrams per kilogram. They collected surface soil samples from 26 farms in northern Virginia, mostly from pastures. Some fields had never been amended with biosolids and others had been amended with one to four applications of biosolids within the previous 9 months to 13 years. Most of the biosolid amendments came from the wastewater treatment plant in the study.
Generally, conventional chemical-intensive farmers add "Class B" biosolids, also known as treated wastewater solids, to their fields as a fertilizer. Little information has been obtained about these biosolids and their triclosan levels. However, recent tests on biosolids have detected triclosan in compost distributed free to gardeners and labeled as "organic biosolids compost." The researchers found farms that had not received biosolid applications had background triclosan levels that peaked at 4.5 nanograms per gram of dried soil. Farms that had received single and multiple biosolid applications also had low triclosan levels, but the concentrations varied from 3.1 to 66.6 nanograms per gram. The results also suggested biological degradation of triclosan in the soils that had been amended with biosolids resulted in the loss of 78 percent of the triclosan after 7 to 9 months, and that up to 96 percent was removed after 16 months. For multiple-applications farms, residual concentrations, found in the soils at times greater than 480 days after applications, averaged two times higher than background level.
Triclosan is one of the most detected chemicals in U.S. waterways; about 96 percent of triclosan from consumer products is disposed of in residential drains. This leads to large loads of the chemical in water entering wastewater treatment plants, which are incompletely removed during the wastewater treatment process. When treated wastewater is released to the environment, sunlight converts some of the triclosan (and related compounds) into various forms of dioxins. Triclosan is an endocrine disruptor and has been shown to affect male and female reproductive hormones and is also shown to alter thyroid function. Due to its extensive use in consumer goods, triclosan and its metabolites are present in, fish, umbilical cord blood and human milk. A recent study showed that triclosan from sewage sludge can be taken up by soybean plants and translocated into the beans themselves, then consumed by people and animals. The Centers for Disease Control in an updated National Report on Human Exposure to Environmental Chemicals noted that triclosan levels in people increased by over 41% between just the years 2004 and 2006.
Beyond Pesticides, in partnership with Food and Water Watch and 78 other groups, submitted petitions to both the FDA and EPA requiring that they all non-medically prescribed triclosan uses on the basis that those uses violate several federal statutes. Prompted by this petition, which was then echoed by Rep. Markey's (D-MA) letters of concern, the FDA responded, "existing data raise valid concerns about the [health] effects of repetitive daily human exposure to these antiseptic ingredients," and announced plans to address the use of triclosan in cosmetics or other products. EPA, however, in its response maintains that the agency does not currently plan to reevaluate its regulations surrounding the use of triclosan until 2013.
TAKE ACTION: Join the ban triclosan campaign and sign the pledge to stop using triclosan today. Avoid products containing triclosan, and encourage your local schools, government agencies, and local businesses to use their buying power to go triclosan-free. Urge your municipality, institution or company to adopt the model resolution which commits to not procuring or using products containing triclosan.