20
Oct
(Beyond Pesticides, October 20, 2010) After years of trying, organic hop growers, most clustered in the Northwest, are poised to win a long-fought battle: requiring organic hops in organic beer. The National Organic Standards Board (NOSB) will take up the issue later this month. Last week, a board subcommittee voted to mandate organic hops in organic beer in about three years.
Pat Leavy, president of the American Organic Hop Grower Association and his colleagues petitioned the NOSB to vote on a mandate that would "mandate organic hops in organic beer in about three years." They believe it is likely to pass. The NOSB Handling Committee responded to the petition on October 8, 2010 and recommends transitioning hops for inclusion on the National List of Allowed Substances, which identifies synthetic substances that may be used, and the nonsynthetic substances that cannot be used, in organic production and handling operations.
Organic hops have been exempted from certified organic beer because they were too difficult to get enough of in the organic form. When the NOSB, which operates within the U.S. Department of Agriculture (USDA), deems an organic ingredient too hard to get, it can waive it for producers and still allow them to display the USDA's certified organic label. The non-organic ingredients have to be less than 5 percent of the product's total weight, excluding water (the other main ingredient -barley – has to be organic because it's the bulk of the product's weight.)
In 2007, several organic beer makers petitioned USDA, arguing there weren't enough organic hops available to meet the growing demand for organic beer. The NOSB agreed that organic hops were not "commercially available" and, because hops comprise less than 5% of the product, qualified for the organic label. Jay Feldman, executive director of Beyond Pesticides and a member of the NOSB said, "It is critical that the board carefully evaluates and adjusts it commerical availaibiltiy findings on an ongoing basis to ensure that there is incentive for more producers to develop organic product ingredients."
The NOSB is recommending that hops remain listed until 2013 to give brewers two seasons to secure contracts for organic hops. According to NOSB's document, "This time interval formally recognizes the growth of organic hops' availability and yet allows brewers two growing seasons to secure their organic hops through forward contracting, making adjustments to future product formulations and specifications, and preparing their customers and consumers for the product changes anticipated, if any."
Organic beer manufacturers have their concerns that organic hops growers won't be able to produce enough of the product to meet current production needs. Mr. Leavy believes that in the three years before organic hops would be required, the industry would have the time to expand, in part because many Northwest hop growers have extra acreage already qualified for organic crops or on its way toward qualifying.
Organic beer remains a sliver of the $7 billion U.S. craft beer market. But the economic stakes are significant for organic growers and brewers. From 2003 to 2009, U.S. organic beer sales grew more than fourfold, from $9 million to $41 million, the Organic Trade Association says. Organic production of hops in the Yakima Valley, Washington state, which accounts for more than 30 percent of the world's hops production, has grown from nearly none three years ago to its current 100 acres, but organic growers say they need a better market to survive.
The petition will be considered by the full National Organic Standards Board when it meets next week. The board's standard setting authority will be open to public comment before it goes to the National Organic Program, which verifies that NOSB decisions meet statutory standards.
There is a force behind efforts to require the use of organic hops. Some brewers, even Anheuser-Bush, have submitted letters in the petition in support of the move. Consumer Reports and the Organic Consumers Association, a nonprofit public interest organization based in Finland, Minn., have also gotten behind the effort. Encouraging organic brewers to use organically produced hops would spawn great incentive for farmers to grow them and create a market at the same time.
For more information on the importance of eating organic food for you, workers and the environment, check out Beyond Pesticides' Eating with a Conscience food guide and organic food program page.
Take Action: You too can be a part of efforts to strengthen the integrity of the Organic Program. The process is open to public involvement and comments. Any person can petition to amend the National List and the NOP regulations. For more information on how to get involved and to attend meetings or submit comments, visit NOP's website.
Keep abreast of NOSB meeting information, including agendas and transcripts. Read public comments and NOSB recommendations.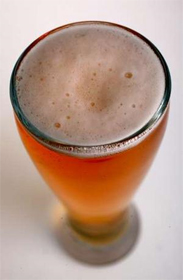 Source: Seattle Times and Oregon Live