08
Dec
(Beyond Pesticides, December 8, 2010) A new study finds that oral contraceptives are not the main culprit in estrogenic pollution of U.S. rivers and drinking water. Instead, the contribution of contraceptives is quite small compared to other human, industrial and agricultural sources, including pesticides.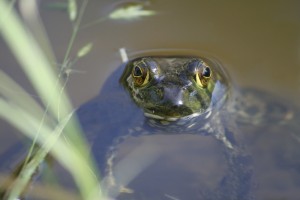 Recent observed feminization of aquatic animals has raised concerns about estrogenic compounds in water supplies and the potential for these chemicals to reach drinking water. Public perception frequently attributes this feminization to oral contraceptives (OCs) in wastewater and raises concerns that exposure to OCs in drinking water may contribute to the recent rise in human reproductive problems.
Studies have suggested that long-term exposure to low levels of estrogens in water may adversely affect human health. This new information eases concerns that contraceptives are a major factor contributing to feminized fish and frogs. This study, "Are Oral Contraceptives a Significant Contributor to the Estrogenicity of Drinking Water?" reviews the literature regarding various sources of estrogens, in surface, source and drinking water, to determine whether OCs were the source of estrogen in surface waters, with an emphasis on the active molecule that comes from OCs. The authors find that industrial and agricultural sources not only discharge estrogens, but they also release other harmful chemicals, which can mimic estrogen. These compounds add to the overall estrogenic pollution of our water supplies. The study identifies pesticides as a contributing factor of estrogen in water. Several pesticides are known as xenoestrogens, which mimic estrogen and disrupt the endocrine system. Organochlorine pesticides, endosulfan, dieldrin and DDE (DDT metabolite) and others, have been shown to mimic estrogen affecting the immune system. Studies have shown that high concentrations of estrogens or estrogen-like substances during embryonic, fetal, and early postnatal development can lead to reproductive and developmental disorders, especially in males. Other pesticides like triclosan have been found to interfere with estrogen metabolism in women and can disrupt a vital enzyme during pregnancy.
Certain synthetic pyrethroids, one of the most widely used classes of pesticides, have also been found to demonstrate significant estrogenic activity and increase estrogen levels in the human body. The effects of estrogenic pesticides have been widely researched and have been identified as being responsible for prevalence of feminized fish and amphibians. The U.S. Geological Survey (USGS) reports that pesticides are prevalent in surface waters across the U.S. Low levels of pesticides have also been detected in drinking water. According to a 2009 report from the USGS, the occurrence of "intersex" fish is now found to be nationwide.
The authors also found that other agricultural sources are important sources of estrogens in waterways because livestock produce 13 times more solid waste than humans. The animals can excrete both natural and pharmaceutical hormones. Water is also polluted with other human sources of estrogen chemicals, including natural hormones and other estrogen-containing prescription drugs, such as hormone replacement therapy.
The authors of the study note that future efforts to reduce the overall estrogenicity of water should take a broad approach to reducing the contribution from the multiple sources, particularly those that are unregulated or that are untreated. Recently, the U.S. Environmental Protection Agency (EPA) announced that it has identified a list of chemicals that will be screened for their potential to disrupt the endocrine system, along with a draft of the policies and procedures that the agency has proposed to follow for testing. The agency is mandated to test chemicals for their potential to affect the hormone system. However, the agency has yet to finalize its procedures or officially test a chemical for endocrine disruption since tasked to do so in 1996by an Act of Congress.
For more information on Endocrine Disruptors, please see Beyond Pesticides' Endocrine Disruption brochure.

Source: Environmental Health News