19
Jan
(Beyond Pesticides, January, 19, 2011) A new study finds for the first time that the bodies of virtually all U.S. pregnant women, and possibly their unborn children, carry multiple chemicals, including some used in common products such as non-stick cookware, processed foods and personal care products. Median levels of the controversial chemical triclosan are found to be higher in pregnant women compared with nonpregnant women. This new data highlights the urgency needed to remove toxic chemicals like triclosan from consumer products.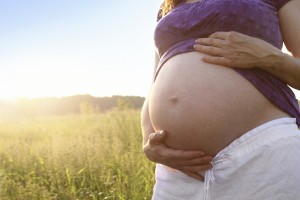 While the Centers for Disease Control (CDC) has published previous reports on chemical levels in the general population, this is the first study to look at a broad range of chemicals specifically in pregnant women. Entitled, "Environmental Chemicals in Pregnant Women in the US: NHANES 2003-2004," the study analyzed biomonitoring data from the National Health and Nutritional Examination Survey (NHANES) to characterize both individual and multiple chemical exposures in U.S. pregnant women. Researchers analyzed the data for 163 chemicals and detected about three-quarters of them at varying levels in some or all of the women. They found almost all — 99 to 100 percent — of the pregnant women carry polychlorinated biphenyls (PCBs), organochlorine pesticides, perfluorinated compounds, phenols such as triclosan, polybrominated diphenyl ethers (PBDEs), phthalates, polycyclic aromatic hydrocarbons (PAHs) and perchlorate.
Generally, levels in pregnant women are similar or lower than levels in nonpregnant women with the exception of triclosan, PBDEs — compounds used as flame retardants and DDE, a breakdown product of the long-banned DDT pesticide — which was found in every woman and at some of the highest levels measured for any of the chemicals. Triclosan also has some of the highest median levels (17ug/l) detected in pregnant women whose concentrations has high variability across the sampled population (the 95th percentile is 35 times greater than the median triclosan concentration).
The authors recommend that future work focus on understanding sources of exposure and the health impacts from exposures to multiple chemicals. The health risks for mother and child associated with exposure to this many chemicals at detectable —and sometimes high— levels is not known. Low-level exposures to some of these chemicals during the prenatal period —a time of rapid growth— can lead to a host of long-term health effects, including birth defects, reproductive problems, and cancer. Although the chemicals found are similar to those identified previously in nonpregnant women, pregnant women are more vulnerable than the general population. Many of the pollutants measured in the study can pass through the placenta from the mother to the developing fetus. Many, like triclosan, have been measured in cord blood, fetal blood and amniotic fluid. A recent study raised pregnancy concerns surrounding fetal exposure to triclosan in the womb. The study finds that triclosan interferes with estrogen metabolism in women and can disrupt a vital enzyme during pregnancy. Triclosan, found in hundreds of antibacterial consumer products, is also linked to thyroid interference and, according to the CDC in the updated National Report on Human Exposure to Environmental Chemicals, triclosan levels in people increased by approximately 50% between the years 2004 and 2006.
Triclosan is one of the most detected chemicals in U.S. waterways and sewage sludge, which often gets recycled to agricultural and residential lands. In the environment, sunlight converts triclosan (and related compounds) into various forms of dioxins. It has also been detected in fish, earthworms and crops.
Recently the U.S. Environmental Protection Agency (EPA) published for public comment the petition to ban triclosan submitted by Beyond Pesticides, in partnership with Food and Water Watch and 80 other groups. The petition cites the mounting scientific evidence detailing triclosan's threat to human health and the environment. The public has until February 7th, 2011 to tell EPA to ban this dangerous chemical. Submitting comments takes no more than a few minutes. Electronic comments can be submitted to EPA at www.regulations.gov using docket number: EPA-HQ-OPP-2010-0548. Or you can go submit comments directly here. You can also send an automated email to EPA Administrator Lisa Jackson by clicking here. More information on triclosan, the petition and how to comment can be found here. Also visit our Triclosan Webpage.
Take Action: After you have submitted your comments asking the EPA to remove triclosan from consumer products, join the ban triclosan campaign and sign the pledge to stop using triclosan today. Avoid products containing triclosan, and encourage your local schools, government agencies, and local businesses to use their buying power to go triclosan-free. Urge your municipality, institution or company to adopt the model resolution which commits to not procuring or using products containing triclosan.
Source: Environmental Health News