21
Mar
(Beyond Pesticides, March 21, 2011) "Children Act Fast"¦So Do Poisons" is the message that the U.S. Environmental Protection Agency (EPA) is sending in conjunction with the Poison Prevention Week Council to keep poisonous substances out of children's hands in observance of the annual National Poison Prevention Week (March 20-26). EPA recommends locking up household cleaners, disinfectants, solvents and other materials as the best way to reduce accidental poisoning among children, yet it is a recommendation that does not go far enough to fully protect children from pesticides. EPA still fails to encourage the public to stop or reduce using poisonous chemicals, while ignoring advantageous non-toxic methods for pest management that would effectively protect children from harmful pesticides if implemented.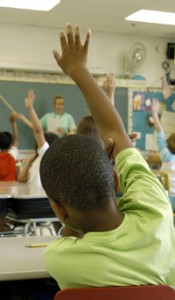 "Because it takes only a split second for a child to be poisoned, we want everyone to remember the theme "˜Children Act Fast"¦So Do Poisons.' Most exposures that occur in the home can be prevented or substantially reduced through proper and safe storage, use and supervision of all household products," said Steve Owens, assistant administrator of EPA's Office of Chemical Safety and Pollution Prevention. "Poison Prevention Week serves as a reminder for everyone to keep pesticides locked up and away from children, and to read and follow all labels to minimize the potential dangers from pesticides."
While it is wise to keep potentially harmful household products out of the reach and hands of children, Beyond Pesticides recommends abandoning the application of poisonous chemicals and recommends instead practicing non-toxic methods of pest management to protect children from harmful chemicals from ingestion and secondary exposure. Unlike EPA, Beyond Pesticides also takes into account secondary exposures to pesticides. For instance, studies have found pesticides in household dust that persists even after removal from the market. In 2008, a study found significant amounts of pyrethroid on indoor dust of homes and childcare centers, while another study found that 75% of homes with pregnant women were contaminated with pesticides.
Numerous scientific studies have linked exposure to pesticides with cancer, reproductive effects, development disorders, learning disabilities and other health problems. Children are especially vulnerable to pesticides. Nonetheless, every year EPA misses the important opportunity during National Poison Prevention Week to alert families about integrated pest management (IPM) and organic methods that are effective and substantially safer.
To learn more about why pesticides and children don't mix see Beyond Pesticides' Children and Schools program page.
Source: EPA Press Release