11
Apr
(Beyond Pesticides, April 11, 2012) U.S. Representative Keith Ellison (D-Minn.) reintroduced legislation (H.R.4318), "To prohibit the use, production, sale, importation, or exportation of any pesticide containing atrazine," on March 29. Atrazine is used nationwide to kill broadleaf and grassy weeds, primarily in chemical-intensive corn production. Upon introduction Rep. Ellison pointed out that a U.S. Geological Survey finds atrazine in approximately 75 percent of stream water and 40 percent of groundwater sampled near agricultural areas. The bill complements calls by Beyond Pesticides and other advocacy groups to ban this dangerous chemical.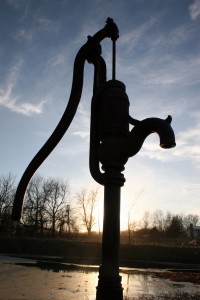 Previously, a similar bill was introduced in 2010 (H.R. 5124), which remained in committee. H.R. 4318 states, "The toxicity of atrazine is well documented and has shown to have adverse endocrine effects in amphibians, mammals, and humans. There is evidence that atrazine exposure is associated with low sperm counts and poor motility in exposed adult men, and that prebirth atrazine exposure is associated with small birth weight and abnormal development of the gut wall in infants. In laboratory mammals, exposure is associated with abnormal reproductive system development, impaired prostate gland formation, and abnormal breast tissue development. In aquatic wildlife, exposure is associated with abnormal reproductive system development, impaired reproduction, and impaired immune system function."
Atrazine is used nationwide to kill broadleaf and grassy weeds, primarily in corn crops. A potent toxicant, it is the most prevalent herbicide found in Minnesota's waters. It is widely applied in the midwestern states and has been found in the drinking water supplies in the Midwest at high levels. Researchers at the Centers for Disease Control (CDC) have determined that previous studies that assessed population-based exposure to atrazine were significantly and systematically underestimated. Atrazine is harmful to humans, mammals, and amphibians even when the amount used is less than the government allows. Atrazine is specifically associated with infertility, low birth weight, and abnormal infant development in humans. The U.S. Fish & Wildlife Service acknowledges that the chemical may also harm the reproductive and endocrine systems in fish species.
New research shows that women who drink water containing atrazine may be more likely to have irregular menstrual cycles and low estrogen levels, even at concentrations far below federal drinking water standards considered safe by the U.S. Environmental Protection Agency (EPA). Researchers compared women living in Illinois farm towns where atrazine is used regularly to women living in Vermont where the herbicide is used sparingly, and found that the women in Illinois were almost five times more likely to report irregular menstrual cycles, including more than six weeks between periods. A French study published last year found that prenatal exposure to the herbicide atrazine is linked to small head circumference and fetal growth restriction. The authors say that the study "raises particular concerns for countries where atrazine is still in use." The European Union banned atrazine in 2004 after repeated testing found the herbicide in drinking water supplies, and health officials were unable to find sufficient evidence that the chemical is safe. However, the U.S. continues to support its use.
"No one should ever have to worry if the water they drink is making them sick or affecting fertility," said Rep. Ellison. "Germany and Italy banned atrazine use in 1991 and Euro zone health officials banned its use in 2003. Yet, almost 10 years later the United States is still using it. We need to remove toxins like atrazine from our waterways."
"While exposure to atrazine puts all of our communities at increased risk of diseases such as prostate and breast cancer, infant mortality, and birth defects, it is farm workers and their families -most of whom are low-income people and people of color- who are at the greatest risk," Environmental Justice Advocates of Minnesota noted. [Officials] estimate that each year as many 20,000 farm workers are poisoned due to exposure to agricultural chemicals such as atrazine. Congressman Ellison's bill is a significant step toward improving human and environmental health for all Americans."
In 2011, Beyond Pesticides submitted comments to EPA in response to a petition by the group Save the Frogs urging the agency to ban atrazine. In Beyond Pesticides' comments, several studies are highlighted that have been published in the scientific literature since EPA began reevaluating atrazine under its registration review process in 2009. This research includes a 2011 study published in the journal Environmental Health Perspectives, showing that prenatal exposure to atrazine is linked to small head circumference and fetal growth restriction; a study published in the journal Reproductive Toxicology in 2010 finds male rats prenatally exposed to low doses of atrazine are more likely to develop prostate inflammation and to go through puberty later than non-exposed animals; and, a 2010 study published in the Proceedings of the National Academy of Sciences finds that male frogs exposed to atrazine can become so completely female that they can mate and lay viable eggs. Even at low levels that are considered "safe" by EPA standards, atrazine is known to harm fish, and has been associated with reproductive and developmental effects as well as endocrine disruption. Research by UC Berkeley professor, Tyrone Hayes, Ph.D. demonstrates that exposure to doses of atrazine as small as 0.1 parts per billion turns tadpoles into hermaphrodites -creatures with both male and female sexual characteristics.
Take Action: Contact your Member of Congress and let them know what you think about H.R.4318. Ask them to support a ban on atrazine in order to safeguard healthy waters and human health.
Source: Press Release Congressman Keith Ellison's Office
All unattributed positions and opinions in this piece are those of Beyond Pesticides.