11
Sep
(Beyond Pesticides, September 11, 2012) Lawn company giant, Scotts Miracle-Gro Co., pleaded guilty to numerous charges of misleading consumers with unapproved labels and falsifying insecticide registrations, including using toxic chemicals in wild bird food. Scotts was ordered to pay $12.5 million in criminal fines, the largest penalty ever set under the Federal Insecticide, Fungicide and Rodenticide Act (FIFRA).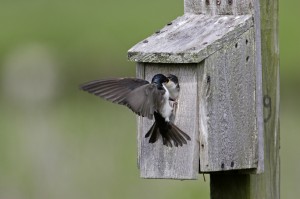 Scotts admitted to using Storcide II and Actellic 5E to prevent insects from damaging the bird food in storage, even though it knew both chemicals were toxic to birds, fish, and other wildlife. In 2008, Scotts Miracle-Gro ceased sales of the tainted birdseed but not before 70 million units of the pesticide-tainted food was sold. The sentence imposed in federal court in Columbus, Ohio, includes a $4 million criminal fine, the Justice Department said. Separately, the company agreed to pay more than $6 million in civil penalties to the U.S. Environmental Protection Agency (EPA) and contribute $500,000 to organizations to protect bird habitats and restore and protect 300 acres of land to prevent runoff of pesticides into waterways —valued at $2 million. EPA has identified more than 100 products produced or sold by Scotts Miracle-Gro that violated the federal pesticide laws over the past five years.
Storcide II contains chlorpyrifos-methyl and deltamethrin, while Actellic 5E contains pirimiphos-methyl. Chlorpyrifos-methyl, an organophosphate insecticide, was voluntary cancelled in 2000, and like its cousin chlorpyrifos, is a neurotoxin toxic to humans and wildlife. Pirimiphos-methyl is also an organophosphate and is noted as being highly toxic to birds and fish.
Scotts sold the illegally treated bird food for two years after it began marketing its bird food line and for six months after employees specifically warned Scotts management of the dangers of these pesticides. The company also submitted false documents to the EPA and to state agencies in an attempt to deceive them, prosecutors said. At the time the criminal violations were discovered, EPA also began a civil investigation that uncovered numerous civil violations spanning five years. Scotts' FIFRA civil violations include the nationwide distribution or sale of unregistered, canceled, or misbranded pesticides, including products with inadequate warnings or cautions. As a result, EPA issued more than 40 Stop "˜Sale, Use or Removal' Orders to Scotts to address more than 100 pesticide products. The company is guilty of illegally selling unregistered pesticides and marketing pesticides bearing labels containing false and misleading claims not approved by EPA. The falsified documents submitted to EPA and states were attributed to a federal product manager at Scotts.
Scotts will contribute $500,000 to organizations that protect bird habitat, including $100,000 each to the Ohio Audubon's Important Bird Area Program, the Ohio Department of Natural Resources' Urban Forestry Program, the Columbus Metro-Parks Bird Habitat Enhancement Program, the Cornell University Ornithology Laboratory, and The Nature Conservancy of Ohio to support the protection of bird populations and habitats through conservation, research, and education.
Scotts Products Involved in the Settlement:
o Banrot Broad Spectrum Fungicide 40% Wettable Powder (EPA Reg. No. 58185-10),
o Basics Solutions Weed & Grass Killer Concentrate (EPA Reg. No. 71995-6-239),
o Brush-B-Gon Poison Ivy & Poison Oak Killer (EPA Reg. No. 239-2587),
o Contrast 70 WSP (EPA Reg. Nos. 432-1223-58185 and 45639-208-58185),
o Duosan WSB Wettable Powder Turf and Ornamental Fungicide (EPA Reg. No. 58185-31),
o ORTHO Bug-B-Gon MAX Lawn & Garden Insect Killer Ready-To-Spray (EPA Reg. No. 1021-1778-239),
o ORTHO Bug B Gon MAX Lawn & Garden Insect Killer Concentrate (EPA Reg. No. 1021-1645-239)
o ORTHO Bug-B-Gon Multi-Purpose Insect Killer Ready-To-Use Granules (aka Ortho Bug B Gon Lawn & Soil Insect Killer with Grub Control; EPA Reg. No. 28293-233-239),
o ORTHO Home Defense Max (aka Ortho Home Defense Indoor and Outdoor Insect Killer; EPA Reg. No. 239-2663),
o ORTHO Malathion 50 Insect Spray (EPA Reg. No. 239-739),
o ORTHO Orthonex Insect & Disease Control Formula III Concentrate (EPA Reg. No. 239-2594),
o ORTHO ProSelect Roach, Ant & Spider Killer EPA Reg. No. 239-2679),
o ORTHO Weed B Gon Weed Killer for Lawns Concentrate (EPA Reg. No. 2217-570-239), and
o Total Kill Lawn Weed Killer (aka Weed-Be-Gon Spot Weed Killer and Basic Solutions Lawn Weed Killer; EPA Reg. No. 239- 2691).
This is not the first time Scotts has been guilty of distributing unregistered pesticide products. EPA Region 5 issued a "˜stop sale, use or removal' order against Scotts Miracle-Gro in 2008 for illegal, unregistered, and misbranded weed and fertilizer products. The products were identified by the invalid EPA registration number listed on the package, marketed under names including "Garden Weed Preventer + Plant Food" and "Miracle Gro Shake "˜n' Feed All Purpose Plant Food Plus Weed Preventer."
Pesticide violations are not uncommon, and when discovered, are met with fines. However, the damage to the public, wildlife, and the environment is already done. In 2009, a corporate tomato grower, Ag-Mart Produce Inc., faced an unprecedented penalty of more than $931,000 for misusing pesticides and jeopardizing the health and safety of workers in its New Jersey farm fields and packing houses. The company raked up hundreds of violations that included denying state environmental inspectors access to facilities, losing track of a highly toxic insecticide, failing to properly ventilate areas during pesticide use, failing to post important pesticide-safety information for workers, careless recordkeeping and using forbidden mixtures of pesticides. Ag-Mart has repeatedly been the defendant in pesticide violation cases, including the 2008 settlement for illegal pesticide exposures linked to severe birth defects to a farmworker family's son.
In 2007 EPA announced that it was seeking damages from the Clorox Company for violating pesticide regulations. Fines were levied for multiple violations that involved mislabeled pesticides intended for export. A fine of $177,300 was issued based on 38 alleged violations involving unregistered and mislabeled disinfectant bleach, originally intended for export to Asia.
EPA's labeling and reporting requirements under FIFRA establish risk standards for health and the environmental effects by restricting the handling, application, and disposal of pesticides, and by seeking to prevent false, misleading, or unverifiable product claims. The law also prohibits marketing of misbranded, improperly labeled, or adulterated pesticides.

Source: Reuters
All unattributed positions and opinions in this piece are those of Beyond Pesticides.