26
Oct
(Beyond Pesticides, October 25, 2012) Eight miles south of Durango, Colorado in a 65-acre plot of barren land an unusual set of guests has set out to manage weeds, restore soils, and improve land quality. Land owner Kim Craden, who shares the land with Chevron Corp, has contracted Lani Malmberg, board member of Beyond Pesticides, with her herd of 850 goats to help restore their property. This follows the recent ordinance that eschews chemical fertilizers and pesticides in favor of an organically maintained system on public land.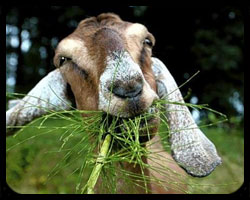 Until recently, the land in question had hosted a holding pond owned by Chevron and used for the oil exploration and production of wastewater. It had been grandfathered into statewide rules governing wastewater management, until a riding arena was built just across the road. When faced with bringing the pond into compliance with state security, signage, and fencing requirements, Chevron decided to close the pond, reclaim the land, and restore the surrounding area. They contracted Ms. Malmberg, who had already worked for city and county governments, the Department of Defense, federal public land agencies, and numerous private ventures. Needless to say, her herd of goats has an impressive track record.
Ms. Malmberg has been in the goat business since 1997. As a graduate student at Colorado State University in Fort Collins, she was fascinated by goats and how they could be used for chemical-free land restoration. When she completed her Masters of Science, she bought a herd, which now ranges on the edge of 1,200 heads of goat. The co-owner of "Ewe4ic Ecological Management" and "Goat Green," Ms. Malmberg has made a business out of managing unwanted vegetation and erosion, reseeding, restoring soils, and reducing fire threat using her herd of goats.
Beyond Pesticides has long been an advocate for the use of goats and grazing animals as a least-toxic solution for weed management. Goats are often more efficient at eradicating weeds, and are more environmentally sustainable than using harmful pesticides and chemicals. The process works as follows: Working around five miles of land per day, the goats consume everything from shrubs and weeds to thistles and poisonous plants. Their journey takes them up hills and down gullies that are too steep for mowers or machines. As they eat, the goats ensure that weeds do not go to seed. By snapping off flower heads and eating off all the leaves, weeds cannot photosynthesize sunlight to build a root system. Goats also boost soil health in two important ways: 1. fertilizing soils with their nutrient-rich feces and urine, and 2. tilling hard drought-stricken soils with their hooves. At the end of the contract, the soils are ready to be reseeded for spring. This growing movement has gained attention around the nation.
For more information on natural, non-chemical land management strategies, read "Successfully Controlling Noxious Weeds with Goats: The natural choice that manages weeds and builds soil health" and see Beyond Pesticides' Lawns and Landscapes page.
Source: The Cortez Journal
Photo Source: Ewe4ic Ecological Services

All unattributed positions and opinions in this piece are those of Beyond Pesticides.