01
Nov
(Beyond Pesticides, November 1, 2012) Conservation groups and fisherman have filed lawsuits against U.S. Environmental Protection Agency (EPA)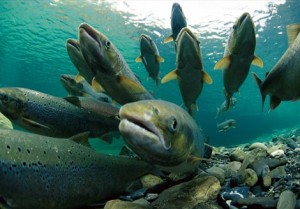 demanding that pesticide restrictions be implemented around salmon streams. Regulatory buffers surrounding streams and watersheds have not been fully implemented by EPA, though it is required to by law. The National Marine Fisheries Service (NMFS), which promotes sustainable fisheries, recovery of protected species, and the health of coastal marine habitats, commented that common pesticides should not be sprayed within 500 to 1000 feet of waterways. Its comments focused on the impacts of chlorpyrifos, diazinon and malathion, which jeopardize the health of federally protected salmon species. Despite this and other evidence that supports the need for buffer zones, EPA has withheld action until the 4th U.S. Circuit Court of Appeals resolves the case.
EPA is mandated by law to protect dwindling species like salmon under the Endangered Species Act. Salmon, in particular, are a good indicator of how well we are taking care of both the marine and terrestrial ecosystems, because they live in streams, lakes, rivers, estuaries, and open ocean. They are also extremely sensitive to changes in water quality and upstream changes to the river flow, turbidity, and temperature. It goes to show that generally, the more pristine, diverse and productive the freshwater ecosystem is, the healthier the salmon stocks. Declines to juvenile salmon populations indicate failing ecosystem health and have dramatic impacts up the food chain as salmon are the primary food source for terrestrial fauna, ranging from eagles, ducks and songbirds to brown bears and grizzlies. Thus, by failing to implement buffer mandates EPA is responsible for endangering salmon and ecosystem health under the Endangered Species Act.
While EPA has requested that chemical companies change their pesticide product labels voluntarily to include buffer requirements, Dow AgroSciences, Makhteshim Agan, and Cheminova have refused to take the request seriously. Primarily, they believe that the comments made by NMFS will not hold up in court. EPA can force these chemical companies to change their labels by cancelling existing labeling and issuing new ones, but it would have to prove in federal court that the conclusions made by the NMFS are correct, and officials are reluctant to be involved in a long court battle. Pesticide manufacturers have already requested that the judge throw out the 2008 biological opinion by NMFS on spraying common pesticides near waterways. Credit is due to NMFS for standing by its study and for its concern for endangered species. All things considered, the biological impact cannot be overlooked by the judge. When asked by a 4th Circuit judge about the economic effects of buffers, attorney Mark Haag said, "The determination of jeopardy is based on biology. It's not based on economic impact."
Needless to say, label changes are piecemeal efforts that do not address the larger problem that toxic pesticides pose to human health, wildlife, and environmental integrity. Beyond Pesticides calls for the full protection of endangered species through strong legislation that supports least-toxic chemical use. Throughout the years, chemicals have been poisoning our foods and sickening our children. Those chemicals cited by the NMFS are all organophosphates, which is a group of highly toxic insecticides that affect the functioning of the nervous system.
Chlorpyrifos is acutely toxic to bees, birds, mammals, aquatic life, and certain species of algae. Poisoning from chlorpyrifos may affect the central nervous system, the cardiovascular system, and the respiratory system as well as a skin and eye irritant. A study of children exposed to chlorpyrifos in utero found that extensive and unusual patterns of birth defects, including brain, nervous system, eyes, ears, palate, teeth, heart, feet, nipples, and genitalia. The published literature and EPA documents contain reports that identify similarities in defects found in test animals and children exposed to chlorpyrifos. There are also a wide range of adverse environmental effects linked to chlorpyrifos, including toxic to: beneficial insects, freshwater fish, other aquatic organisms, bird, a variety of plants, soil organisms, and domestic animals. It has been shown to bioaccumulate in fish and synergistically react with other chemicals.
Diazinon is a moderately acutely toxic broad-spectrum insecticide. Like chlorpyrifos, diazinon affects the nervous system through the inhibition of AchE, an enzyme needed for proper nervous system function. Diazinon is easily absorbed through the skin, and is synergistic with other chemicals, including pyrethrins and certain chemicals used in pharmaceuticals. Repeated exposure to low doses may cause muscle twitching, anorexia, malaise, depression, irritability, confusion, anxiety, and dizziness. Damage to the pancreas has developed in some people and in laboratory animals exposed to large amounts of diazinon. Diazinon is also considered a mutagen, as long-term exposure may damage the developing fetus or cause birth defects, nerve damage, and/or liver damage.
The U.S. Environmental Protection Agency (EPA) has classified malathion as a toxicity class III pesticide, bearing the signal word "Caution." Despite the fact that malathion is one of the less acutely toxic synthetic pesticides, numerous human poisoning have been reported. It is slightly toxic via the oral route and dermal route. Malathion is rapidly and effectively absorbed by practically all routes, including the gastrointestinal tract, skin, mucous membranes, and lungs. Animal studies indicate it is eliminated through urine and feces, with a reported half-life of approximately 8 hours in rats and approximately 2 days in cows. All organophosphate pesticides act on the body, particularly the nervous system in the same way and their effects are cumulative, which raises questions about multiple exposure to these chemicals through many uses in and around homes and food production.
EPA's failure to protect endangered species, human health and ecosystem integrity needs to be addressed, if only by implementing buffer zone requirements for toxic pesticides. In the long-term, focus should be guided towards least-toxic pest management methods that are proven effective, cheap, and safe!
Source: Capital Press
Photo source: The Bay Institute

All unattributed positions and opinions in this piece are those of Beyond Pesticides.