07
Dec
(Beyond Pesticides, December 7, 2012) The Danish Consumer Council and the Danish Ecological Council, in cooperation with the Technical University of Denmark, have launched the first ever nanotechnology database, with an inventory on 1,200 products that contain or are claimed to be a "nano" products. The database provides a description of each nanotechnology, rates the exposure risks to professional end-users, consumers and the environment, and indicates possible hazards that nanotechnology poses to both human health and the environment —using a color code, where the exposure or potential effect are rated as high (red), medium (yellow), low (green), or unknown (grey).
These nano-sized materials are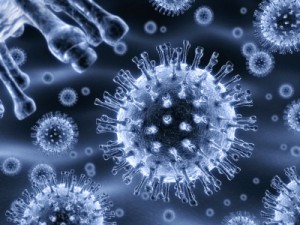 engineered at one millionth of a millimeter. Or, to put it another way, the size relationship between a baseball and a nanoparticle is similar to the size of a baseball and the entire globe. While nanotechnology is increasingly used every-day in consumer products, including toothpaste, cosmetics, sunscreens, fabric, dietary supplements, pesticides, and even crops, it is still a relatively new field where few of the potential hazards to human health or the environment are known.
Nanoparticles often display novel characteristics like increased strength or conductivity, however they are also more toxic than their normal-sized counterparts. Because they are so small, nanoparticles are extremely mobile. Once there is exposure, nanoparticles can enter the lungs, pass through cell membranes such as the blood-brain barrier and possibly penetrate the skin.
Once inside the body, they seem to have unlimited access to all tissues and organs, including the brain, which may cause cell damage that we don't yet understand. Carbon nanotubes, designed to improve the conductivity, are often used in consumer crops. When consumed, these nanotubes could facilitate transfer of other materials within the body that are supposed to be contained by membranes. Other studies of ultrafine air pollution have shown that inhalation of nano-sized particles increases the risk of asthma attacks and of death from heart attacks, strokes, and respiratory disease.
Nanotechnologies have also been employed in food production, processing and packaging. The Project on Emerging Nanotechnologies at the Woodrow Wilson International Center for Scholars has followed the growth of nanotechnology in the food industry. According to its 2008 report, entitled "Assuring the Safety of Nanomaterials in Food Packaging: The regulatory process and key issues," nanoparticles raise safety questions different from those raised by the conventional scale version of the same material.
Many food packaging materials have been incorporating nanoparticles, especially silver nanoparticles, to prolong the shelf life and control microbial agents in packaged food. Researchers are developing "smart packaging" that would be able to indicate if the packaged food becomes contaminated, as well as respond to changes in environmental conditions and self-repair holes and tears. Other nanoparticles have been known to be included in food to enhance flavor, and improve emulsification and nutrient availability. Nanosized herbicides, fertilizers, and other agrichemicals are also being developed to enhance the the growth of crops.
Currently, the chemical testing methodologies for nanotechnology are outdated, the manufacturers do not fully disclose the nanoparticles that are involved in their product, and there is a lack of governmental oversight and regulation. As there are no requirements for labeling either in the European Union (E.U.) or the U.S., consumers are largely in the dark. This database will serve as a first step in informing consumers about nanotechnology products so that they can make informed choices. Though database has limited applicability for products in the U.S., aside from those that are sold both within Denmark and at home, it provides an impetus to continue researching the impacts of nanotechnogy to human and environmental health.
Currently, USDA organic certified products are the last refuge for consumers wanting to nanomaterials. The National Organic Standards Board imposed general ban over nanotechnology in Fall 2010. Because nanotechnology is such a new field, nanomaterials were not specifically addressed by the Organic Foods Production Act in 1990. Overall, little is being done to review, regulate, or safety test nanotechnology that is currently being used in agriculture and food processing, ingredients and packaging.
For more information on nanomaterials, see Beyond Pesticides' program page.
Source: Nanowerk
Image Source: Introduction to Nanotechnology
All unattributed positions and opinions in this piece are those of Beyond Pesticides.