16
Jan
(Beyond Pesticides, January 16, 2013) Children living near chemical-intensive or conventional plantations in Costa Rica are exposed to twice as much of the insecticide chlorpyrifos compared to children living near organic plantations, a study reports. More than half the children, mostly from indigenous tribes- Ngäbe and Bribri – have a  higher daily exposures than allowed under U.S. federal standards. Chlorpyrifos is linked to neurological effects, especially in children, and is still permitted for use on crops.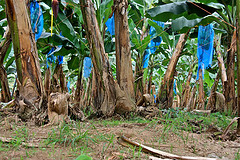 The study,  Indigenous children living nearby plantations with chlorpyrifos-treated bags have elevated 3,5,6-trichloro-2-pyridinol (TCPy) urinary concentrations, was lead by Berna van Wendel de Joode, PhD  (Central American Institute for Studies on Toxic Substances (IRET), Universidad Nacional, Heredia, Costa Rica). It was conducted in Costa Rica's banana and plantain plantations in the Talamanca region, and  targeted villages situated nearby to the plantations where blue bags treated with chlorpyrifos are routinely used to protect banana and plantain crops from pests. Two villages under study are near plantations that use chlorpyrifos-treated bags, while the organic village is near several plantations  that use little or no insecticide. For 140 children, aged 6 — 9, mostly indigenous Ngäbe and Bribri, parent-interviews and urine samples were obtained. Chlorpyrifos' environmental levels also were measured in hand wash and foot wash samples collected from some of the children. Levels also were measured in soil, house dust, mattress dust, drinking water, surface water, and air samples collected from inside or near the children's homes or near the local school.
Children from the banana and plantain villages have statistically significant higher urinary concentration of chlorpyrifos metabolite than children from the referent village. Chlorpyrifos is detected in 30% of the environmental samples as well as in 92% of the hand/foot wash samples. For more than half of the children, their estimated intake exceeded the U.S. Environmental Protection Agency (EPA) chronic population adjusted dose, which characterizes the dietary risk of the chemical. For some, the acute population adjusted dose and the chronic reference dose were also exceeded.
This is the first study to specifically address children's exposure from chlorpyrifos-treated plastic bags used in agriculture, and suggests that even in the absence of foliar and aerial applications of chlorpyrifos, the use of chlorpyrifos results in environmental exposure in children. It also underscores how federal agencies like EPA underestimate the impact of the chemical's continued widespread use in agriculture. Chlorpyrifos is a frequent water contaminant and a long range contaminant, exposing communities and contaminating pristine areas far from where it was applied. Residues in food and water continue to put public health at risk. Volatilization drift ""the evaporation of the pesticide after application"" is also part of the problem for chlorpyrifos. Farmworker children are typically exposed by helping their parents in the fields, and from exposure to residues tracked into the home. Even though the   health effects were not measured directly in the children in this study, the link between pre-birth chlorpyrifos exposures to lower IQ, impaired memory, mental and motor development delays and higher rates of ADHD in children have been well documented in numerous studies.
Last year, EPA announced new mitigation measures to reduce bystander exposure to chlorpyrifos drift from agricultural fields, including the use of buffer zones for residential areas, schools, hospitals etc. Chlorpyrifos   was banned from residential applications after EPA determined that cumulative exposure resulted in serious adverse health outcomes, especially for children. Short term effects of exposure to chlorpyrifos include chest tightness, blurred vision, headaches, coughing and wheezing, weakness, nausea and vomiting, coma, seizures, and even death.
The researchers of this study conclude that interventions to reduce chlorpyrifos exposure, such as the substitution of the chlorpyrifos-treated bags by agro-ecological pest control methods, are likely to improve children's health and environment in banana and plantain growing regions. Global regulatory and policy interventions related to chlorpyrifos have a potential to improve children's health and environment in tropical regions from where fruits are exported to countries that are in the process of phasing out this chemical due to national health concerns. According to Environmental Health News, the banana industry uses more agrochemicals than any other industry except for cotton. Pesticides are heavily used to meet consumer demand for perfect, unblemished fruit and because bananas — mostly grown in large monocultures — are highly prone to pests and disease. However, there are alternative ways to manage pest in bananas. Options include planting several varieties of bananas and rotating crops to lessen the chance of pest infestation, using pheromone traps to lure away pests, digging trenches around the banana plants and removing diseased plants by hand to reduce the spread of infestations and disease, and boosting the soil with organic matter and beneficial organisms to strengthen plants and improve soil health.
The only way to know that you are not supporting chemical intensive agriculture is to buy organically produced food. Beyond Pesticides advocates for the national conversion to organic systems planning, which moves chemicals off the market quickly and replaces them with green management practices. The effects that chemicals, such as chlorpyrifos, have on the natural environment, in addition to untold damage it has caused families across the U.S. and elsewhere, is testimony to the need to adopt alternatives assessments that force chemicals off the market that can be replaced by safer or green practices.
Source: Environmental Health News
Photo: Environmental Health News
All unattributed positions and opinions in this piece are those of Beyond Pesticides.