14
Feb
(Beyond Pesticides, February 14, 2013) Â  Beyond Pesticides' 31st National Pesticide Forum brings together top national scientists with local and national activists and concerned citizens to share information on the issues local communities are facing, craft solutions and catalyze networks to advance positive health and environmental policy and change. Sustainable Families, Farms and Food: Resilient communities through organic practices will be held April 5-6, 2013 at the University of New Mexico in Albuquerque, NM. For more information and to register, go to www.beyondpesticides.org/forum.
The 2013 conference will focus on building resilience in our food system and bringing ecosystems back to balance, incorporating regional issues such as water and food sovereignty in the Southwest. The conference is convened by Beyond Pesticides, University of New Mexico Sustainability Studies Program (UNM SSP) and La Montanita Food Co-op.Local co-sponsors include: Agri-cultura Network, Amigos Bravos, Cuatro Puerta, Farm to Table, Food and Water Watch NM, Holistic Management International, Mid-Region Council of Governments Agriculture Collaborative, New Mexico Department of Agriculture's Organic Program, Our Endangered Aquifer Working Group, Skarsgard Farms, South Valley Economic Development Center (SVEDC).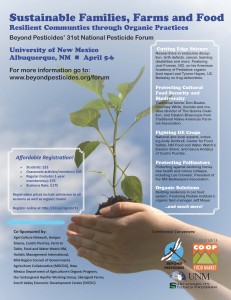 Registration is $15 for students, $35 for activists, $75 for non-members (includes a 1-year membership) and $175 for businesses. Registration covers access to all sessions, including organic food and beverage, Friday night performance and farm tours on Friday afternoon. Register online.
Highlights from the Program:
Friday Afternoon Tour
Beginning at 1pm on Friday, April 5, Beyond Pesticides, La Montanita Coop and UNM SSP invite you to join in on a whirlwind tour of a New Mexican food hub, Food Hub Fun for Local Flavor: Healthy Food, Healthy Communities, Healthy Economy. Many of the food that we will be serving at the conference this year will come from the farms that we'll be visiting, including Agri-cultura Network's farms, South Valley Economic Development Center, UNM Lobo Gardens the Veteran Farmer Project, and La Montanita Co-op's Distribution Center.
Performance Friday Night: A Sense of Wonder
A Sense of Wonder, which is written, produced, and performed by Kaiulani Lee, is the story of Rachel Carson's   love for the natural world and her fight to defend it. It is the story of the extremely private Ms. Carson thrust into the role of controversial public figure with the publication of Silent Spring. This powerful one-woman, two-act play brings to life on stage Ms. Carson's passionate message on the adverse health and environmental effects of pesticides, just as these toxic chemicals were becoming an increasingly common part of modern life. Kaiulani Lee brings to the writing and acting of A Sense of Wonder and Can't Scare Me, the story of Mother Jones more than 35 years of experience in theatre, film and television.
Cutting Edge Science
Researchers in endocrine disruption, birth defects, learning disabilities and more. Featured speakers include:
Joel Forman, MD, on his American Academy of Pediatrics (AAP) organic food report
Tyrone Hayes, PhD, UC Berkeley on frog deformities
Isaac Pessah, PhD, UC Davis, on his research linking pesticides and autism as well as research which finds that the antibacterial triclosan impairs muscle function
Lynn Caroll, PhD, senior scientist at The Endocrine Disruption Exchange (TEDX) on recent scientific literature on pesticides end endocrine disruption
Protecting Cultural Food Security and Biodiversity
Food and culture are indelibly linked both to each other and to the biodiversity of a region. Speakers will discuss how to balance the needs of all people to create a sustainable future. Featured speakers include:
Don Bustos, traditional farmer, IATP Food and Community Fellow and program director for the American Friends Service Committee- New Mexico
Clayton Brascoupe, founding member and program director of Traditional Native American Farmers Association
Loretta Sandoval, owner of Zulu's Petals Certified Organic Produce and Nursery, working to preserve local pepper and corn varieties
Organic Land Management
Researchers and practitioners discuss the most cutting edge approaches to managing land without the use of harmful chemicals.
Lani Malmberg, board member of Beyond Pesticides and director of Ewe4ic Ecological Services which provides goat grazing service for noxious weed control and land restoration
Matthew Chew, Arizona State University on non-native species and their ecological roles in nature
Ann Adams, director of community services at Holistic Management International
Fighting GE Crops
From labeling food to preventing the planting of genetically engineered seeds, experts will discuss national and local policies moving forward. Featured speakers include:
Andy Kimbrell, Executive Director of Center for Food Safety
Eleanor Bravo, New Mexico Food and Water Watch
Isaura Andaluz, Cuatro Puertas
Protecting Pollinators
Protecting against declining honeybee health and colony collapse, featuring:
Les Crowder, Author of Top-Bar Beekeeping: Organic Practices for Honeybee Health and President of the NM Beekeeping Association
Loretta McGrath, director of the Pollinator Partners Project at Farm to Table NM
Organic Solutions
Building resilience in our food system and bringing our ecosystem back to balance. Facing climate change, limited natural resources, and deteriorating agro-industrial infrastructures demand we reevaluate and change our dependence upon chemically-intensive agriculture to maintain a sustainable food supply. We will explore the ways in which policy, planning, and community-based organizing are localizing our food systems and making them more adaptable to physical and cultural change. Featured speakers include:
Jeff Moyer, organic farm and gardening expert at Rodale Institute
Richard Moore, program director for Los Jardines Institute which advocates for stronger
Courtney White, founder and creative director of The Quivira Coalition
For full list of speakers, Â click here.
For more information on the program, local logistics and to register, go to www.beyondpesticides.org/forum.