05
Feb
(Beyond Pesticides, February 5, 2013) Although nanoparticles are increasingly added to a wide range of consumer products, very little is known about the potential risks these materials pose to the health of our environment. A study by the Dutch research institute Alterra looked at the effects of nanoparticles on earthworms, revealing the ability of nanomaterials to cause significant harm to the beneficial organisms.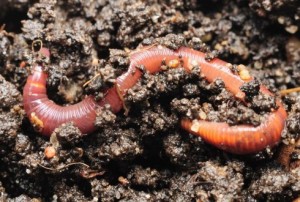 Earthworms are excellent indicators of soil health, and provide vitally important ecosystem services by aerating the soil, cycling nutrients, and increasing microbial activity. The Alterra study, led by Doctoral candidate Merel van der Ploeg, compared the health and growth of earthworms in soil containing carbon and silver nanoparticles at varying amounts with worms in regular soil. Mr. Van der Ploeg found the soil containing nanoparticles reduced reproduction, slowed growth, and increased the mortality rate of exposed earthworms. Young worms are particularly sensitive to the effects of the nanomaterial.
Mr. Van der Ploeg notes, "I also found damage to the skin tissue and intestinal wall, often accompanied by damage to the underlying muscle, but even though tissue damage is usually associated with inflammation, I did not observe this in the earthworms. There seemed to be a suppression of the immune system."
The results of this research reinforce calls by environmental groups to increase federal oversight of nanomaterials. Previous studies have also shown nanoparticles to cause negative impacts on the environment. A 2010 study found that silver nanoparticles can harm plant life at levels the U.S. Environmental Protection Agency (EPA) has reported finding in biosolids (sewage sludge). Where silver nanoparticles were present in the soil, plant species were reduced by 22 percent, with an additional 20 percent reduction of microbial biomass, as compared to those plants without the presence of nanoparticles. A 2012 study   on zinc oxide and cerium oxide nanoparticles, found in cosmetic products and diesel fuels respectively, demonstrated the capacity for nanoparticles to accumulate in plant tissue and impair the ability of leguminous plants to fix nitrogen from the air. Additional research published in 2010 describes the toxicity of nanosilver products on fat head minnows, with the particles causing developmental deformities and death.
Currently, the chemical testing methodologies for nanotechnology are outdated, manufacturers do not fully disclose the nanoparticles that are incorporated in their products, and there is a critical lack of governmental oversight and regulation. As there are no requirements for labeling nanoparticles in the U.S., consumers are largely in the dark. Many of the products containing nanomaterials on the market now are for skin care and cosmetics, but nanomaterials are also increasingly being used in products ranging from medical therapies to food additives to electronics. In 2009, developers generated $1 billion from the sale of nanomaterials, and the market for products that rely on these materials is expected to grow to $3 trillion by 2015. Whether via biosolids, from impregnated clothing, or the range of other products containing nanomaterials, these particles are entering our environment and our food chain, with little information on their environmental fate or potential health impacts.
USDA organic certified products are the last refuge for consumers wanting to avoid nanomaterials. The National Organic Standards Board imposed a  general ban over nanotechnology in its fall 2010 meeting, although USDA's National Organic Program has never initiated rulemaking on the subject.  Overall, little is being done to review, regulate, or safety test nanotechnology that is currently being used in conventional agriculture and food processing, ingredients and packaging.
Speakers at the 31st Annual Pesticide Forum will address the wide range of regulatory failures perpetuated by our current system of government oversight. Join us in Albuqueque, New Mexico for a discussion on the alternatives already present and strategies we all can take to promote their adoption into mainstream consumer sentiments.
Sources: Bloomberg, Â  Wageningen UR

Photo Credit: Phys.org
All unattributed positions and opinions in this piece are those of Beyond Pesticides.