10
Apr
(Beyond Pesticides, April 10, 2013) In response to the United Kingdom (UK) blocking attempts to introduce a Europe-wide ban on the world's most widely used insecticides – neonicotinoids, some members of parliament (MPs) from the environmental audit committee (EAC) chided their government last week for relying on "fundamentally flawed" studies and failing to uphold its own precautionary principle, saying that the UK must suspend the use of the pesticides linked to serious harm in bees.
The UK environment secretary, Owen Paterson, must end his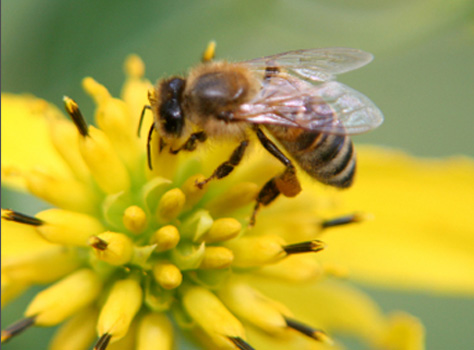 department's "extraordinary complacency" and suspend the use of pesticides linked to serious harm in bees, according to a damning report from an influential cross-party committee of MPs. The UK is blocking attempts to introduce a Europe-wide ban on the world's most widely used insecticides, neonicotinoids, arguing that the scientific evidence is inconclusive. But MPs on parliament's green watchdog, the environmental audit committee (EAC), said the government was relying on "fundamentally flawed" studies and failing to uphold its own precautionary principle.
The EAC report criticizes ministers and the Department for Food, Environment and Rural Affairs (Defra) for their "extraordinarily complacent approach to protecting bees". The report calls on the government to impose a ban on imidacloprid, clothianidin and thiamethoxam, suspending their use on flowering crops attractive to pollinators. The report states, "Defra should prepare to introduce a moratorium in the UK on the use of imidacloprid, clothianidin and thiamethoxam by 1 January 2014, and support such a proposal in the EU. " It also argues that with several of the UK's largest garden retailers, including B&Q and Homebase, having voluntarily withdrawn neonicotinoids their shelves the government should impose a full ban on the sale of neonicotinoids for public domestic use, in order to create an "urban safe haven for pollinators". The report notes that France, Germany, Italy and Slovenia have already imposed partial bans on some neonicotinoids and criticizes the UK government for opposing European Commission proposals for a full moratorium on the three neonicotinoids on all crops attractive to bees.
Earlier this year, European member states failed to reach an agreement on the proposal to suspend neonicotinoid use on flowering crops over the next two years. The EU proposal followed reports released by the European Food Safety Authority (EFSA), which found the continued use of neonicotinoids —clothianidin, thiamethoxam and imidacloprid— to be an unacceptable "high acute risk" to pollinators, particularly honey bees. Three EU members, including the UK, opposed the plan to suspend, blocking the European Commission from attaining a qualified majority to adopt the proposed suspension. The EU proposal would have suspended the use of the three neonicotinoids from use on flowering crops like corn, oil seed rape, apples, carrots, and strawberries for a period of two years, with a requirement for subsequent review.
"The environment department seems to be taking an extraordinarily complacent approach to protecting bees given the vital free service that pollinators provide to our economy," said Joan Walley, MP and chair of the EAC. "We believe that the weight of scientific evidence now warrants precautionary action." Ms. Walley notes that the UK is failing to abide by the EU definition of the precautionary principle, to which the UK is bound through EU law, and which does not allow economic interests to trump protection of the environment. "If we signed up to it, why don't we act on it," Ms. Walley said. "They are interpreting the precautionary principle how and when it suits them."
The report cites that the value of pollination lost because of insect declines could run to hundreds of millions of pounds and that "neonicotinoid pesticides are not fundamental to the general economic or agricultural viability of UK farming." Ms. Walley went on to criticize the chemical companies that make billions from the sale of the pesticides. "They often try to pick holes in studies linking their products to bee decline, but when pushed to publish their own research and safety studies they hide behind claims of commercial sensitivity. What have they got to hide?"
According to the report, the UK "should strategically support insect pollinators in the UK to preserve biodiversity, protect the environment and sustain a key ecosystem service. We were not encouraged by the Government's UK National Action Plan for the Sustainable Use of Pesticides, which was a missed opportunity. The plan should be revised to make integrated pest management its clear central principle, with targets to reduce reliance on pesticides as far as possible. The promotion of integrated pest management is a key feature of the EU Directive on the Sustainable Use of Pesticides, and Member States are required to implement the provisions on integrated pest management by 1 January 2014."
In addition to a suspension, the report calls for chemical companies to publish all their data and for a national program to be set up to monitor the health of pollinators, about which there is very little information at present. Syngenta and Bayer CropScience recently proposed an action plan to forestall pending EU restrictions on their neonicotinoid products that have been linked to global bee declines. Stating that a ban on their products would not save hives, the plan focuses on implementing agricultural best management practices, planting habitat, and new research and development, all of which fail to seriously address the real problem that their products are highly toxic to bees. Their plan includes the planting of more flowering margins around fields to provide bee habitat and food, as well as reducing agricultural dust emissions, best management practices, and more research into the impact of parasites and viruses. Not surprisingly, the proposed plan does not address the reduction of pesticide applications to fields where bees forage, or any concerns about the toxicity of their products on bee health. Most of the proposed features of the plan are already mandated under European legislation and have done little to reduce impacts to bee.
On March 21, 3013 Beyond Pesticides joined beekeepers, environmental and consumer groups in filing a lawsuit in Federal District Court against the U.S. Environmental Protection Agency (EPA) for its failure to protect pollinators from dangerous pesticides. The coalition seeks suspension of the registrations of insecticides- clothianidin and thiamethoxam- which have repeatedly been identified as highly toxic to honey bees, clear causes of major bee kills and significant contributors to the devastating ongoing mortality of bees known as colony collapse disorder (CCD). The suit challenges EPA's oversight of these bee-killing pesticides, as well as the agency's practice of "conditional registration" and labeling deficiencies. See Press Release. Read the 2013 Lawsuit, Appendix A: Clothianidin, Appendix B: Thiamethoxam.
Source: Guardian UK
Photo Source: UC Cooperative Extension
All unattributed positions and opinions in this piece are those of Beyond Pesticides.