17
May
(Beyond Pesticides, May 17, 2013) California's Department of Pesticide Regulation (DPR) have proposed restrictions on the use of chloropicrin, a fumigant commonly applied to strawberries, peppers, tomatoes, raspberries, and blackberries. The proposed rule would not only increase buffer zones around application sites, but also restrict application acreage, impose notification requirements, enhance emergency preparedness requirements, and prolong the time that chloropicrin-applied fields must remain covered. Public comments will be accepted until July 31.
The move is in response to recent data released by the California DPR, which indicates pesticide use in California has risen, causing 1,015 cases of illness between 1992 and 2007 for chloropicrin exposure alone. In total, more than 173 million pounds of pesticides were reported applied statewide, an increase of nearly 15 million pounds —or 9.5 percent— from 2009. For chloropicrin, injuries ranged from eye or respiratory problems to skin irritation, rashes, and burns.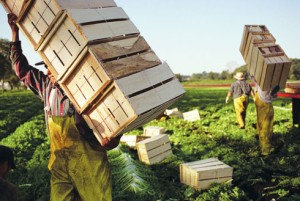 Additional evidence from a 2010 report released by the Pesticide Action Network of North American and local community members of Sisquoc, California, reveals that chloropicrin contaminated half of the 57 air samples collected, with average levels of exposure over the 19-day period at 23 to 151 times higher than acceptable cancer risks.
Fumigant pesticides, like chloropicrin, are used to sterilize soil prior to planting and are ubiquitous in California's $2 billion strawberry industry. While it is a far cry from establishing permanent restrictions to toxic chemicals, the state of California has begun to seriously consider the need for more protective soil fumigant regulations. "California does always put its extra layer of precaution above and beyond (federal regulators)," said Carolyn O'Donnell, spokeswoman for the California Strawberry Commission, "It presents more challenges, particularly for strawberries. People like to live where strawberries like to grow"¦ We want to make sure our communities are protected. If they're not, we're not going to be able to farm."
Fumigants are highly volatile and prone to drift, with severe implications for human health. Some of the health effects linked to exposure can include headaches, vomiting, severe lung irritation, and neurological effects. Some fumigants are linked to cancer, reduced fertility, birth defects and higher rates of miscarriage.
Though this proposed rule is a move away from the use of toxic fumigants, it does not fully acknowledge the alternatives that already exists in organic production. The only way for consumers to prevent use  of  hazardous soil fumigants is to buy organically produced food. Beyond Pesticides advocates for the national conversion to organic systems planning, which moves chemicals off the market quickly and replaces them with green management practices. To learn more about organic agriculture please visit Beyond Pesticides organic agriculture page.
Take Action (California): Public comments will be excepted until July 31, fax 916-445-4280, e-mail loconnell@cdpr.ca.gov, or write Linda O'Connell, Department of Pesticide Regulation, Worker Health and Safety Branch, 1001 I St., P.O. Box 4015, Sacramento, CA 95812. Additionally, a public meeting will be held 6-8 p.m. June 10 and 10 a.m. to noon June 11 to discuss proposed chloropicrin rules. The meeting will be held in the Agricultural Center conference room, 1428 Abbott St., Salinas. For more information, see the California Department of Pesticide Regulation's Chloropicirin page.
Source: Santa Cruz Sentinel
All unattributed positions and opinions in this piece are those of Beyond Pesticides.