17
Jun
(Beyond Pesticides, June 17, 2013) Today Beyond Pesticides and the BEE Protective campaign kicks off National Pollinator Week in the United States as hundreds of actions to support pollinators take place across the country. This week we urge communities to come together to highlight the importance of pollinators through public education, the creation of pollinator friendly habitats, and other exciting activities. Beyond Pesticides invites you to take a real pledge to support pollinators and pollinator-friendly habitat, even as several pesticide companies, including Bayer and Syngenta, are using this week as an opportunity to "Bee-Wash" their image and to distance themselves from the toxic effects of their products on pollinators.
BEE Protective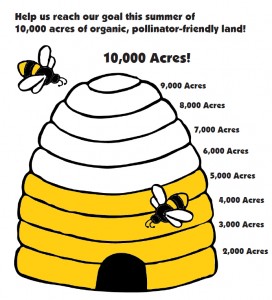 Beyond Pesticides' recently launched campaign has all the educational tools you need to actually help pollinators. We urge you to sign our Pesticide Free Zone Declaration and pledge to maintain your yard, park, garden or other green space as organically-managed and pollinator friendly.  In honor of all the benefits pollinators provide, and in light of the plight of honey bees worldwide, we are offering free organic pollinator-friendly seed packets from now until June 23rd to those who sign the pledge (supply is limited, so sign today). Help us reach our summer goal of 10,000 acres!
Another great way to get engaged is by becoming a backyard beekeeper. Attracting and keeping bees in your backyard can be easy, especially if you already enjoy gardening. By providing bee habitat in your yard, you can increase the quality and quantity of your garden's fruits and vegetables. The BEE Protective Habitat Guide has information on creating native pollinator habitat in communities, eliminating bee-toxic chemicals, as well as other advocacy tools. For additional helpful tips on how to BEE Protective visit Beyond Pesticides' "What Can You Do?" page.
Go Organic
Pollinators are threatened by, among other environmental stressors, the neurotoxic effects of several different pesticides, which is why it is crucial to go organic. Seeds and agricultural commodities undergo intensive foliar and systemic applications of pesticides that translocate through plants, even to the pollen and nectar. Pesticides have sublethal effects on bees that can diminish their sense of smell and foraging patterns, and alter their reproductive cycles.  Recent studies  have indicated that exposure to minute amounts of neurotoxic pesticides such as neonicotinoids  (e.g.  imidacloprid  and  clothianidin) severely impair the immune systems of bees, making them more susceptible to pathogens and disrupting their foraging, navigating and learning behavior.
Beyond Pesticides' Eating with a Conscience Database has been recently updated to include information on pollinators. Click through the crops to find out which ones are dependent on or foraged by pollinators, see which chemicals are toxic to bees, and learn about the importance of going organic. Choosing organic food is not only good for your health, but it helps protect honey bees and wild pollinators. In addition to serious health questions linked to actual residues of toxic pesticides on the food we eat, our food buying decisions support or reject hazardous agricultural practices, the protection of honey bees and wild pollinators, as well as whether we are contributing to healthy working conditions and communities for farmworkers and farm families.
Bayers' "Bee-Washing"
As the evidence continues to grow that neonicotinoid pesticides are major contributors to the dramatic loses of pollinators around the world, pesticides companies are scrambling to build their image by "bee-washing" their products. Bayer CropScience, manufacturer of the neonicotinoid pesticides imidacloprid and clothianidin, has taken several actions to this effect. Bayer is building a 5,500-square-foot "bee health center" in North Carolina. The company has also pledged to donate $1 to the Pollinator Partnership for each individual that requests a free packet of seeds (which are NOT organic, by the way). The Pollinator Partnership is a non-profit organization that has several major agrochemical companies as funders. Their 2012 National Pollinator Week Sponsors included Bayer, Syngenta, Orkin, and CropLife America. Bayer recently launched a "Bee Care Tour" which will travel to university agricultural schools and farm communities across Corn Belt states. The company claims the tour will, "Foster education and cooperation among growers, beekeepers, researchers and others interested in honey bee health."
Bayer has worked with Syngenta, another agrochemical manufacturer of neonicotinoid pesticides, to develop a "comprehensive action plan" for bee health. Sygenta is also a major partner of the Pollinator Partnership. Monsanto, which uses Bayer neonicotinoids as a seed treatment for its genetically engineered (GE) corn, recently hosted a "first-of-its-kind" Bee Health Summit attended by industry associations.
These agrochemical giants have continually dismissed claims linking their products to bee deaths. However, sound science has produced dozens of studies in the  independent peer reviewed scientific literature that links neonicotinoid pesticides to bee health decline and colony collapse disorder (CCD). These efforts by Bayer, Syngenta, and Monsanto are not only hypocritical and misleading, they also fail to acknowledge the rapid decline that other wild pollinators, such as butterflies and birds, are also experiencing.
Pollinator Week Events in Washington, DC
Beyond Pesticides' office is buzzing about all the great pollinator-friendly events  in the Washington D.C. area. Today, a free screening of the acclaimed film Vanishing of the Bees will begin at 7pm at the historic Hill Center on Capitol Hill. After the film, an exclusive discussion with the film's director, Maryam Henein, will cap the night. There will also be free packets of organic pollinator friendly seeds, the newly published BEE Protective Habitat Guide, and additional educational materials on the importance of pollinators and the plight of the honeybee. At the end of the week, June 21st, Beyond Pesticides will also participate in the fourth annual pollinator festival at the People's Garden and USDA Farmers Market. We'll be there to distribute educational materials and answer any questions you might have about pollinators. Both events are free and open to the public!
Vanishing of the Bees Film Screening:
Location:
Abraham Lincoln Hall
Hill Center at the Old Naval Hospital
921 Pennsylvania Avenue, SE
Washington, DC 20003
When: Monday, June 17, 2013 – 7:00pm to 9:00pm
Cost: Free!
Fourth Annual Pollinator Festival:
Location:
USDA People's Garden and Farmers Market
12th Street & Independence Avenue, S.W.
Washington DC, 20001
When: Friday, June 21, 2013 from 10 a.m. to 2 p.m.
Cost: Free!
Pollinator Week History
First declared in 2006 after Congress and the U.S. Department of Agriculture (USDA) unanimously passed resolution S580, Pollinator Week provides an opportunity to show respect for the numerous benefits pollinators provide to agriculture and the environment. It also acts to raise awareness about the global decline of many pollinator species, particularly domesticated honey bees, and the diverse threats both honey bees and other wild pollinators are now confronting.
Don't get stung by Bayer's "bee-washing;" catch the buzz on Beyond Pesticides' Pollinator Week activities, and for more information on how to truly BEE protective visit Beyond Pesticides BEE Protective page and sign our pollinator pledge.