12
Jun
(Beyond Pesticides, June 12, 2013) A three-judge panel  of the Court of Appeals for the Federal Circuit ruled Monday that a group of organic and otherwise non-GE farmer and seed company plaintiffs are not entitled to bring a lawsuit to protect themselves from Monsanto's transgenic seed patents after Monsanto made binding assurances that it will not take legal action against growers whose crops might inadvertently be contaminated with traces of Monsanto biotech genes.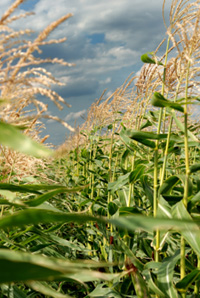 Organic farmers and others have worried for years that they will be sued by Monsanto for patent infringement if their crops get contaminated with Monsanto genetically engineered (GE) material from GE crops. Organic and non-GE farms get contaminated when pollen or seed migrate from neighboring GE farms. Even though wind or insect transfer of pollen is a natural process, Monsanto has been suing farmers for infringing on their patents if contamination is found on their farms. Monsanto's history of aggressive investigations and lawsuits brought against farmers is a major source of concern for organic and non-GE agricultural producers since Monsanto's first lawsuit brought against a farmer in the mid-"˜90s. As of 2012, Monsanto has filed 142 alleged seed patent infringement lawsuits involving 410 farmers and 56 small farm businesses in 27 states. Beyond Pesticides joined farmers, seed organizations, and other environmental groups across the country to appeal a 2012 court ruling which dismissed Organic Seed Growers and Trade Association et al v. Monsanto — a case where the plaintiffs sued preemptively to protect themselves from being accused of patent infringement should their crop ever become contaminated by Monsanto's GE seed. An appeal was filed soon thereafter.
However, in the ruling issued Monday, the Court of Appeals judges affirmed the previous court's 2012 decision that the plaintiffs did not present a sufficient controversy to warrant adjudication by the courts. The court decision was informed by Monsanto's repeated commitments during the lawsuit that they would not sue farmers with "trace amounts" of contamination of crops containing their patented genes.
Plaintiffs' attorney, Dan Ravicher of the Public Patent Foundation (PUBPAT), views the decision as a partial victory. "Before this suit, the Organic Seed plaintiffs were forced to take expensive precautions and avoid full use of their land in order to not be falsely accused of patent infringement by Monsanto," said Mr. Ravicher. "The decision today means that the farmers did have the right to bring the suit to protect themselves, but now that Monsanto has bound itself to not suing the plaintiffs, the Court of Appeals believes the suit should not move forward."
The plaintiff farmers and seed companies began their legal battle in March of 2011, when they filed a complaint against agricultural giant Monsanto asking for a declaration that Monsanto's patents on GE seed were invalid or unenforceable. The plaintiffs felt compelled to file the suit because Monsanto's patented seed can contaminate neighboring fields through various means including wind and insects, and the owners of those fields, such as plaintiffs, can then be sued by Monsanto for patent infringement.
The Organic Seed plaintiffs' complaint details Monsanto's abusive business and litigation tactics that have put several farmers and independent seed companies out of business. They also detailed Monsanto's history of ruthless patent enforcement, going so far as investigating as many as 500 farmers each year for patent infringement by trespassing onto their land. The plaintiffs further detailed the harms caused to society by Monsanto's GMO seed, including the proliferation of herbicide-resistant "superweeds" and environmental pollution. The plaintiffs set forth in their legal filings how the patents were legally deficient in several ways including that the covered technology has no beneficial social use and that the dozens of patents issued to Monsanto have illegally extended and entrenched its monopoly.
"Even though we're disappointed with the Court's ruling not to hear our case, we're encouraged by the court's determination that Monsanto does not have the right to sue farmers for trace contamination," said Maine organic seed farmer Jim Gerritsen, president of lead plaintiff Organic Seed Growers and Trade Association. "However, the farmers went to court seeking justice not only about contamination, but also the larger question of the validity of Monsanto's patents. Justice has not been served."
While the court is relying on Monsanto's promise not to sue farmers for unintentional contamination, a growing number of America's farmers and consumers are concerned about genetic contamination of our food supply by Monsanto's transgenic crops. While this lawsuit seeks to protect contaminated farmers from being accused of infringing Monsanto's patents, the decision allows farmers who are contaminated to sue Monsanto and Monsanto's customers for the harm caused by that contamination without fear of a retaliation patent infringement claim against them by Monsanto.
"Today's ruling may give farmers a toehold in courts regarding the unwanted contamination of their crops, but it does not protect our food supply from the continued proliferation of Monsanto's flawed technology," said Dave Murphy, founder and executive director of Food Democracy Now!, a co-plaintiff in the lawsuit. "The real threat of continued contamination of our nation's food supply was only highlighted last week when Monsanto's unapproved GMO wheat was discovered in an Oregon farmer's field more than 10 years after it was legally planted in that state."
The recent discovery of GE contamination of wheat sent shockwaves through the Western wheat growers community and resulted in Japan and South Korea temporarily halting the acceptance of American wheat imports. Several lawsuits have now been filed against Monsanto. The lawsuits allege that the presence of GE wheat crops spurred top wheat importers, such as Japan, South Korea, and the European Union, to enact damaging restrictions on American wheat. These restrictions could lead to lower wheat imports and will cause devastating economic effects to wheat farmers.
Despite this Court of Appeals' decision, the plaintiffs still have the right to ask the Supreme Court to review the Court of Appeals decision and ultimately reinstate the case. Mr. Ravicher said the Organic Seed plaintiffs are considering doing so.
Source: Public Patent Foundation
All unattributed positions and opinions in this piece are those of Beyond Pesticides.