06
Aug
(Beyond Pesticides, August 6, 2013) On August 1, as President Obama signed an Executive Order, entitled Improving Chemical Facility Safety and Security,  intended to improve chemical facility safety and security, a coalition of labor and environmental groups delivered a letter to newly appointed Environmental Protection Agency (EPA) Administrator Gina McCarthy, urging her to make chemical disaster prevention one of the priority initiatives   in her first 100 days in office. The letter and Executive Order come nearly  four months after an explosion at a chemical plant in West, Texas claimed the lives of 14 people and injured hundreds more.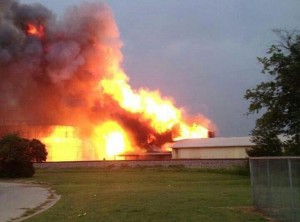 The letter from labor and environmental groups shows that there is broad support for the only fool-proof way to prevent chemical disasters, namely switching to safer chemical processes. In the letter, groups encourage the Obama Administration to follow through on the President's 2008 campaign platform, where he promised to "secure our chemical plants by setting a clear set of federal regulations that all plants must follow, including improving barriers, containment, mitigation and safety training, and wherever possible, using safer technology, such as less toxic chemicals." Groups argue that EPA already has the authority under the Clean Air Act (CAA). After the 9/11 attacks, EPA proposed using CAA's disaster prevention authority to make chemical facilities "inherently safer by reducing the quantities of hazardous chemicals handled or stored, substituting less hazardous chemicals for extremely hazardous ones, or otherwise modifying the design of processes to reduce or eliminate chemical hazards." The letter notes that the Bush Administration tragically scuttled this plan of action.
President Obama's Executive Order moves the country closer toward safer chemical processes by creating a number of deadlines that cabinet members and agency heads must meet to update guidance, outreach, standards, and regulations concerning the storage and handling of hazardous chemicals. Senator Barbara Boxer, chairwoman of the U.S. Senate's Environment and Public Works Committee, praised the President's role in this issue saying, "For me, it's a game-changer. I saw the intransigence of some of the agencies. I saw them arguing and not committing. . .We asked the President to help make sure this never happens again."  Though there is much to be pleased with in the President's Executive Order, some are wary that creating a working group will not lead to substantive change. Representative Bill Flores (TX-R), whose district includes West, Texas, noted, "What the President laid out is the right thing to do, except the working group. It reminds me of committees. Committees go out and they study things for a while. They produce a nice report, and nothing gets done. What we need are actions."
Environmental groups question whether the Executive Order is forceful enough, and if the order will have any impact beyond the federal level, as state and local regulators are critically important to providing safeguards from chemical disasters. Ultimately, time will tell if the President's order will turn into real action. Rick Hind, legislative director at Greenpeace notes, "It's a process that could be very fruitful and the key test will be in 90 days when they issue the policy options. You can't completely prevent a chemical disaster unless you use a safer alternative. [EPA] has clear authority to issue new rules and safety standards."
The disaster in West, Texas exposed the deficiencies in the regulation of chemical facilities. Oversight may be comprised of over 10 agencies at the federal and state levels, and information sharing is often limited, allowing important information to fall through the cracks. Laws correcting these problems have been repeatedly shot down by industry lobbying in recent years. In 2012, the chemical and manufacturing industry doubled its spending on lobbying to over $55 million.
Many groups, including Beyond Pesticides, have focused on encouraging safer alternatives in chemical processing since before the tragic events that occurred in Bhopal, India in 1984 by Union Carbide, now a wholly owned subsidiary of Dow Chemical (which was recently issued a summons over the events). Given the past support the President, Vice President and some at EPA and in Congress have voiced for ensuring that chemical facilities use the safest processes available, this may be a once in a generation moment to realize these policies. That success will not only prevent disaster but will also create down stream opportunities for pollution prevention, green chemistry and clean production.
Source: Dallas News, Bloomberg BNA
Image Source: Mother Jones
All unattributed positions and opinions in this piece are those of Beyond Pesticides.