20
Aug
(Beyond Pesticides, August 20, 2013) In a victory for consumers and Willamette Valley's $50 million vegetable seed industry, Oregon Governor John Kitzhaber signed HB 2427 last week, banning the commercial production of canola in the region until at least 2019. Supporters of the law assert that the moratorium is necessary to maintain the integrity of the region's internationally recognized organic vegetable seed industry.
Farmers in Oregon's specialty seed and organic vegetable industries, valued at well over $50 million in annual sales, have been fighting the planting of  canola, an oilseed plant in the brassica family, in the Willamette Valley because it readily cross-pollinates with specialty crops grown there, the brassica specialty seed crops like broccoli, kale, and cabbage. Canola can  spread plant diseases and pests to brassica vegetable and seed crops; and can contaminate pure lots of vegetable and clover seed, rendering them unsalable in international and local markets. Additionally, genetically engineered (GE)  herbicide resistant varieties of canola can further cross-pollinate with weeds, creating new invasive species problems as herbicide resistant traits spread to native weed populations.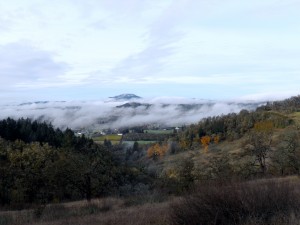 The canola controversy emerged after  a decision by the Oregon Department of Agriculture (ODA) last year to temporarily allow the planting of GE canola in areas   of the Willamette Valley previously deemed off-limits. The new rules were not subject to a public comment period. At the time, ODA Director Katy Coba stated that, "Since canola has been deregulated by USDA, ODA does not differentiate between conventional and [GE] canola or treat them differently." The new rules spurred a lawsuit, filed by the groups Center for Food Safety and Oregon-based Friends of Family Farmers, in conjunction with Oregon specialty seed producers Universal Seed, Wild West Seeds, and Wild Garden Seeds. Shortly after the announcement, the Oregon Court of Appeals granted the plaintiffs a temporary halt to canola planting. In response, ODA agreed to hold two public comment periods, one in November 2012 and another in January 2013. Widespread public opposition did not compel ODA to withdraw the proposal, however, and in February 2013 the department officially approved a spring 2013 planting of the  canola in the Willamette Valley Protected District.
Heeding the public's outcry, Oregon's legislature acted swiftly to advance HB 2427, which now in effect overturns ODA's previous rulings. George Kimbrell, senior attorney for Center for Food Safety, explains, "Working closely with the farmers and allies, we were able to act fast to prevent ODA's disastrous decision from taking effect. Our court case prevented any canola from being planted, allowing time for our legislative strategy to work. Fortunately, this new law will trump the agency's unlawful rule that would have allowed planting. This valuable industry is safe from the threat of canola." Apart from the moratorium, the law also requires Oregon State University to conduct a study to determine whether the canola is compatible with other crop production within the protected planting district of the Willamette Valley. This will ensure that any decisions made will follow the principles of rigorous, peer-reviewed science, notes Ivan Maluski, policy director at Friends of Family Farmers.
A previous Oregon State University report, "Outcrossing Potential for Brassica Species and Implications for Vegetable Crucifer Seed Crops of Growing Oilseed Brassicas in the Willamette Valley," confirms that canola has the ability to hybridize with brassica seed crops such as radish, cabbage, broccoli, cauliflower, brussels sprouts, kohlrabi, collards, and kale.
Organic growers are particularly concerned about canola planting because certification does not allow the introduction of GE material in organic seeds or vegetables. Such contamination has proven to be  extremely costly to farmers raising organic and non-genetically engineered crops whose loads are rejected by buyers when trace levels of contamination are detected. Farmers in these circumstances lose a price premium for the extra effort and expense taken to preserve their crop's integrity and they typically have no recourse but to dump the load on generic markets. The signing of HB 2427 comes only a few months after an Oregon wheat farmer discovered the presence of unregulated GE wheat in his field, which prompted international markets in Europe, Japan, and South Korea to reject U.S. wheat imports.
Under the current interpretation of relevant law, genetic seed producers bear no legal or financial responsibility for such contamination. In an effort to get the U.S. Department of Agriculture (USDA) to act on this issue, in its spring 2012 meeting, the National Organic Standards Board, with a unanimous vote, sent a letter to Secretary of Agriculture Tom Vilsack saying, "We see the potential of contamination by genetically engineered crops as a critical issue for organic agricultural producers and the consumers of their products. There are significant costs to organic producers and handlers associated with preventing this contamination and market loss arising from it."
The fall National Organic Standards Board (NOSB) meeting, scheduled for October 22-24th in Louisville, KY, is fast approaching. Stay tuned to Beyond Pesticides' Keeping Organic Strong webpage for an overview of the issues to be discussed, which will include the issue of GE contamination of organic crops. Previous board meetings and topics can be viewed on Beyond Pesticides' NOSB Archives page. For additional information, see our issue pages on Organic Agriculture and Genetic Engineering.
All unattributed positions and opinions in this piece are those of Beyond Pesticides.
Source(s): Center for Food Safety, Processing Magazine