04
Sep
(Beyond Pesticides, September 4, 2013) More than a decade after Latino parents filed a civil rights complaint with the U.S. Environmental Protection Agency (EPA) detailing the dangerous levels of pesticides at Latino public schools throughout California, the parents are suing the agency for its continuing failure to protect Latino  students. The schools are near crop fields where methyl bromide and other fumigants are sprayed. In August 2011, EPA found that California's Latino school children suffer disproportionately from exposure to pesticides due to spraying near their schools, but EPA has yet to remedy these exposures.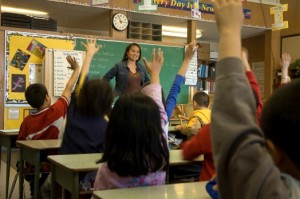 In attempts to finally force EPA to protect civil rights of hundreds of Latino children, Center on Race, Poverty and the Environment (CRPE), California Rural Legal Assistance Inc., Farmworker Justice, and The City Project filed a lawsuit on behalf of the original plaintiffs, the Garcia family, and multiple generations of Latino school children who still do not have substantive protection from the EPA. In 1999, the Garcia family alleged that their children and other Latino children were being exposed to dangerous levels of pesticides at their public schools, which are directly adjacent to several strawberry fields where methyl bromide and other fumigants are sprayed. The complaint was filed under Title VI of the Civil Rights Act of 1964 , which prohibits intentional discrimination and discriminatory effects on the basis of race, color, and national origin by recipients of federal financial assistance. The complaint alleged that the California Department of Pesticide Regulation's (CDPR) annual renewal of the registration of methyl bromide in 1999 discriminated against Latino school children based on the health impacts of this pesticide. Concerns were raised that there was an unintentional adverse and disparate impact on Latino children resulting from the use of methyl bromide during that period. This concern was based on the high percentage of Latino children in schools near fields where methyl bromide was applied.
In 2011, the EPA issued the first ever preliminary findings of racial discrimination based on Garcia's claims. EPA then entered into secret negotiations without the Garcias and issued a settlement that does not remedy the discrimination suffered. As part of the negotiations, EPA and CDPR agreed to expand on-going monitoring of methyl bromide air concentrations by agreeing to monitor at or near one of the schools named in the original complaint. However, according to this new suit, EPA failed and continues to fail to protect the Garcias' rights to freedom from racial discrimination, noting that CDPR's measures fall short of actually providing relief to the children and their parents who were affected by the use of methyl bromide.
"I will keep fighting for my family," said Maria Garcia, a mother and grandmother, as the lawsuit was filed. This discrimination has gone on so long that Maria's son who participated in the original suit as a high school student is now a father with two children who will attend the same polluted schools he did.  These schools, like many other schools in California with high concentrations of Latino students, continue to face dangerous levels of pesticide exposure.
Remarkably, the Garcias continue to dream for justice for their children and Latino children throughout California. Their complaint challenges the EPA's Civil Rights Act regulations and if successful the lawsuit has the potential to allow other people of color across the country more access to protections from racial discrimination. Most importantly, it will formally recognize that a healthy environment is not a luxury but a civil right.
Recently, CDPR announced that it detected the highly toxic pesticide chlorpyrifos in nearly 30% of air tests that are being conducted in three high risk communities surrounded by intensive agriculture. The state runs tests for air particles from methyl bromide and 32 other pesticides and breakdown products, and measures the results against screening levels established by CDPR. However, critics maintain that the state's sampling is not representative of peak agricultural exposures and question whether any level of a toxicant in air is reasonable under the law, given the viability of alternative agricultural practices that do not rely on these chemicals. Pesticides can drift and volatilize, and move over long distances fairly rapidly through wind and rain. Documented exposure patterns result from drift cause particular concerns for children and other sensitive population groups. Adverse health effects, such as nausea, dizziness, respiratory problems, headaches, rashes, and mental disorientation, may appear even when a pesticide is applied according to label directions.
Meanwhile, farmworkers and their families gathered on Capitol Hill this summer to meet with their members of Congress to urge for stronger protections for farmworkers from hazardous pesticides. As a result of cumulative long-term exposures, farmworkers and their children, who often times also work on the farm or live nearby, are at risk of developing serious chronic health problems such as cancer, neurological impairments and Parkinson's disease. In testimony on Capitol Hill, Occupational and Environmental Health Director of Farmworker Justice Virginia Ruiz painted a grim picture of the conditions farmworkers and their families face. She stated, "The close proximity of agricultural fields to residential areas and schools makes it nearly impossible for farmworkers and their families to escape exposure because pesticides are in the air they breathe and the food they eat, and the soil where they work and play." She noted the heartbreaking point that, in order to minimize exposure, farmworkers are told not to hug their children when they come home from work — they must first remove their clothes, and take a shower.
An estimated 5.1 billion pounds of pesticides are applied to crops annually in the U.S., and farmworkers face the greatest threat from these chemicals than any other sector of society, with thousands of farmworkers each year experiencing pesticide poisoning. The best way for consumers to prevent use  of hazardous fumigants and other pesticides is to buy organically produced food. Support organic farming and protect farmers, farmworkers, and their families and neighbors from toxic chemicals. Organic agriculture does not allow the use of the chemicals cited in the lawsuit as well as toxic chemicals that have been shown to drift and cause a myriad of chronic health effects, such as cancer, endocrine disruption and a series of degenerative diseases like Parkinson's disease.
Beyond Pesticides recently updated the Eating with a Conscience database to reflect the risk conventional produce poses to farmworker health. For more information on how organic is the right choice for both consumers and the farmworkers that grow our food, see Beyond Pesticides webpage, Health Benefits of Organic Agriculture.
Sources:
Center for Race, Poverty and the Environment