16
Jan
(Beyond Pesticides, January 16, 2014) Researchers in Norway recently released a new study giving organic consumers and anti-genetically engineered (GE) crop advocates another few solid reasons to promote organic and continue the fight against engineered crops.  Findings from the study demonstrate that not only do soybeans grown using organic cultivation practices provide the healthiest nutritional profile of the three classes of soybeans studied, but GE soybeans also retain glyphosate residues at higher levels than their conventional, non-GE soybean counterparts.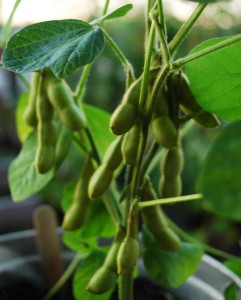 In Compositional differences in soybeans on the market: Glyphosate accumulates in Roundup Ready GM soybeans (Soy Study), Thomas Bøhn of Genøk, Centre for Biosafety and his team of researcher examined 31 batches of soybeans""all grown in the United States.  The batches were separated into three categories: (1) GE, glyphosate-tolerant soy (GE-soy); (2) unmodified soy cultivated using conventional "˜chemical' practices; and (3) unmodified soy cultivated using organic practices. Among the three categories, all individual soybean samples were analyzed for their nutritional content, including total protein, total fat, dry matter, starch, ash, minerals, trace elements, vitamin B6, amino acid and fatty acid composition, in addition to the relevant pesticides used on the samples during cultivation.
The study selected soybeans as the target crop because of the prevalence of GE-soy in both U.S. and global production yields.  "Globally, glyphosate-tolerant GE soy is the number one GE crop plant," the Soy Study notes.   "In 2011—2012, soybeans were planted on about 30 million hectares in the [U.S.], with Roundup Ready GE soy contributing 93—94% of the production. . . .Globally, Roundup Ready GE soybeans contributed to 75% of the total soy production in 2011."
Glyphosate is one of the most popular weedkillers in both the U.S. and the world and also the active ingredient in Roundup ""the leading glyphosate product developed by Monsanto. Known as "Roundup Ready," GE soybeans, corn, cotton, and other crops have been genetically altered and patented by Monsanto to be glyphosate-tolerant. Whether a crop stems from a Roundup Ready seed or not, glyphosate is used in almost all agricultural areas of the U.S., as well as on an international scale, in conventional, non-organic farming operations.   Certified organic crops cannot use herbicides or most pesticides.
The Soy Study finds that organic soy shows the healthiest nutritional profile of the three soy categories, with more sugars, such as glucose, fructose, sucrose and maltose, significantly more total protein, zinc and less fiber than both conventional and GE-soy. Organic soybeans also contained less total saturated fat and total omega-6 fatty acids than both conventional and GE-soy. Recent studies of organic whole milk found similar results, with the added finding of increased omega-3 fatty acids in the organic milk samples tested.
Concerning glyphosate-residues, the study challenged industry-assertions that GE-crops retain fewer pesticide residues than non-GE, conventional crops and require less application of pesticides. Instead, the Soy Study reveals that GE-soy samples are the only category to contain glyphosate residues at elevated  levels.
Soy Study researchers speculate that, "The increased use of glyphosate on Roundup Ready soybeans in the U.S., contributing to the selection of glyphosate-tolerant weeds, with a response of increased doses and/or more applications used per season, may explain the observed plant tissue accumulation of glyphosate."   In other words, because of the increased use of herbicides like glyphosate, herbicide-resistant weeds are increasing the need for greater and greater amounts of herbicides.
Do We Need to Worry About Glyphosate?
If readers are wondering whether glyphosate is really a problem pesticide, then the answer is a short and simple, "Yes." A dangerous pesticide, glyphosate has been linked to a number of serious human health effects, including increased cancer risks, neurotoxicity, and  birth defects, as well as eye, skin, and respiratory irritation. Inert ingredients in Roundup pose significant risks as well, with studies linking polyoxyethyleneamine (POEA) to the killing of human embryonic cells. In 2013, researchers   at the Massachusetts Institute of Technology (MIT) also concluded after an extensive review of the large body of scientific literature on the toxics effects of glyphosate that the herbicide can enhance the negative effects of other environmental toxicants on the body and that this has been a critically overlooked component in research on glyphosates' toxicity to mammals.
The Soy Study adds to the ever-growing pile of scientific research supporting the both personal and societal benefits of organic agricultural practices and provides yet another reason to raise a cautionary brow to the use of GE crops.  Because certified organic products cannot use GE crops or most pesticides, it is important to Keep Organic Strong and buy organic to show consumer support for the standards and benefits organic practices maintain.
Source: Science Direct
All unattributed positions and opinions in this piece are those of Beyond Pesticides.