27
Jan
(Beyond Pesticides, January 27, 2014) During the worst drought that California has seen in 100 years , goats are being used to clear brush, a fire hazard,  on several acres  of city property in Anaheim, California. This is not the first city in California to use goats to limit the dangers of wildfires; Auburn California also used them last September. Goats are an extremely efficient way to clear brush and are used in many landscape settings beyond fire hazardous brush.
During the week of January 13-17, Anaheim Fire and Rescue and the Department of Public Works contracted Environmental Land Management to clear six acres of brush along a right-of-way  using close to 100 goats. This method of ecological brush control was specifically chosen because it is a safer way to eliminate the wildfire dangers that dry brush can create.   Other common methods of brush control, such as mowing, can cause problems in dry conditions by creating sparks and inadvertently start fires. The goats were also used in hilly areas of East Anaheim, which are difficult to clear using mowers. This method of brush clearing is extremely efficient and contracting goats cost the city only $5,000 dollars, one-third less than mechanical methods. The use of goats was also enjoyed by the community.  According to a city press release, the animals gave "spectators a fun, visual experience as the goats enjoy their meal."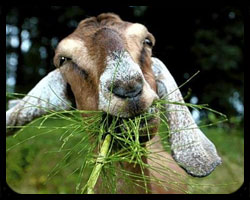 Goats have been used before in California to manage fire prone areas. In September, the utility company Pacific Gas and Electric (PG&E)  used over 900 goats to clear weeds and dried brush on 100 acres of its property in Auburn, California. Four years ago a fire in Auburn, California burned 340 acres, destroying 66 homes and 3 commercial buildings. Residents were worried that another fire was possible on the hillside that was grazed by the goats.
PG&E land consultant Jack Harvey was quoted in a PG&E press release saying, "This project has been very successful and economical.   Given that the goats have exceeded in meeting the intent I hope to see this program used more in the future."
Goats have also been used for general weed management. Recently, goats were used to control poison ivy, ground cover, vines and other invasive weeds at the Congressional Cemetery in  Washington, D.C.  Goats have also been used in  Durango, Colorado  to manage weeds, restore soil, and improve land quality on a 65-acre oil field, and at  airports  in Chicago, Atlanta, and San Francisco, where overgrown property on hills and in standing water are  difficult to reach  by machinery and pesticide applicators.
Beyond Pesticides has long been an advocate for the use of goats and grazing animals as an ecological solution for weed management. Goats are often more efficient at eradicating weeds, and are always more environmentally sustainable than using harmful pesticides and chemicals. Goats consume everything from shrubs and weeds to thistles and poisonous plants. They can graze up hills and down gullies that are too steep for mowers or machines. As they eat, the goats ensure that weeds do not go to seed. By snapping off flower heads and eating off all the leaves, weeds cannot photosynthesize sunlight to build a root system.
For more information on natural, non-chemical land management strategies, see Beyond Pesticides'  Lawns and Landscapes  and  Invasive Weed Management pages. Lani Malmberg, a Beyond Pesticides board member and owner of  Ewe4ic Ecological Services, a goat grazing service, will be speaking at Beyond Pesticides'  32nd National Pesticide Forum,  Advancing Sustainable Communities —People, pollinators and practices. The annual conference will be held in Portland, Oregon April 11-12, 2014, at Portland State University in conjunction with Northwest Center for Alternatives to Pesticides and Portland State University's Institute for Sustainable Solutions.    For more information, see the  National Pesticide Forum website.
Source: NBC Los Angles
All unattributed positions and opinions in this piece are those of Beyond Pesticides