10
Jan
(Beyond Pesticides, January 10, 2014)  A requirement to  label genetically engineered (GE) foods in the state of Maine is set to become law. The bill, LD718, "An act to protect Maine food consumers' right to know about genetically engineered food and seed stock," was passed by the state legislature in July 2013 by a vote in the House of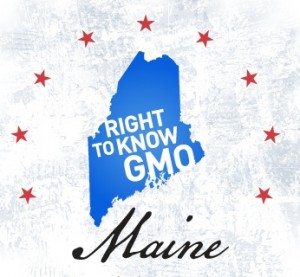 Representatives of 141 to 4, and  with the Senates' unanimous approval. The bill was then sent  to Governor Paul LePage (R-ME) and signed into law on Wednesday, January 8. Meanwhile, the conventional food industry is pushing legislation in Congress to prevent, or preempt,  states from adopting laws requiring labeling of GE foods.
The Maine Organic Farmers and Growers Association (MOFGA) praised the Maine law.  "We are thrilled that Governor LePage has signed the GMO labeling bill," said MOFGA's executive director Ted Quaday. "The time was right for a diverse and collaborative effort to take hold and move the discussion forward. People want and have the right to know what's in their food." Maine is the second state ""following the lead of Connecticut"" to pass labeling requirements for GE foods.
Like Connecticut's newly passed law, Maine's GE bill, which contains a "trigger" clause,  will only go into effect if  five  contiguous states, including the neighboring state of New Hampshire, approves a  similar measure. The New Hampshire legislature will take up similar legislation this winter.
Governor LePage made a written promise in January 2013 to the people of Maine that he would sign the bill, however, as a Republican Tea Party favorite it was unclear whether he would fulfill that commitment.  Among his first major initiatives, the governor  pledged to roll back stronger state laws on environmental quality to more lenient federal standards and halt the ban on bisphenol-A, an endocrine disruptor in baby bottles.
Mainers have expressed overwhelming support for legislation to label GE foods, with 91% favoring this legislation according to a scientific Pan-Atlantic Poll conducted in the spring of this year. Nationwide, 93% of people want foods containing GE ingredients labeled, and around 75% of consumers are worried about the effects of GE food on people's health, according to a New York Times poll.
With Connecticut and Maine now on board with GE labeling laws, we look to other states that may also pass similar legislation. Vermont may soon join the other northeastern states that have acted, and additional ballot initiatives in the West will also play out in 2014, as GE labeling proponents have begun collecting signatures in Oregon and Colorado. A national GE labeling bill also remains in both houses of Congress, but has yet to be voted on in committee in either the Senate or the House. National GE labeling efforts are being spearheaded by the  Just Label It!  campaign. Meanwhile, Politico reported yesterday that, "The Grocery Manufacturers Association, on behalf of the food industry, is pitching to Capitol Hill lawmakers a bill that would preempt any state mandatory GMO labeling requirement by creating a voluntary labeling standard. . ." The discussion draft of the legislation, which  Politico published and industry may seek to attach to the Farm Bill on an Appropriations bill this month, would prohibit states  from  requiring GE food labeling legislation.
In the meantime, the best way to avoid food with GE ingredients is to buy organic. Under organic certification standards, GE organisms are prohibited.  For this and many other reasons, organic products are the right choice for consumers. For more information on GE foods and labeling issues, see Beyond Pesticides'  Genetic Engineering website.
All unattributed positions and opinions in this piece are those of Beyond Pesticides
Source: Portland Press Herald
Image Source: MOFGA