25
Mar
(Beyond Pesticides, March 25, 2014) Highly toxic rodenticides linked to the poisoning of pets, wildlife and young children will no longer be allowed on store shelves in California starting July 1 of this year. According to rules adopted last week by California' Department of Pesticide Regulation (CDPR), "second generation anticoagulant rodenticides," including the chemicals brodifacoum, bromadiolone, difenacoum, and difethialone found in d-CON brand products, will be classified as California-restricted materials, and only allowed to be used by certified pesticide applicators. Attempts by the U.S. Environmental Agency (EPA) to remove these products from store shelves nationwide stalled last year after the manufacturer of d-CON rodenticides, Reckitt Benckiser, sued the agency to delay implementation of the cancellation process.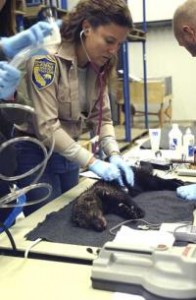 In July of 2011, the California Department of Fish and Wildlife requested CDPR restrict the use of anticoagulant rodenticides due to numerous incidents involving direct and indirect poisoning of wildlife. Anticoagulants impair blood clotting and eventually cause internal bleeding in target animals. However, rodents can feed on poisoned bait multiple times before death (some are even resistant to the chemicals now), and as a result their carcasses may contain residues that are many times the lethal dose.
Poisoning can occur to nontarget species when predators or scavengers feed on these poisoned rodents. Reports show that federally listed threatened and endangered species, such as the San Joaquin kit fox and Northern spotted owl, have been adversely affected by these chemicals.
Illegal marijuana grow operations have been a troubling source of wildlife deaths as growers often use "industrial-sized quantities of poison in forests to fend off rodents," according to Humboldt County District Supervisor Rex Bohn. One study found that 72% of endangered Pacific fishers surrounding an illegal marijuana grow operation had been exposed to anticoagulant rodenticides. Predators that aren't killed by these chemicals become more susceptible to disease and can suffer lethargy, making it more difficult, for example, to dodge oncoming traffic if crossing a road.
Although California's rulemaking specifically addresses the impact of these chemicals on wildlife, the removal of d-CON rodenticides from store shelves will also have the added effect of protecting young children. Between 1993 and 2008, the American Association of Poison Control Centers logged somewhere in the range of 12,000 to 15,000 reports of rat and mouse poison exposures each year for children under the age of 6. Children can be incidentally exposed to rodent poisons when they are placed in unsecured "loose bait" stations, and research shows that low-income and minority children are disproportionately impacted by these products.  One study in New York found that 57 percent of children hospitalized for eating rat poison from 1990 to 1997 were African-American and 26 percent were Latino.
EPA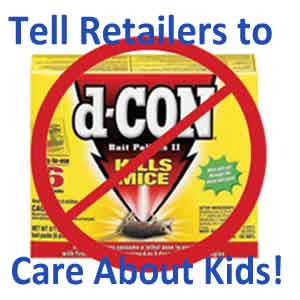 's cancellation order addresses this issue, requiring manufacturers to pull "loose bait" anticoagulant rodenticides from the consumer market. All manufacturers except Reckitt Benckiser, maker of d-CON brand products, complied with EPA's order. Reckitt Benckiser's decision to sue EPA allows stores such as Walmart and Home Depot to continue selling these dangerous products to consumers (except in California beginning July 1).
Beyond Pesticides responded to the irresponsible actions of Reckitt Benckiser by launching the Care About Kids campaign to urge major retailers to stop selling dangerous d-CON rodenticides.  In lieu of federal action, Beyond Pesticides argues that retailers have an obligation to stop selling products that EPA has determined are too dangerous to children, pets, and wildlife.
For more information about Beyond Pesticides "Care About Kids" campaign, see our Rodenticides program page, where you can learn more about the harmful effects of these chemicals and find effective alternatives to their use.
All unattributed positions and opinions in this piece are those of Beyond Pesticides.
Source: California Department of Pesticide Regulation, Ft. Bragg Advocate-News
Image Source: Ft. Bragg Advocate-News