03
Mar
(Beyond Pesticides, March 3, 2014) Advancing Sustainable Communities: People, pollinators and practices, the 32nd National Pesticide Forum, will be held April 11-12, 2014 at Portland State University, in Portland, OR. This years' forum will focus on solutions to the decline of pollinators and other beneficials; strengthening the organic food production system; regulating and right-to-know genetically engineered food; improving farmworker protection and agricultural justice; and creating healthy buildings, schools and homes. Join top scientists, local and national activists and grassroots organizers to strategize on solutions that protect health and the environment. For more information and to register, go to www.beyondpesticides.org/forum.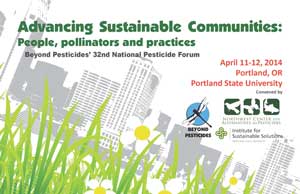 In addition to the program, people,  science, sharing and strategizing, you won't want to miss the  food! Organic food and beverages will be served for breakfast, lunch and dinner Saturday, and we will have organic hors d'oeuvres, beer and wine for receptions on Friday and Saturday night.
Speaker highlights include:
Registration Information
Registration fee includes access to all forum sessions, including workshops and tour (separate RSVP is required for tour, please email forum@beyondpesticides.org). Register by March 15 to receive our early bird discount rate!
General Admission/Non-Members: $75 (includes 1-year membership and 100% organic tote-bag);
Members/Grassroots Activist Rate: $40 before March 15, $45 after March 15;
Students (with current ID): $20 before March 15, $25 after March 15;
Business Rate: $175 (includes 1-year subscription to Pesticides and You).
Register online today  or call 202-543-5450 to register by phone.
We encourage you to register in advance to ensure your space and food, but walk-ins are welcome as long as space is available.
The conference is convened by Beyond Pesticides, Northwest Center for Alternatives to Pesticides (NCAP), and Portland State University's Institute for Sustainable Solutions. Local and regional co-sponsors include: Beyond Toxics, Center for Food Safety, Friends of Family Farmers, John A Green MD III The EverGreen Center, Healthy Bees-Healthy Gardens, Lewis and Clark Law School, Organic Materials Review Institute (OMRI), Oregon Environmental Council, Oregon Physicians for Social Responsibility, Oregon Tilth, Pesticide Action Network North America, PCUN (Pineros y Campesinos Unidos del Noroeste), Portland Urban Beekeepers, University of Portland's Environmental Studies Department, and The Xerces Society.
###