16
Apr
(Beyond Pesticides, April 16, 2014) The U.S. District Court of Hawaii granted a Motion to Intervene jointly presented by Center for Food Safety (CFS) and Earthjustice on behalf of several community non-profit groups. The order allows the groups to participate in a lawsuit filed by Syngenta and other pesticide companies challenging Kauai's County Ordinance 960, which  establishes a  county program to monitor pesticide use and genetically engineered (GE) crops. The federal order allows the groups to defend the County of Kauai's 2013 pesticide disclosure law against the pesticide companies' legal challenge. The non-profit groups intervening include Center for Food Safety, Surfrider Foundation, Pesticide Action Network North America, and Ka Makani Ho"˜opono.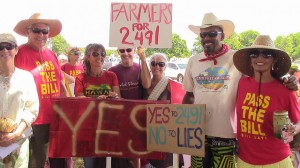 Ordinance 960 (formerly known as Bill 2491) provides residents of Kauai public access to information related to the application of pesticides used in experimental and commercial agricultural operations within the County of Kauai. It also affords County residents and their environment greater protection from and information about potential pesticide drift and the impact of growing experimental GE crops on Kauai. The Kauai County Council voted to enact Ordinance 960 in November 2013, overriding the Mayor's veto. The Ordinance 960 is set to take effect in August.
Local leaders crafted the ordinance in response to public outcry from residents, many of whom live, work, or have children that go to school near agricultural fields leased by chemical corporations. Many in the community assert that Ordinance 960 is only the beginning of local efforts to reign in excesses and abuses of agrichemical companies operating on the island.
Specifically, Ordinance 960 strengthens pesticide disclosure now requiring the industry to submit weekly reports to nearby residents beginning  nine months after the passage of the legislation. It also requires pesticide companies to provide the county and public with an annual accounting of pesticide use, disclose the location of GE crops, and conduct an Environmental and Public Health Impact Study on the effects of the agrichemical industry. The ordinance also restricts the application of all pesticides within 500 feet of schools and other medical facilities, and within 100 feet of any park, public roadway or shoreline that flows into the ocean. Unfortunately, some of the more stringent measures were removed from previous drafts, including a moratorium on the future planting of GE crops and regulations governing experimental pesticides.
In January, Syngenta, BASF Plant Science LP, Pioneer Hi-Bred International Inc., and other biotech companies filed  a lawsuit to stop Kauai County  from moving ahead with the new law  to restrict GE agriculture and toxic pesticide applications in sensitive areas, claiming the law is not legally valid. As the first Hawaiian Island to pass restrictions on pesticides and GE agriculture, Kauai County saw an unprecedented outpouring of public support for the then bill,   despite numerous attempts by agrichemical companies to derail the bill.
"We are pleased with the court's decision, which allows us to vigorously defend this sound and important law," said George Kimbrell, senior attorney for Center for Food Safety. "The judge said specifically that he wanted to include the perspective and voices of the people in Kauai who were being affected," Mr. Kimbrell said. "So that's very, very encouraging, and we're pleased to bring the intervention on behalf of the people on Kauai."
Earthjustice attorney Paul Achitoff commented, "These community groups deserve to have their own lawyers represent them in court. They're the Kauai residents who are most affected by the chemical companies' activities."
The decision to allow these groups to intervene and defend the new ordinance serves to strengthen the county's defense, which was hindered by lack of support from the mayor and the county's budget constraints. The federal ruling comes during the last month of the 2014 legislative session in which there's been much fanfare but little action on bills to override county regulations on genetic engineering. According to reports, there is still a possibility state lawmakers may revisit those proposals during conference committee over the next couple of weeks. But House Majority Leader Scott Saiki said previously that the House wants to wait to see how the court handles the controversial new rules.
The escalating court battle over Kauai's ordinance is just one aspect of the ongoing fight over genetic engineering in Hawaii. On Maui, a group of residents wants to put the question of GE farming on the ballot this year. A Maui County Council bill that echoes Kauai's disclosure requirements has stalled in committee. If successful, the citizens' ballot initiative will impose a temporary moratorium on growing GE crops.
Beyond Pesticides believes that every community in the United States has  the right to self-determination when it comes to the chemicals that are applied in and around where they live, work, and play. Read Beyond Pesticides testimony on Bill 2491 for additional information. If you'd like to become involved in a campaign in your community, send an email to info@beyondpesticides.org, or call 202-543-5450.
Sources: Center for Food Safety Press Release, The Garden Island
All unattributed positions and opinions in this piece are those of Beyond Pesticides.