21
May
(Beyond Pesticides, May 21, 2014) In response to recent public concern over the use of bee-killing systemic insecticides in treated nursery plants, Minnesota has just passed labeling legislation, HF 2798, which will inform consumers which plants are bee-friendly. The move follows a commitment by two Minnesota state agencies to study the impact of neonicotinoid pesticides, which ""given mounting research implicating neonicotinoids in bee declines"" beekeepers claim do not go far enough. Although the bill does not address agricultural neonicotinoid use, it is the first of its kind to ensure that nurseries keep tabs on the insecticides used on garden plants.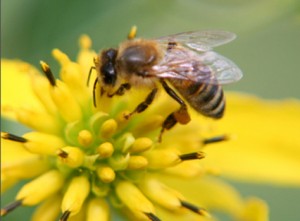 Under the bill passed by Minnesota's House and Senate last week, plants may not be labeled as beneficial to pollinators if they have been treated with detectible levels of systemic insecticides. Specifically, "A person may not label or advertise an annual plant, bedding plant, or other plant, plant material, or nursery stock as beneficial to pollinators if the annual plant, bedding plant, plant material, or nursery stock has been treated with and has a detectable level of systemic insecticide that: (1) has a pollinator protection box on the label; or (2) has a pollinator, bee, or honey bee precautionary statement in the environmental hazards section of the insecticide product label." The bill is effective as of July 1, 2014.
In short, "Nurseries to stay in business will have to pay attention to this new strong consumer demand," said University of Minnesota entomology professor and bee expert Marla Spivak, PhD.
Further, beekeeper compensation legislation,  which is part of an omnibus finance bill, has also been passed in Minnesota. The bill creates an emergency response team to respond to honey bee losses that are suspected to be pesticide-related, and beekeepers will receive compensation for bee-kills caused by pesticide exposure.
One thing is for sure, bees and beekeepers are in dire need of protection from the effects of systemic neonicotinoid pesticides. Neonicotinoids are a relatively new class of insecticides that share a common mode of action that affect the central nervous system of insects, resulting in paralysis and death. They include imidacloprid, acetamiprid, clothianidin, dinotefuran, nithiazine, thiacloprid and thiamethoxam. Currently, neonicotinoid insecticides are the most widely used class of insecticides in the world and comprise about 25% of the global agrichemical market.
Neonicotinoids are systemic, meaning that as the plant grows the pesticide becomes incorporated into the plant. When honey bees and other pollinators forage and collect pollen or nectar, or drink from what are termed "guttation" (water) droplets emitted from neonicotinoid-incorporated crops, they are exposed to sublethal doses of the chemical. At this level, the pesticides don't kill bees outright. Instead, they impair bees' ability to learn, to find their way back to the hive, to collect food, to produce new queens, and to mount an effective immune response. Indeed, studies have found that "near infinitesimal" exposures to neonicotinoids causes a reduction in the amount of pollen that bumblebees are able to collect for their colony.
The robust evidence of the wide ranging harm neonicotinoids cause to pollinators led the European Union to ban the use of these chemicals in agriculture for two years. Late last year, agrichemical giants Syngenta and Bayer announced that they would be suing the E.U. over its decision.
Here in the U.S., Representatives John Conyers (D-Mich.) and Earl Blumenauer (D-Ore.) introduced the Save American's Pollinators Act in 2013, which will suspend the use of neonicotinoids on bee-attractive plants until EPA reviews all of the available data, including field studies. Please tell your member of Congress to support the Save American's Pollinator Act.
Take Action: Join Beyond Pesticides BEE Protective campaign
Source: Minnesota Public Radio News
All unattributed positions and opinions in this piece are those of Beyond Pesticides.